Friday
May 1
2020
TBA


The Devil In California show is postponing and will be rescheduled for later this year, exact date as yet unknown. Your tickets will be transferred to the new date automatically unless you request a refund, which you can do at any time. Once it is rescheduled, we will let you know the new date, and you will still have one more opportunity at that time to request a refund if you cannot make the new date.
Friday
May 1
2020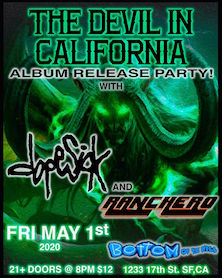 8:30PM

doors -- music at 9:00PM
••• 21 AND OVER
$
12
The Devil In California
www.thedevilincalifornia.com/
(Album release)
Rock / Hard Rock
Dopesick
featuring ex-

Skylab
,
Ministry
members
www.dopesick1.com/
alt-metal post-thrash
Ranchero
www.facebook.com/Rancheroband/
Rock/Blues/Fuzz/Stoner
---

The Devil In California
Anthony Malson - Vox
Jamie Cronander - Guitar
Snake - Guitar
Matt Stewart - Bass
Randy Rice - Drums
-from West Oakland, CA
-The Devil In California: Classic but heavy-as-hell rock, you know you're in for something big and heavy when you first lay eyes on these guys, and that's just what you get. They bring their own brand of heavy rock, with low-slung guitars, attitude, impeccable musicianship, and soaring 3 and 4 part harmonies that crush with historic rock power and finesse.

Hailing from the broad, cracked streets of West Oakland California, The Devil In California have set out to create new rock music, and bring it to the world. They do that in-between thing. It's heavy, but not metal. It's sing-alongy, but not sappy.

In the beginning, Jamie and his musical partner in crime, Matt Stewart laid the groundwork for this heavy, low, southern-influenced rock concept. The "audition", and immediately subsequent induction of seasoned rock vocalist Tony Malson made them a band, but they still wanted more from this sound. In search of the perfect "big rock wall of guitars", TDIC hunted for a second gunslinger. While recording their first demo, they found him in Snake Green (Skinlab, Re-ignition).

The band exploded into existence seemingly all at once! In a couple short years they found themselves on stage at amazing Bay Area venues such as Slims, DNA Lounge, Brick and Mortar, The New Parish, and The Fillmore! They were sharing stages with nationals including Three Days Grace, Black Star Riders, Skid Row, Crobot, Truckfighters, Charm City Devils, Prong, The Supersuckers, Motor Sister, Tracii Guns, and John Corabi (of Motley Crue fame). Their debut album release show at San Francisco's DNA Lounge was SOLD OUT!!!

The Devil In California's "Longer Ride Down" came out in 2015 on iTunes, Amazon, CD Baby, Spotify, HearNOW, LASTFM, and most other online outlets worldwide. The album debuted at #7 on CMJ's Hard Rock chart. They have already released two singles and videos – "Black Hand" and "Empty Rooms". Their third single and brand new video coming soon!

After some honing of the sound, some touring, and some amazing fill-ins from some great drummers and great friends, TDIC finally really knew what they really needed in a drummer, and in a band mate. They announced their permanent drummer, Andy Galeon (Death Angel, Spiral Arms) in 2016!

With the family complete, they're heading for the recording studio, and headed for the world!

Keep an ear out.





Dopesick


-from the Bay Area, CA


-Dopesick is the genre-hopping Bay Area rock project of guitarist, primary songwriter, and former Skinlab member Adam Albright, who mixes elements of punk, metal, rock & roll, and even reggae into his music. The idea for the group first emerged in 1997, when Albright and vocalist Marcus Payton joined forces as Dopesick. However, they hit their first stumbling block when Albright went to prison for a few years. When he was released, Dopesick hit the tour circuit and recorded their debut, Vendetta, which was produced by Skinlab's Scott Sargeant.

Things soon disintegrated between Albright and Payton and the project was put on hiatus for over a decade. Returning in 2016, Albright entered the studio and began recording with producer Patrick Burkholder, drummer Aaron Rossi (Ministry, Prong), and bassist Mandi Martyr (Ministry). The resulting work was the Love and Terror Cult EP, which arrived in 2017. The set included the dubby reggae tune "Ride the Night," featuring Jahred Gomes of (hed) p.e., and the riff-heavy "Release Me," with Ill Niņo's Christian Machado, as well as instrumentals like "Fruitvale," dedicated to the late Oscar Grant. Two years later, Dopesick returned with their long-awaited debut full-length album, A Violent Happy Place, featuring Jonathan Russell as lead vocalist. ~ Neil Z. Yeung, Rovi





Ranchero
Beau Grant-Guitars
Jonathan Wilson Drums
Johaan Hill- Vocals/Bass
-from Livermore, CA


-High energy slightly outta tune , off key dirty roach clip rock and roll out of the SF Bay Area. Johaan Hill on Bass and vocals. beau Grant Guitar and Jonathan Wilson on drums. Influences ranging from Sabbath, BLS, Fu Manchu, Elder, Orange Goblin, ZZ TOP, PAT TRAVERS....as long as it ROCKS!