Tuesday May 19 2020
CLOSED
The Flatliners show is postponing and will be rescheduled for 2021, exact date not announced as yet. Your tickets will be transferred to the new date automatically unless you request a refund, which you can do at any time. Once the rescheduled date is announced, we will let you know the new date, and you will still have one more opportunity at that time to request a refund if you cannot make the new date.
[5/11/20] The band wanted to pass on this message: "

Sadly, but not surprisingly, we're cancelling our upcoming west coast Cavalcade tour dates planned for later this month. We were trying our best to find an appropriate time to reschedule the dates to, but for now we feel it's best to allow our fans to get their money back from their original point of purchase. Wishing you and health and safety, and we'll keep you posted on a new plan for these dates at some point in 2021.

"
However, a new date for this show in 2021 has indeed been confirmed already, although the date cannot be announced yet. Therefore, you are certainly more than welcome to hold on to your current tickets.
Tuesday May 19 2020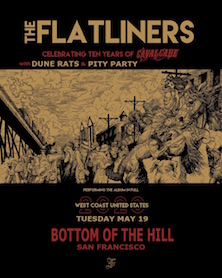 8:00PM

doors -- music at 8:30PM

••• ALL AGES
$15
in advance

/ $18

at the door
The Flatliners
Rock / Punk
Dune Rats
punk rock
Pity Party
Punk
---

The Flatliners
Scott Brigham - Guitar + Vocals
Chris Cresswell - Vocals + Guitar
Jon Darbey - Bass + Vocals
Paul Ramirez - Drums
-from Toronto, Ontario, Canada
-The Flatliners' career is a testament to perseverance and dedication. With a line-up that has never strayed from the original members who met as teenagers, the band has since logged countless miles on the road and amassed a dedicated legion of fans along the way.

Now approaching 15 years of hammering out bombastic tunes everywhere from dive bars to festival stages to European concert halls, The Flatliners hold fast to the DIY punk-rock ethos that has been at the group's core since the beginning. The band came out swinging with youthful exuberance on their debut record, Destroy To Create, in 2005, and they've honed their anthemic style with each subsequent release: The Great Awake in 2007, Cavalcade in 2010, Dead Language in 2013 and Division of Spoils in 2015.

But frenetic touring schedules and prolific recording output takes its toll, and The Flatliners decided to spend the majority of 2015 off the road to recharge and reconnect with friends and family. Striking a balance between home and road life is a difficult task, but frontman and guitarist Chris Cresswell concedes that it's necessary.

"That's what we've been in search of for probably the last seven years. We noticed it in ourselves, and that's what we're really striving for now," he says. "We have a lot of people in our lives that are super supportive of what we do, and we're supportive of each other."

The band may have opted for more downtime, but there was still plenty going on behind the scenes. Early in 2015, the guys found themselves without the familiarity of the jam space they had inhabited for nearly a decade—four walls that had been the incubator for hundreds of songs and uninhibited creativity. Several months were spent renting rooms wherever they were available before the band was able to settle into a new space, but the group did their best not to let the upheaval hinder their burgeoning roster of new material. Borne out of that chaos was Nerves, a two-song EP released in October 2016 that also marked the band's first recording on Dine Alone Records.

The recording serves as a taste of what eager fans can expect to hear on The Flatliners' new album, Inviting Light, set to be released on April 7, 2017. The band has been working hard to refine its unmistakable style, ensuring they don't lose sight of their roots while continuing to move forward.

"Inviting Light is about trying to keep up with life around you but also wading through the potential bullshit of people thinking that a digital landscape is more important than their friends," Cresswell explains. "It's inevitable that you're fighting for people's attention now, whether you're a band or an individual, and there's not as much value placed on face-to-face human interaction as there is in elevating the profile."

Meaningful interaction may be more difficult to achieve these days, but the group's steadfast members continue to build on the enduring connection that brought them together all those years ago, celebrating one another's personal milestones and weathering each new experience as a unit.

"It feels like we're onto something," Cresswell adds. "It's exciting for a band to be 15 years into their existence and have this. It's a refreshing thing."






Dune Rats
DANNY
BRETT
BC
-from Brisbane, Australia
-At a time when true rock tales are as rare as chicken lips, Dune Rats are traveling the globe as punk rock pied pipers, attracting an army of ferocious life enthusiasts who are as willing as they are to throw the dice, turn reality sideways and roll with whatever goes. Ratbags, nerds, delinquents, outcasts, the brave, the loud, the shy - Dune Rats don't care who or what you are, only that you abide by just one rule – no kooks, no gutties.
Palming Dunies off however as your average trio of wasted lunatics, would be a sad and narrow-minded mistake. These three take as much pleasure in overt politeness and the odd spot of gardening as they do in the eyes-wide open adventure of tilting reality. But at the core of it all - the platform for everything that follows - is their uncalculated lust for making music. It's taken them from Brisbane to the US, South Africa (ask them how the hell they found themselves here!), China, Indo, Malaysia, Canada, Singapore, a small seaside shanty South of Sydney and to the proudest musical moment so far – the writing, recording and the imminent release on Dune 1st of their first full-length record.
Dunies self titled debut album began to bed in when they read a letter Steve Albini wrote to Nirvana in the lead in to the recording of In Utero, which got them frothing on the idea that if they couldn't record their album in little over a week, they had no right to be in a rock band. They connected with the ethos of no bullshit songs, written in a garage and recorded by a friend. That friend turned out to be Woody Annison, tour manager and sound engineer for Children Collide whom they'd not long before bro'd up with when the two bands toured together. Dune Rats took to the challenge with the same merciless conviction that's gotten them both fucked up and famous. Over the span of a month
page 1 / 2
they bunkered down in a tiny shed at Brett's Mum's house on the beach and began to pen songs with fervor. Those four weeks became all about growth. The creative well bubbled over beyond the tunes and they took to renovating the tiny shed, turning it into a tiny soundproof studio, they built a vege garden, they surfed, they chilled out, they slept in beds (for a change), they wrote songs together in the true spirit of what it means to be a band and they recorded all the demos. By the time they went into the studio with Woody in Melbourne, they were ready for the Albini-esque timeframe and needed just a half-day of pre-production and they were on their away.
'Funny Guy' is the first single from the brand new album. A track that rips, just like the Dunies. It's an anthem calling out to all those that feel the need to look like something they ain't - living one life, presenting another - leading to the lyrical catch cry ' Why you gotta lie, all the time??'
Live the Dune Rats way - 'NO KOOKS, NO GUTTIES!!'





Pity Party


-from Bay Area/Central CA




-PITY PARTY is an emo pop-punk band from Oakland, CA. Characterized by their frenzied, unforgettable live shows and their fierce dedication to DIY and mental health advocacy, Pity Party have been spreading their wild, barely-holding-it-together energy across the US since 2014.