Wednesday May 27 2020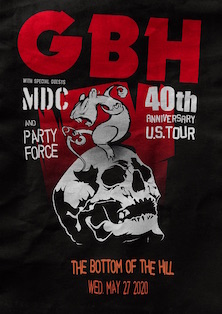 8:00PM

doors -- music at 8:30PM


••• 21 AND OVER




$

25

in advance

/ $30

at the door


GBH
gbhuk.com/


punk rock


MDC


(Millions of Dead Cops)


www.facebook.com/mdcpunkbandofficial/


Hardcore Punk


Party Force
www.facebook.com/PartyForce666/


punk




---

GBH
colin abrahall-vocals,jock blyth-guitar,
ross lomas-bass,scott preece-drums
-from Birmingham UK
-formed late 1978 GBH have been described as one of the forerunners of the UK82 sound and an influence on bands as diverse as metallica,queens of the stone age,rancid,slayer,anthrax,nirvana,and a host of younger punk bands.they have continually recorded albums and toured worldwide since they started.

Charged GBH are an English Street punk band, formed in 1978 by vocalist Colin Abrahall, guitarist Colin "Jock" Blyth, bassist Sean McCarthy and Drummer Andy " Wilf" Williams. GBH were early pioneers of English street punk, often nicknamed "UK82", along with Discharge, Broken Bones, The Exploited and The Varukers. They have gone on to influence several punk rock musicians. The name GBH was inspired by then-bassist Sean McCarthy's trial for grievous bodily harm. Charged GBH embarked on several English and mainland US tours during the early 1980s, including several gigs at the 100 Club. 1982 saw GBH's first LP, City Baby Attacked By Rats. Lyrically, the album dealt with criticism of British and European culture, violence, morbidity (especially in reference to the song "Passenger On The Menu", which describes in graphic detail the experiences of the passengers on the Uruguayan Air Force Flight 571), atheism, nihilism and humour. Musically, the album was loud and fast, with few songs exceeding three minutes. In 1984 the band changed their name to GBH (grievous bodily harm).

Unlike some early punk bands that evolved towards other styles, GBH have stayed fairly faithful to their original UK82 sound in subsequent releases. Their peers like The Exploited, Picture Frame Seduction, Discharge and The Varukers have all enjoyed resounding success in the USA and fit the genre' UK82 punk rock. However, the band have experimented to some degree with a more speed metal-inflected sound, notably with their 1992 release Church of the Truly Warped, although they have since returned to a more purist punk sound. The band is still active and touring and maintain a strong following both in England and the rest of Europe, as well as in United States and Japan.





MDC


-from Austin, TK/Portland, OR


- M.D.C. is an American Punk Rock classic; formed out of the depths of Texas in 1981 by Dave Dictor, they are now based out of Portland Oregon and continue to lead the punk scene in catchy, far left socio-political ideology and through a high energy sound. The name is something of an enigma, changing with every release to reflect the issues of the day; previous names have included Multi Death Corporation, Millions of Dead Children, Millions of Damn Christians, and of course, the classic (and most controversial) Millions of Dead Cops.

MDC exists today, merging an 80s feel, with original members Dave Dictor still rocking the mic, championing causes dear to his heart such as Animal Rights, and Ron Posner on Guitar. They are joined by relative new comers, Mike Smith (No Red Flags) on bass, Jesse Onion Cobb (Embrace the Kill, Dirty Kid Discount) on drums, and second guitarist Bill Collins (from MDC's 1990 line-up with Rancid's Matt Freeman) which keeps things unpredictable and current.

MDC have racked up over 2000 gigs in its 36 year career with countless North American tours, 20 European tours, and have travelled to as far flung places as Brazil, Mexico, Australia, even New Zealand, and stir up energetic crowds wherever they go. MDC is excited by reports of protesters shouting "NO TRUMP, NO KKK, NO FASCIST USA" (MDC lyrics) at a recent Trump rally in South Carolina; the ideals that formed in 81 are still around and kicking today. MDC is heading to your home town soon, and are not to be missed!





Party Force
REF, HAL, BRAIN
-from Oakland, CA


-Fight, Fuck, Cry, Tequila! Punk Rock!