Friday June 5 2020
CLOSED
[6/29/2020]
The Hala show is canceled now —instead of postponed.
It may still be rescheduled next year but for now all advance tickets for this show can be refunded.
[3/25/2020] The Hala show is postponing and will be rescheduled for later this year, exact date as yet unknown. Your tickets will be transferred to the new date automatically unless you request a refund, which you can do at any time. Once it is rescheduled, we will let you know the new date, and you will still have one more opportunity at that time to request a refund if you cannot make the new date.
Friday June 5 2020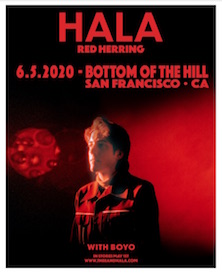 8:30PM

doors -- music at 9:00PM
••• ALL AGES
$12
in advance

/ $15

at the door
Hala
www.thebandhala.com/
bedroom pop lo-fi
BOYO
www.parkthevan.com/label/boyo
eclectic, psych-pop
TBA
...
---

Hala


-from Detroit, MI


-Hala (pronounced haw-luh) is the performance moniker of Detroit-based musician Ian Ruhala. Ruhala's music is at once precise and playful, skipping breezily between decades and their attendant musical aesthetics while executing them with care and sincerity. On his studio debut Red Herring, Ruhala elevates this formula, applying his genre-agnostic blueprint to a set of songs that comprise a no-concept concept record: a varied LP which explores the tragedy and comedy—often, both at once—that color and confound the modern 22-year-old's existence.

To execute his wide-lens vision, Ruhala worked with producer Ryan Hadlock (The Lumineers, Vance Joy, Ra Ra Riot) at his legendary secluded Bear Creek Studio in Woodinville, Washington. Apart from strings—played respectively by longtime Brandi Carlile collaborator Josh Neumann and Andrew Joslyn—Ruhala wrote and performed each instrument on the record, including guitar, piano, bass, drums, baritone ukulele, xylophone, vibraphone, and all vocals.

The result is a coming-of-age record from an artist recognizing that cohesiveness need not only be expressed in structural sameness. It can and should be found in other experiences, in the complex, poignant, life-and-death fleetingness of a three-and-a-half-minute pop song. Or better yet, 12 of them back-to-back.





BOYO
Robert Tilden
-from Los Angeles, CA
-Where Have All My Friends Gone? The new album by BOYO, the LA-based multi-instrumentalist and songwriter Robert Tilden, reflects the sentiments of loss, isolation and confusion Tilden experienced while a 2017 health scare turned his world upside down. Tilden and his groovy, psych-drenched pop soundscapes were primed for a national breakout when he began experiencing unexplained seizures. He spent a year under the care of specialists who experimented with different powerful medications for an undiagnosed brain condition, leaving his career—and health—in question.

In 2018, Tilden was diagnosed with an acute form of frontal lobe epilepsy, was prescribed the right daily regimen of pills and has been free of seizures ever since. Slowly, life became less of a daily crisis. But the experience of friends alienated by his medically-induced, uncontrollable mood shifts and his isolation due to irrational fears had taken its toll. He seized the opportunity to make a record entirely on his own, finding comfort in his isolation and in the work of songwriters like Bradford Cox and Mark Linkous. Fusing those artists' ability to turn the bleak into beauty with his own newfound focus on songwriting and production, the foundation of WHAMFG? was formed.


One of the hallmarks of BOYO's music is its ability to use a real sense of hurt and confusion to connect to audiences and manifest itself sonically in a powerful and accessible way. BOYO has come out from under an avalanche and grown expansively to make the album of its career.





TBA


-




-