Saturday July 11 2020
TBA


The Sparta show is postponing again.
Thank you for bearing with us during these difficult times. It is extra hard for touring bands to plan for the future, and Sparta decided to push their tour even farther back, considering venues still do not know when they will be able to re-open. We hope that you will continue to hold on to your tickets, as this will be the venue they come back to when they re-route this tour. It not only helps us, when you keep your ticket right now, it will save you the processing fee when we do re-book them. However, know that all refund requests will be honored, both now and through after the new date is announced. Thank you.


Saturday July 11 2020
<<<< rescheduled from 4/23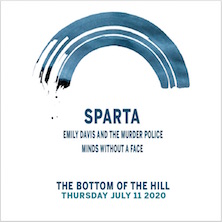 7:00PM

doors -- music at 8:00PM

••• 21 AND OVER
$
20

in advance

/ 24

at the door
Sparta
post harscore
Emily Davis
And The Murder Police
folk punk rock
Minds Without A Face
stoner pop
*This show is being presented by Independent Venue Week 2020.
Check them out and continue to support independent venues!"

www.independentvenueweek.com/category/2020/
---

Sparta


-from El Paso, TX


-Sparta, the El Paso band featuring Jim Ward, has today announced their first full length studio album since 2006's Threes. Trust The River will be released on April 10 via Dine Alone Records - their first for the label. Along with this news, Sparta has also announced spring tour dates and released a video for lead single "Believe." Of the single Ward notes, "'Believe' is a song that's been on my desk for 10 years, I've recorded numerous versions but couldn't quite get it where I thought it was ready until now. Once we had the basic track I sent it to my friend Carlos Arevalo from Chicano Batman for some guitar touches and was over the moon with his contribution. I couldn't think of a better song from Trust The River to kick this new chapter off."

When it comes to his long and fruitful career in music, Jim Ward is not guided by vanity or money or some grand narrative in which he's the central player. It's all about the song, the melody, the lyric. So in late-2017, when he began making heavier, more riff-laden music, he rang his Sparta bandmate of more than 20 years, bassist Matt Miller, and began work on Trust The River, the band's first album since 2006's Threes.

Of their absence Ward notes, "I've made a real point to never break up a band, mostly because if you look at my history it's filled with on-and-off-again projects. As much as I can control it, I don't want there to be permanence."

Making the album was a multi-month songwriting process that culminated in some of the most inspired recording sessions of his career, with help from Miller, drummer Cully Symington, and guitarist Gabriel Gonzalez. Also joining them was Austin-based musician-producer, David Garza.

Beyond Sparta, Ward has performed in various bands and under several monikers over his long and winding career— from the iconic post-hardcore band At The Drive-In, to a slew of solo albums and, recently, his alt-country project, Sleepercar.

Having been a member of heavy bands but also showcasing his more melancholic side via his solo work, Ward says the new Sparta album feels like the logical meeting point of his influences. "Naturally it's coming to this unity," he says. "Those two worlds have always been on a path towards unity. And I knew in my heart that it was coming."

"I'm super excited because we get to do this all in a way we want to," he says of playing small clubs for multiple-night runs, stripped down and intimate, and then exploring whatever city he might be in. "When you're 23 and you're on tour you want to play the show and go to a bar and have a crazy night. I would much rather play the show, go to bed and then spend the next day in the city going to a museum or a really good lunch," Ward explains. "Patti Smith talks about how she plays shows where she wants to go. I find that really cool.

"All the other stuff — fame and fortune — is nothing but a bummer," Ward says. "It doesn't do any good for me. And the way I see it, life is way too short to be unhappy."





Emily Davis And The Murder Police


-from El Paso, TX


Emily Davis and The Murder Police are an alt-folk-punk band living in the desert southwest with an affinity for writing aggressive, introspective music. After releasing three solo LPs, Davis teamed up with Jose Macias, Jorge Torres, and Tomas Tinajero to form Emily Davis and The Murder Police. Their first full-length album, Same Old World, was released in October 2018. EDMP has opened up for acts such as Sparta, The Kyle Gas Band, Neko Case, The Toasters, Leftover Crack, Authority Zero, Cold War Kids, and had a 16-day run with Bad Religion in late 2019. They are currently working on their next release.





Minds Without A Face
Tommy Busch - guitar, vox
Kevin Jacobson - bass, backup vox
Mike Morales - drums, vox
-from San Francisco, CA


-As sirens wailed, shots rang, and fires burned, MWOAF armed themselves only with songs to come to the surface for the purpose of laying to waste ideas about what constitutes rock'n'roll. A dash of the Buzzcocks, a splash of Neil Young, a shot of The Beatles, a cup of This Heat, two tablespoons of Sonic Youth and CAN, and a heavy dose Madonna created the sound they call "Stoner Pop."