Sunday August 16 2020
CLOSED


>>>The
Ratboys
show was going to be rescheduled to August 16th (from April 2nd) but now it will be rescheduled for next year instead, exact date unknown at this moment. When the new date is set, your tickets will be transferred to the new date automatically.
We will notify you at that time, and if the new date were not good for you, let us know and a refund will be processed.

update on 11/24/2020:
Out of an abundance of caution, @Ratboysband has canceled all postponed dates for Spring 2021.
[The show had first rescheduled for 8/16/2020 from 4/2/2020 and later postponed further to Spring 2021]
Sunday August 16 2020
<<<< rescheduled from 4/2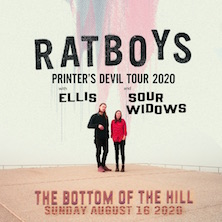 8:00PM

doors -- music at 8:30PM

••• ALL AGES
$
12

in advance

/ $14

at the door
TBA
www.ratboysband.com/
post-country/indie rock
TBA
www.ellis-songs.com/
alternative bedroom pop
TBA
www.facebook.com/sourwidows/
indie bedroom rock
---

Ratboys
Julia Steiner - vox/lyrics, guitar
David Sagan - guitar
+ some friends
-from Chicago, IL
-Upheaval and change are themes spread throughout the songs on Printer's Devil, the latest Ratboys LP, out February 28, 2020 via Topshelf Records. But all the while, singer-songwriter Julia Steiner embraces moments of uncertainty as a necessary part of growing. Steiner recalls a David Byrne lyric, "I'm lost, but I'm not afraid" as inspiration for the transformative outlook, considering the line a personal mantra while writing Ratboys' third full-length record. "There's definitely a lot of uncertainty about what's next, but I like to think that, in the midst of creating a lot of vulnerability for ourselves, we're confident and becoming more self-assured."

Steiner wrote the record with guitarist Dave Sagan while she was experiencing a dramatic shift in her own foundations, demoing out songs in her Louisville, Kentucky childhood home, which had just been sold and emptied out. "Demoing there was almost too intense," Steiner says. "I kept writing in my journal that it feels like we shouldn't be there. I don't know if that feeling made its way directly into the lyrics, but to me the songs will always be connected to that sense of home and time passing."

With years of touring under their belts, Steiner and Sagan have welcomed a newly consistent four-piece lineup, after years of shuffling through drummers. The band's comfortable core -- which sees Steiner and Sagan backed by drummer Marcus Nuccio and bassist Sean Neumann -- is tangible across Printer's Devil. What started as an acoustic duo has finally transformed into a full-scale indie-rock band with a clear identity. The rhythm section brings the band not only consistency, but a jolt in line with Steiner and Sagan's growing sonic aspirations: Printer's Devil was recorded live at Decade Music Studios in Chicago and was produced by the band and engineer Erik Rasmussen. Big-chorus power pop songs like "Alien with a Sleep Mask On" and "Anj" sound massive and larger than life, while the band's dynamics beautifully thread together intimate folk songs like "A Vision" and devastating alt-country tracks like "Listening," showcasing a rare range that invites listeners to imagine the band blowing out a 2,000-cap room or playing quietly next to you in the living room.

Building off their previous albums—AOID (2015) and GN (2017), which feature bright, youthful Americana narratives centered around soft vocal cadences and fluid, melodic lead guitars—Ratboys captures the bombastic, electrified fun of their live show in a bottle on Printer's Devil and showcases their growing chemistry as a tight-knit group. Through all the change that fueled the record, Ratboys' latest album Printer's Devil finds a band that's truly grown into itself and is just getting started.




Ellis


-from Hamilton, Ontario, Canada


-A faint voice and a fervent guitar make their match in a cluttered bedroom, each song finding itself in a growing folder of recordings stamped by initials "L.S". Ellis is the music project of Linnea Siggelkow. Daughter to a traveling book salesman and a piano teacher, Ellis flips the words from the books she once read, intertwining vulnerable with bold into the songs that she now sings. Having already made her mark as a solo performer in the Toronto DIY scene, the project has evolved into a 4-piece band, inspiring a grittier take on the same solemn refrain.

In November 2018 she released her anticipated debut EP, The Fuzz. The EP arrived following several months of excitement building behind Ellis, who, after generating buzz in her local scene on the back of opening stints with the likes of Soccer Mommy, Gabby's World, Chastity, Palehound, and Free Cake For Every Creature, garnered international acclaim with the release of a series of singles, earning comparisons to Mazzy Star, Alvvays and Slowdive from outlets like Pitchfork, Noisey and Stereogum, who marked her out as one of "a new generation of exciting songwriters."

The six-track release presents an uncommonly fully-realized aesthetic to match the strength of Siggelkow's songwriting. Built from simple instrumentation, but deftly arranged to lend a grandeur and devastating scale to Siggelkow's skillfully rendered laments, the release is a resounding statement from a young artist who is poised for a reception that equals the scope of her remarkable gifts.





Sour Widows
Susanna Thomson
Maia Sinaiko
Max Edelman
-from Bay Area, CA


-Sour Widows are a bedroom rock band from the Bay Area comprised of longtime friends Maia Sinaiko, Susanna Thomson, and Max Edelman. Songs marked by driving harmonies address themes of relationship and reflection; layers of warmth, depth, and grit surface and fade in their two-guitar dynamic. Through progressions that shift from subtle to biting, Sour Widows expose tender moments with an edge.