Tuesday
March 9
2021
CLOSED
>>>The Greer show, which had been rescheduled from
May 20th 2020 to July 15th 2020 and then to March 9th 2021
, will now be rescheduled to a much later date
, in 2022 in fact. That is a long time away; therefore we feel it would possibly be better to now issue refunds for the tickets that you purchased and then you can repurchase them again in 2022 if you still wish to attend the show.
Some customers have contacted us expressing their wish to not get a refund for their tickets and instead to leave it as a donation to the venue and our staff who are with no income at all during this pandemic. Please let us know whether you would like to leave your payment in place to help pay our bills and our staff or whether you prefer to get a refund.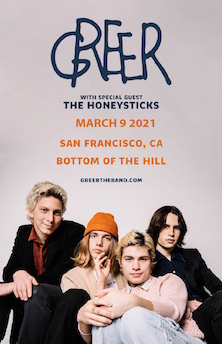 Tuesday
March 9
2021
<<<< rescheduled from 7/15/20 << from 5/20/20
7:30PM

doors -- music at 8:00PM

••• ALL AGES
$
15
Greer
www.facebook.com/greertheband/
Alternative Rock Indie
The Honeysticks
open.spotify.com/artist/2BL3PP6aTKJ1jqbRgfQa71
Alternative/Indie
---

Greer


-frm Orange County, CA


-Since their formation in November 2018, Greer has cultivated an impressive internet presence including 7 million global streams with only two officially released songs, "Bittersweet" and "Song For Me." The band is heading into the studio early next month with renowned producer Rob Schnapf (Elliott Smith, Guided By Voices, Beck) with plans to release new music later this year.

Greer is Corbin (guitar), Josiah (vocals), Lucas (drums), and Seth (bass)




The Honeysticks


-from Los Angeles, CA


-The Honeysticks is a Los Angeles-based indie band fronted by singer/songwriter and internet personality Ricky Montgomery (briefly called "Ricky Montgomery & The Honeysticks"). The band features Ben Russin on bass and Ryan Fyffe on drums. Caleb Hurst, former member and co-writer of the group, is featured on guitar and backing vocals on The Honeysticks EP and Out Like a Light 2.
Montgomery's first LP, Montgomery Ricky, set the stage for an idiosyncratic indie pop styling that lays bare trauma without mincing words. As The Honeysticks, Montgomery explores that core theme with greater technique and matured sensibilities. With their 2017 debut Out Like a Light, the band premiered a dreamy, boyish sound that distinguished it from other influencer-turned-musician contemporaries (Rich Brian, Tiny Meat Gang). Shortly afterward, with the release of The Honeysticks EP in February 2018, the collective doubled down on its hook-driven, sardonic perspective on the future of rock.
February 2019's Out Like a Light 2 reworked The Honeysticks' debut. An experiment in process and vulnerability during a time of brief hiatus, it garnered their greatest success yet with high praise from fans and their first Spotify editorial placement (Lo-fi Indie).
In May 2019, the band began road testing new material that saw them edging further into pop experimentalism. Shades of soul and surf have replaced the power pop motifs of Montgomery's solo effort. Now more than ever... it's Honeysticks season.