Friday August 13 2021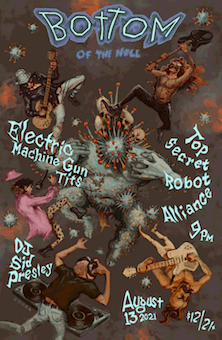 8:30PM

doors -- music at 9:00PM


••• 21 AND OVER




$

10

in advance

/ $12

at the door




Bottom Of The Hill presents its 2021 Soft Opening...


Top Secret Robot Alliance
www.facebook.com/TSRAMusic


pure dance electronic


Electric Machine Gun Tits
www.facebook.com/ElectricMachineGunTits


Rock n Roll - Punk


Sid Presley
www.facebook.com/DjSidPresley


spinning: Rock and Roll, Surf/Instro





---



Bottom Of The Hill presents its 2021 Soft Opening...




What this means: Since this will be our first show in a year and a half, we want only friendly faces in the venue, people who will be patient with the staff and bands and who are excited to participate in perhaps the most joyous day of our history! Remember that everyone here tonight, including yourselves as customers, will be out of practice, so let's just come together, have a party, and celebrate the return to live music, safely! We chose acts that make us happy to start off the 2021 season.




Top Secret Robot Alliance
Lucious Sandstone - guitar, crucial harmonies, soft yet edgy flair
Dion Thunder - bass, beats, synth, sultry chants, the best power thrusts this side of LV-426
-from San Francisco, CA
-There's nothing funny about seriously good dance music.





Electric Machine Gun Tits
NAOKO NOZAWA// Vocal & Synth
TORA FUJIMOTO// Guitar & Vocal
-from San Francisco, CA
-ELECTRIC MACHINE GUN TITS are a two piece Rock n Roll - power duo, based out of the San Francisco Bay area since the winter of 2015.
They have toured New York, Spain and have done four summer tours through Japan in 2016, 2017, 2018 and 2019.
ELECTRIC MACHINE GUN TITS have shared the stage with GUITAR WOLF, PUFFY AMI YUMI, SHONEN KNIFE,
THE 5.6.7.8's, LOLITA No18, REVEREND BEAT-MAN, BOB LOG III, CHRISTEENE and many others.
They released their 1st album "LOVE AND PUKE" in June 2017, 2nd album "PINK GUTS" in June 2018, 3rd album "SUNGLASSES SAMURAI" in May 2019 and 4th Album "PANDEMIC SUPLEX" in August 2020.





Sid Presley
David Greenfield
-from San Francisco, CA


-David Greenfield, aka DJ SID PRESLEY, plays rare & obscure music of the late 1950's through the 1960's, including raw garage rockers, surf and exotica instrumentals, international pop, greasy rhythm and blues, British Invasion, and much, much more.