Thursday September 23 2021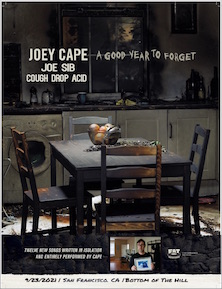 8:00PM

doors -- music at 8:30PM


••• ALL AGES




$

18

in advance

/ $20

at the door


Joey Cape


www.facebook.com/joeycape


punk, pop rock




Special Guest Comedian:


Joe Sib


www.joesib.com/


comedian


Cough Drop Acid
coughdropacid.bandcamp.com/


emo indie pop



---

Joey Cape


-from San Francisco, CA


- A veteran of California's punk and indie scenes since the early '90s, singer/songwriter Joey Cape first made his name as the frontman for seminal punk outfit Lagwagon. A prolific and highly collaborative musician, Cape also served as guitarist for the supergroup Me First and the Gimme Gimmes and led the alt-rock group Bad Astronaut through a series of albums in the front half of the 2000s. As a producer, he's worked on albums by the Ataris, Nerf Herder, and Ridel High. Starting in 2008, Cape launched a solo career, shifting into a more introspective acoustic style which he continued to develop on albums like 2011's Doesn't Play Well with Others and 2016's One Week Record, the latter of which was part of a series he launched from his own studio where artists are invited to his house to complete a full album in a single week. Meanwhile, Cape continued to work occasionally with Lagwagon, who reunited in 2014 after a nine-year gap. By the decade's end, he was busy producing new material for both projects and released the 2019 solo album Let Me Know When You Give Up, followed a few months later by Lagwagon's ninth LP, Railer.

Acrophobe
Cape formed Lagwagon in the late '80s in Goleta, California, just outside of Santa Barbara. They were the first band to sign to Fat Wreck Chords in 1990 and became a cornerstone of the influential label's roster over the coming years. A mix of skate punk and melodic hardcore, Lagwagon enjoyed widespread success in the mid- to late '90s before going on hiatus, during which time Cape formed the alt-rock combo Bad Astronaut, who released their debut album, Acrophobe, in 2001, followed a year later by Houston: We Have a Drinking Problem. When Lagwagon resumed work a year later, Cape continued to juggle his various projects, which also included playing guitar for the Fat Wreck cover band Me First and the Gimme Gimmes, which he'd joined in 1995. In 2004, he and fellow punk singer Tony Sly (No Use for a Name), collaborated on a split album of acoustic versions of songs from both of their primary bands. In early 2005, Cape's friend and longtime bandmate, Derrick Plourde, committed suicide. Released in November of that year, Lagwagon's seventh album, Resolve, was written about and dedicated to Plourde, who was also a member of Cape's other band, Bad Astronaut. After releasing Bad Astronaut's 2006 album, Twelve Small Steps, One Giant Disappointment (which featured some of Plourde's final tracks), Cape dissolved the project and began his solo career.

Bridge
Released in 2008, his debut album, Bridge, contained stripped-down version of several Lagwagon songs along with new solo originals. Beginning in 2010, Cape started releasing one-by-one the individual songs that would eventually make up his sophomore album, 2011's Doesn't Play Well with Others. Reversing his earlier approach, he also put together a new electric band called Joey Cape's Bad Loud to record full-band versions of the solo acoustic tracks from his first two albums. Following a second acoustic collaboration with Tony Sly called Acoustic, Vol. 2 (2012), Cape reunited with Lagwagon (who had been inactive since 2008). Released in 2014, Hang was their first album in nine years and was followed a year later by Cape's third solo outing, Stitch Puppy. A fan of raw, stripped-down recordings, Cape launched a home recording project called One Week Record: He would host an artist at his home studio and help them record an entire ten-song album in a single week. Cape released his own One Week Record in 2016. 2019 saw the release of both another solo album, Let Me Know When You Give Up, and Lagwagon's ninth full-length, Railer.





Special Guest Comedian
Joe Sib:


-from Santa Cruz, CA


-Joe Sib, co-founder and co-conspirator of Side One Dummy Records for 25 years, has continued to climb up the ranks of the comedy scene. Joe released his first comedy record, Joe Sib Nowhere Near the Top, in April 2017 which debuted #3 on the Billboard's Comedy Chart. From the 1980s punk scene to millennium parent, Joe's comedy takes you on a manic ride from growing up in the era of "safety last", and into the present, as he tries to helicopter parent without a license.
After throwing himself into the punk and skate underground of his California hometown, Joe's band Wax was signed to a major label as part of the early '90s breakthrough of punk rock into the mainstream. He co-founded an indie label, SideOneDummy, that signed such now-iconic bands as Flogging Molly and the Gaslight Anthem. Turning his behind-the-music stories from the road into a one-man show led to touring as a stand-up comic, which led to such highlights as his recent tour with Metallica, in which he and comedian Jim Breuer created a show that re-defined the term "opening act." With every new twist and turn in his path, Joe has been left wondering "How did I get here?"




Cough Drop Acid


-from San Francisco, CA




-Cough Drop Acid is an American indie rock band from San Francisco, CA. It was founded by singer/songwriter Stephen Beebout in 2020 and features a group of musicians that have performed on numerous releases put out by his independent label, Urban Scandal Records.