Tuesday September 28 2021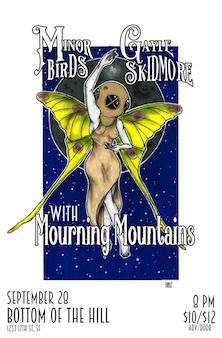 8:00PM

doors -- music at 8:30PM


••• 21 AND OVER




$

10

in advance

/ $12

at the door


Minor Birds


www.minorbirds.info/


doom folk indie rock


Gayle Skidmore


gayleskidmore.com/


indie pop & folk


Mourning Mountains
www.facebook.com/MourningMountains/


experimental rock n' roll, melodic hardcore




---

Minor Birds


-from Oakland, CA


-A classically trained pianist and self-taught multi-instrumentalist, C.Wilde spins poetic tales, with a voice oscillating between a silky coo and a guttural howl.
At heart, her musical gems take form as emotionally-receptive storytelling.
Intrinsically poetic, Wilde's music is about the journey, rather than a set destination.





Gayle Skidmore


-from San Diego, CA/Amsterdam, Netherlands


-Seven-time San Diego Music Award nominee Gayle Skidmore has written over 2500 songs since she began songwriting at the age of 8. She released a song every week in 2019 and 2020 on Patreon. Her natural ability and innate passion for music made her music career inevitable, and her tumultuous life has given her plenty of inspiration for her enchanting indie folk pop style. Translating her experiences into song has been more than just personally fulfilling. Gayle Skidmore won De Beste Singer-Songwriter Van Het Groene Hart in 2017, Best Pop in the 2015 San Diego Music Awards, Best Pop Album for "Sleeping Bear" in 2014, and Best Singer-Songwriter in 2013. Classically trained on the piano from the age of 4, Gayle Skidmore also plays over 20 other instruments, including the mountain dulcimer, banjo, folk harp and balalaika.






Mourning Mountains


-from Bay Area, CA




-Whole Hearted Sad Pop Indie Hardcore, from Bay Area California. Also known as MoMO Whole hearted two-piece band est. 2013. What started as songs pleading for likeness in mental health issues, and strive for community support, has become a band of out reach and reassurance that you are not alone. A place of console, a place of confide. It's okay, to not be okay. Together, We move on.