Wednesday September 29 2021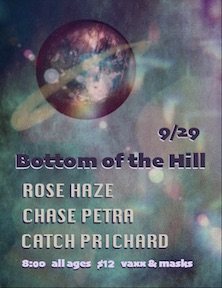 8:00PM

doors -- music at 8:30PM


••• ALL AGES




$

10/$12

in advance

/ $12

at the door


Twin Peaks Sessions presents...


Catch Prichard


wwwhttps://www.catchprichard.com/


psychedelic country-folk


Chase Petra
www.facebook.com/chasepetraband/


sad boy pop punk


Rose Haze


www.rosehaze.com/


ambient dream pop, soulful, psychedelic rock




---

Catch Prichard


-from Oakland, CA


-After half a decade in Europe as frontman for the mercurial Brittsommar, Sawyer returned to the United States to begin a new project under a new name.

In Oakland, California, he found his way into the then thriving DIY music scene, where he met Travis Snyder (pedal steel), Chris Clayman (bass), and Tim Decillis (drums). The band began to reimagine the formerly folk inspired songs into a new sound. Eskota is the band's first release, which sprang from a recording session in a ghost town east of Dallas. Having only brought a guitar and a microphone, the album was a send-off for the former guitar-based folk project. The following year, Catch Prichard released two singles, "Don't Want It" and "The Alleyway". Both tunes showcase the group's changing style through the arrangement of acoustic, electronic, and ambient driven arrangements.

With 2019's release of Utter Disbelief dives deeper into this growth with Sawyer's weighty baritone voice, classic drum machine rhythms, gritty Mellotron, and gliding pad melodies. It is an album that resonates at the emotional frequency of Popol Vuh's Aguirre and Cohen's Ten New Songs. Catch Prichard's newest album, I Still Miss Theresa Benoit, is their most expansive album to date as they weave the musical and literary themes that have influenced the band's career.

I Still Miss Theresa Benoit is also a product of the 2020 Pandemic. Recorded the weekend before San Francisco became the first American city to go into lockdown, Sawyer fell sick from Covid-19. The symptoms still relatively unknown, his voice had changed and he struggled for breath. The band debated re-recording Sawyer's vocals once he recovered, but just as the virus had reshaped the world, so had the album been reshaped by the virus. I Still Miss Theresa Benoit is our broadcast from a changing world.

"The Oakland band's darkly psychedelic country-folk suggests things on the verge of collapse...appealingly overwrought, its sweetness curdling into menace like Twin Peaks gone spaghetti western..." - PITCHFORK

"...Haunting." - NOISEY

"...Mesmerizing, burnt-out vocals and stately brass." - UPROXX

"...You're left in awe...it seems to transcend era and time." - LADYGUNN

"...slow, slightly twangy, and every bit of it is beautiful." - IMPOSE MAGAZINE

"Gebauer sings, his shredded, husky voice like someone dragging the needle on a Nick Cave record." - CONSEQUENCE OF SOUND.





Chase Petra


-from Long Beach, CA




-A good ol' fashioned mess. Quarter-life crisis pop rock. Chase Petra is a band that exists out of necessity. In other words, it was never a question of IF the group would begin but when. Hunter Allen, guitarist and vocalist, started the project with Evan Schaid, drummer, in 2017 as a last ditch attempt to rediscover some long lost serotonin. Brooke Dickson, bassist and vocalist, rounded out the project in 2018, offering a much needed revitalization to the group. Together these three are storming their way through their 20s and hoping to connect to anyone and everyone who cares to listen. The band's mission statement can best be summed up in their name. Petra is a powerful and yet fragile character from the 1985 science fiction novel, Ender's Game. Her ability to fall apart repeatedly only to put herself back together is both inspiring and revolutionary. The idea that someone could be both commanding and soft, aggressive and kind, authoritative and delicate is not often portrayed as a real possibility and yet. The members strive every day to emulate the pure tenacity of their fictional feminist icon, Petra. Hailing from Long Beach, CA, this group is willing to go just about anywhere and try just about anything and they are very much looking forward to the future.






Rose Haze


-from Oakland, CA


-Rose Haze is an ethereal, psychedelic, dreamy and sometimes heavy rock music group led by singer-songwriter Kate Ramsey.

Kate was once a rolling stone sharing music across the Midwest, New Orleans, Europe, & Kauai. Now based in Oakland, she embodies the persona of "Rose" and is supported by a lively dynamic band comprised of guitar (Ruben), electric violin (Yoko), bass (Raul or Alejandro), and drums (Dustin or occasionally Eli). Together they create musical layers difficult to peg into any one specific genre.

Throughout her vast discography she tells stories of the lone female traveler experiencing blissful highs and devastating lows while running around from place to place. She paints unique arrangements of spacey vocals alongside harp, 70s electric pianos, arpeggiators, synths, vintage guitars, and effects pedals onto mood-oriented sonic canvases.

Idiosyncratic, honest, and direct, her presence both online and on stage is hers and hers alone. Two records will be announced for release soon, one aligns sonically with her current "psychedelic dreampop" live sound, and the other is an analog ambient concept album recorded in two days in the desert during quarantine.