Thursday October 7 2021
8:00PM

doors -- music at 8:30PM
••• ALL AGES
$
13

in advance

/ $15

at the door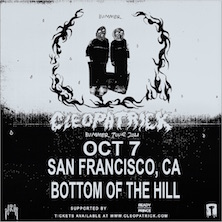 BUMMER TOUR


cleopatrick
www.cleopatrick.com/


rock


Zig Mentality


www.zigmentality.com/


punk rock


Ready the Prince
www.readytheprince.com/


emo rock




---

cleopatrick
Luke Gruntz; Ian Fraser
-from Cobourg, Ontario, Canada
-Listening to the story of Canadian duo cleopatrick is a bit like hearing the plot of the best, most righteously validating coming-of-age film never made. Two friends meet aged four in Hicksville, Nowheretown(real name: Cobourg, Ontario, population 19,000), grow up completely inseparable, form a band and, against numerous obstacles, blossom into a genuine, global underground sensation. There are heroes and villains, highs and lows and, crucially, some of the most poetic plot twists that could seem almost too perfect, were they not completely true.Take the story of 2017 breakthrough track 'hometown' for example. "It's one of the craziest, most ironic things that's ever happened," begins vocalist and guitaristLuke Gruntz. "I was going to college because I was too scared to put all my chips in the band pile, and that's what 'hometown' is about: it's a song about feeling like we're doing all this stuff and we're working so hard and we're just never going to be heard. It's literally a song about people probably never hearing our songs. And then by some act of the universe, that song ended up unlocking all the doors for us." Today, cleopatrick has logged 77 million streams and counting -all from an increasingly dedicated fanbase who've found the duo, completed by drummer Ian Fraser, their own way: no major label, no big budget, just two best pals knuckling down, cementing a unique sonic alchemy and filling a space of honest, empathetic yet undeniably heavy-hitting rock music that they'd been searching for themselves for years.But let's rewind back a little first, to 2002, at a Canadian kindergarten. "There were only three boys in our class, and as a four-year-old boy, girls are yucky," chuckles Ian. "I remember it being Luke and another kid; the other kid hung around for a bit but it didn't really stick." "It was like that thing where, growing up, we developed our personalities through our relationship and that's how we figured out who we are," Luke continues. "If I found something cool I'd show Ian and we'd both like it together, and music was very much a part of that relationship."Aged eight, both sets of parents conspired to purchase the two friends guitars and lessons for Christmas ("Kind of like an arrangedwedding, but an arranged career..." Ian jokes). And from there, first messing around in school bands as teenagers before splintering off as the only two that really wanted to take a music career seriously (if you were wondering why cleopatrick are a bass player-less duo, it's because Cobourg literally had no other prospects) began the seeds that would lead the pair to the present day.However if a childhood spent mutually nerding out to the opening note of AC/DC's 'Back In Black', replaying its sledgehammerintroduction over and over again ("It gave me butterflies every time," the singer nods) sounds like a potentially ill-fitting mindset in a town like theirs, then it's exactly this separation that cleopatrick embrace as being their secret weapon. "Just being where we're from, and being pretty chilled guys, I think we never think about the world in the right way until something clicks for us. Even booking shows: I'd call venues asking if they would book us and it would just be the bartender talking to me like, 'I just work here...'. I recently went back through our email and saw a bunch of those messages we'd sent to random sports bars asking to play and none of them have replies," Luke recalls. "But that innocence has been our lucky key and the way we've been able to grow this band and keep it cool doing our own thing; we're already outside the circle so we naturally just think that way and it's something we've become really grateful for."Growing older and growing into their music tastes, Luke and Ian's blossoming love of hip hop (the pair cite Drake and Kendrick Lamar as particular obsessions) began to quickly seep into their songwriting. Cemented in their abilities as a duo ("I don't know how we could find a third member it worked as well with, even if we tried"), it became as integral an element within the sonic mix as the bands they'd first fallen in love with. And so, with the MO of making rock music that hit as strongly as the hip hop tracks they loved, but spoke honestly about the things they knew, the spiralling success of 'hometown' soon started an increasing wave of opportunities. They toured Canada for the first time,

played their first real headline tour and found themselves adorning the cover of Spotify's 'Rock This' playlist. "I was working at a coffee shop and Ian was working at a hardware store and we'd be getting emails from the Head of Rock at Spotify asking when the next song was out," Luke recalls. "It was like Hannah Montana, it was like we were living two different lives," Ian nods.Since then, they've been "drip-feeding" new material, purposefully taking it at their own pace and doing it their own way; EP 'the boys' landed in 2018, while the last couple of years have seen a slow tease of interim singles. And between multiple sold out tours in Canada, the US and the UK/EU, appearances at Lollapalooza, Austin City Limits and Reading/Leeds, a recent Amazon Ones to Watch 2021 tip and inclusion on Apple Music playlists, the pair have been crafting BUMMER: a debut album that sees cleopatrick harness all the magic they've been brewing over their two-decade friendship and funnel it into a record that aims to reinvigorate the rock landscape from the ground up.Taking the ethos of their New Rock Mafia collective -a group of friends and fellow bands, united in making a more inclusive, equality-driven space in rock music -and imbuing it with the sonic ambition and ferocity of a record designed to be played hard and loud,BUMMERis an album made to mean something."We want our music to feel as big as hip hop does in the club -big subs and loud drums and vocals right up front. But lyrically, we want to sing songs that everyone in the crowd feels comfortable singing along to. There's a [historical] formula to rock music where people sing about drugs and alcohol and sex and it's so fucking phony; it makes us so angry that kids who want to hear guitar music and get something from it and have a favourite band have to settle for that, and listen to these dudes lying to them," Luke asserts. "It's so gross to me and completely the opposite of how this genre started."Recorded with 21-year-old NRM peer and producer Jig Dubé putting their supportive, community-driven money where their mouths are, cleopatrick's debut is a time capsule of a record -nodding to their insular, small town beginnings (second single 'THE DRAKE'' was written in reference to a traumatic gig in which their high school bullies turned up and started punching people in the mosh pit) but reaching for something altogether more exciting, utopian and full of life.And at its heart, it's an album about two friends, who've been with each other since the formative first steps that adorn 'BUMMER''s heartwarming cover images (two pictures taken by the pair's kindergarten teacher from when Luke and Ian accidentally showed up to school in matching sweaters) and made something that's a testament to the power of sticking to your guns. "To look back and reflect on the people we were at the start of all this when it was a pipedream and still feel like the same people, that feels cool. Although there's a lot that's changed, it still feels like the same vision," Ian smiles. "We've been comparing the album to the Voyager One probe -it has everything about us in it and we don't know if people will get it or if people will care, but it feels so good to have it out there," Luke nods. "It feels like a small way to live forever."





Zig Mentality
Jig Dubé [bass, lead vocals],
Liam Dubé [lead guitar]
Quinn Dubé [drums, backup vocals].
-from Ottawa, Canada
-Punk isn't about a sound, but an attitude. It all comes down to burning the rulebook, bucking trends and breaking from the status quo. In 2020, there might be no better way to rebel than by grabbing instruments, plugging in and lighting up. ZIG MENTALITY certainly agree. They speak loudly and clearly to a young and wild generation as they rock with a 21st century twist. Acclaimed by Brooklyn Vegan and streamed upwards of four million times under original moniker dubé, the Ottawa trio of brothers—Jig Dubé [bass, lead vocals], Liam Dubé [lead guitar] and Quinn Dubé [drums, backup vocals]—proudly live up to their chosen name on their self-titled LAVA debut.

"ZIG MENTALITY means being ready to adapt and grow," exclaims Jig. "A zig is a sharp change in direction, so we're willing to keep an open mind and break rules. That goes for the fact that we're playing rock music our own way. If you come to one of our shows, there are mosh pits, stage diving and crowd surfing, we want young people to benefit from the vibe we offer."

As kids in the Canadian capital, the boys grew up surrounded by instruments. Obsessed with music, they began busking throughout Montreal and Toronto, "because we were too young to play bars," laughs Quinn. By middle school, they hosted parking lot performances before and after OSHEAGA Music and Arts Festival, Ottawa Blues Fest and Bonnaroo. "On your way out of the rock concert, you could catch another rock concert," smiles Liam.

It wasn't long before residents started calling cops to shut down their outdoor rock shows. The brothers moved the shows indoors, to the homes of their friends, and hosted parties of their own. These gigs became the stuff of local lore and established them as hometown heroes.

In 2017, they unleashed their independent debut single "Pretty Girls On Bikes," which surpassed half-a-million Spotify streams. The 2018 single "Stoned Love" put up equally impressive numbers, and Brooklyn Vegan proclaimed them, "a tight, loud band, and they don't shy away from crisp production or big hooks." In between tours with the likes of COUNTERFEIT. and cleopatrick, they graced the stage of Northern Invasion alongside icons such as Tool and Alice In Chains.

During 2019, they inked a deal with LAVA and hit the studio with producers Sacha Skarbek and Florian Reutter, recording in Orange Lounge Toronto and their own basement. Culling equal inspiration from Queens of the Stone Age as well as Kendrick Lamar and Rage Against The Machine, they emphasized live bass at the forefront, breaking from tradition even further.

"We let the bass and drums run the sonics entirely," affirms Jig. "We use electric guitar to complement the rhythm without being in-your-face. Rock is so traditionally known for having big guitars. We put more of a focus and accent on the bass and drums. It comes naturally because we love hip-hop. We went from Dead Kennedys to Mac Miller and really love everything in between."

Debut single "Concern" hinges on a thick beat and raucous bass before shifting into the chorus—"I wanna be concerned."

"It's aimed at people who intend to look like they care, because they feel it's important to look concerned rather than actually do something," the frontman goes on. "Instead of living with the consequences of real actions and making an effort to actively be concerned, they stand on the side and complain. If you want to complain, follow through and live with the consequences of those complaints."

Elsewhere, "Back of the Class" pairs rap-style vocals with a hulking groove before a thrashing refrain. It spits in the face of authority with "a message of anti-indoctrination," according to Liam. However, "Sesh On" doubles as something of a mission statement for the three-piece. A hummable bass line snakes through punchy percussion as they build to a call-to-arms in the chorus.

"Locally, it's a common slang for smoking weed," laughs Quinn. "However, 'Sesh On' means so many things to us. It's about a community gathering and actively coming together. Smoke some weed, party and enjoy good music, because that's what it's all about. So, 'Sesh On'."

"I want listeners to feel like they just heard what real rock is," Jig leaves off. "I want them to walk away going like holy shit now my standard for the sonics of rock is higher."

In the end, ZIG MENTALITY embody what punk has always been about but with a sound belonging in the 21st century





Ready the Prince


-from Toronto, Canada




-Ready the Prince is a visceral, emotive rock outfit from Toronto, Ontario, Canada. Born in 2012, the band is lead by Steve DeCiantis (vocals, bass) and Daniel Prada (guitar), and topped with a live drummer to complete their classic power trio form.