Monday October 11 2021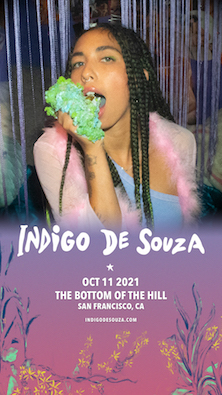 7:30PM

doors -- music at 8:00PM


••• ALL AGES




$

17

in advance

/ $20

at the door


Indigo De Souza


www.indigodesouza.com/


electropop , alternative


Rosie Tucker

------ The Slaps

are off the bill


www..rosietuckermusic.com/


rock singer-songwriter




---


Indigo De Souza


-from Asheville, NC


-"Everything has to be said." This is the conviction guiding Indigo De Souza's sophomore album, Any Shape You Take. This dynamic record successfully creates a container for the full spectrum—pushing through and against every emotion: "I wanted this album to give a feeling of shifting with and embracing change. These songs came from a turbulent time when I was coming to self-love through many existential crises and shifts in perspective."
Faithful to its name, Any Shape You Take changes form to match the tenor of each story it tells. "The album title is a nod to the many shapes I take musically. I don't feel that I fully embody any particular genre—all of the music just comes from the universe that is my ever-shifting brain/heart/world," says Indigo. This sonic range is unified by Indigo's strikingly confessional and effortless approach to songwriting, a signature first introduced in her debut, self-released LP, I Love My Mom. Written in quick succession, Indigo sees these two records as companion pieces, both distinct but in communion with each other: "Many of the songs on these two records came from the same season in my life and a certain version of myself which I feel much further from now."
Throughout Any Shape You Take, Indigo reflects on her relationships as she reckons with a deeper need to redefine how to fully inhabit spaces of love and connection."It feels so important for me to see people through change. To accept people for the many shapes they take, whether those shapes fit into your life or not. This album is a reflection of that. I have undergone so much change in my life and I am so deeply grateful to the people who have seen me through it without judgment and without attachment to skins I'm shifting out of."
Lead single "Kill Me," written during the climax of a dysfunctional relationship, opens with the lines "Kill me slowly/ Take me with you." This powerful plea, that begins within the quiet strum of a single electric guitar, is diffused by Indigo's ironic apathy—a slacker rock nonchalance that refuses to take itself seriously: "I was really tired and fucked up from this relationship and simultaneously so deeply in love with that person in a special way that felt very vast and more real than anything I'd ever experienced."
Across the table from that irreverence sits the sincerity of the single "Hold U," a more energized, neo soul-inspired love song that substitutes apathy for a genuine expression of care. "I wrote 'Hold U' after I left that heavy season of my life and was learning how to love more simply and functionally. I wanted to write a love song that was painfully simple."

Growing up in a conservative small town in the mountains of North Carolina, Indigo started playing guitar when she was nine years old. "Music was a natural occurrence in my life. My dad is a bossa nova guitarist and singer from Brazil and so I think I just had it in my blood from birth." It wasn't until moving to Asheville, NC that Indigo began to move into her current sound, developing a writing practice that feeds from the currents that surround her: "Sometimes it feels like I am soaking up the energies of people around me and making art from a space that is more a collective body than just my own."
"Real Pain," one of the most experimental tracks on the record, is Indigo's attempt to make that phenomena more intentionally collaborative. Starting soft before dropping down into a cavernous pit of layered screams and cries, "Real Pain" collages the voices of strangers—audio bites Indigo received after posting online asking for "screams, yells and anything else." "Hearing these voices join together and move with my own was really powerful. The whole record was a release for me. And I hope it can be that for others."
At the forefront of all De Souza's projects is her magnetism—her unique quality of spirit that is both buoyant and wise. While her backing band has undergone shifts between releases, her sound has stayed tethered to her vision. Any Shape You Take is the first full-length album that Indigo produced herself. Teaming up with executive producer Brad Cook (Bon Iver, Waxahatchee, The War on Drugs) and engineers/producers Alex Farrar and Adam McDaniel, Indigo recorded the album at Betty's, Sylvan Esso's studio in Chapel Hill, NC and finished it with additional production and mixing at Drop of Sun Studios in Asheville. Moving past the limitations of a home studio, Indigo could finally embody the full reach of her sound: "It felt really exciting to lean into my pop tendencies more than I have in the past and to trust my intuition to take the songs where I felt they should go. I had the tools to do it and collaborators who were willing to go there with me."
"I feel very much like a shape-shifter with my music, I'm always trying to embody a balance between the existential weight and the overflowing sense of love I feel in the world." It is exactly this balance that Indigo strikes in her Saddle Creek debut, Any Shape You Take. A listening experience that gives back, as you shed and shape-shift along with her.
Any Shape You Take is out on August 27th via Saddle Creek.






Rosie Tucker


-from Los Angeles, CA


-Now comes the third album from Rosie Tucker, 'Sucker Supreme.'

It's a coming of age album, yes, and an album that aches with self-discovery, self-definition, and self-redefinition: "Nothing is simple just cause you wish that it is." "I can't believe I'll die before becoming a frog." "Wolfing down Doritos, lickin' on my fingers, anger on my tongue, Doritos in my anger!" "Wouldn't we be perfect together if we wanted exactly the same thing?" But 'Sucker Supreme,' Tucker's first album for Epitaph, is also just the right follow-up to where their last album, 2019's 'Never Not Never Not Never Not,' left off: still playfully observed, still sneakily political, still indebted to folk singers of the past – but also much, much bigger, brighter, louder and noisier than anything Tucker has dared before. It delivers mightily on an ambitious M.O.: to be relentlessly catchy and muscular and noisy but also beautiful; be achingly sad and searching, but never too far away from funny, either; and to spotlight Tucker's empathetic, yearning vocals on top of it all.

In the world of 'Sucker Supreme,' Rosie's openhearted, sing-song alto melodies are king; wry, detailed lyricism is queen; and noise is the old man with the long beard who seems like he came from nowhere. Noise creaks in every layer of these songs: ticking Geiger counters, synthesized whale calls, tape machine slams, walls of distorted guitar rolling in and then blooming out into infinite repeats.

"I've spent a lot of time refusing to come to terms with the fact that I am stuck with myself, being the person I am all the time," says Tucker, who is nonbinary and uses they/them pronouns. "Yes, I've gotten better at using a calendar, and exercising, and telling people about my stupid feelings when it's relevant to do so. Sure, I floss sometimes. I read nonfiction and take out the trash. I'm a paragon of decency. All this to say I have gotten adequate at living while impatiently waiting for the smarter, kinder, better looking version of myself to come along, lead me out back, and put me out of my misery."

Nowhere is this self-exploration more poignant than on "Habanero," a song about waiting for a transformation that isn't coming. "The first two verses are about flirting, which is an important distraction from both the problems of the self and the issue of mortality," Tucker says. "Desire is not the same thing as a sense of self, but it'll work as an added sugar corn syrup kind of substitute. The third verse pulls from an early memory of a stream dense with tadpoles, watching them wriggle around my fingers in the water. I was obsessed – obsessed – with amphibians in general, and frogs in particular. I loved that they couldn't be confined to one environment. I loved that they grow up by way of shape-shifting."

Album leadoff track "Barbara Ann," visits coming of age in an emphatically hard-rocking tale of family conflict, knowing yourself, and agribusiness. "My maternal grandparents worked out a living on a farm in northeast Illinois, and I have many vivid memories of visiting with them, collecting chicken eggs and feeding the cows and rooting around in the mildewy basement. I was allowed total freedom to roam in the corn, or to climb into the hay loft and peer at dead birds. Once, in complete secrecy, I laid an open palm on the electric wire that ran around the property even though I'd been told a million times not to. I desired the knowledge more than I feared my parents," Tucker says. "At birth we inherit our families and spend the rest of our time struggling to make sense of those aspects of our life we have no control over."

It takes a unique group of people to make an album that leaps out of the speakers at you like this one. 'Sucker Supreme' is the first record made by Tucker's current touring band: drummer Jessy Reed, guitarist Jess Kallen, and bassist Wolfy, who also occupied the producer's chair. It's a group of people as eager to share their long-dead folk music heroes as they are to pay homage to their still-kicking pop-punk heartthrobs.

As with all things Rosie Tucker, this album is not easily slotted into a binary like happy or sad. In the world of 'Sucker Supreme,' concepts like male or female, married or divorced, destruction or salvation, are not two opposite sides of the same coin, they are all connected points on the same sphere. It's 2021! Abolish the binary! Transcend genre! Go to therapy!

No one involved with this album is boring enough to say that these are sad songs that sound happy. Some of them are just sad songs that sound sad. Indelible pre-album single "Ambrosia" serves as the centerpiece of 'Sucker Supreme,' with its self-conscious, yearning, but still faintly playful lyrics like, "You've got money stress so I pick up the check / I check my balance as I lean to one side," shortly before bursting open with a blustery sigh of, "Nothing is simple just 'cause you wish that it is: AAAAAAAAAAAAAAAAAAAAAH!!!" But then there is the forceful "Brand New Beast" with its unforgettably bitter riposte of "You won't even eat me out!" And there's the Ralph Nader-inspired ode to a clunker, "For Sale: Ford Pinto," with its imagery of crashing into a cop car, and then, "Time is a trash compactor – I'm feeling pressed, but at least you're here with me and we've got sexual tension." Classic Rosie: sometimes sad, sometimes funny, sometimes singing, sometimes howling, but always saying the exact right thing at the exact right time.


​