Wednesday October 13 2021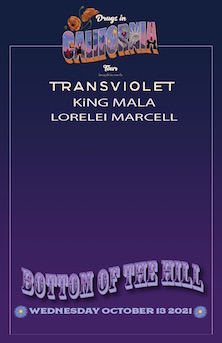 7:30PM

doors -- music at 8:00PM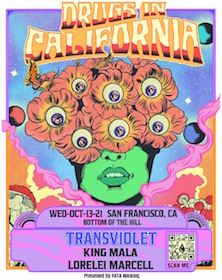 ••• ALL AGES




$

15




Drugs In California Tour


Transviolet


www.transviolet.com/


Post Punk Surf


KiNG MALA
www.facebook.com/kingmalamusic/


Alternative Soul, rock, pop


Lorelei Marcell
www.loreleimarcell.com/


pop




---

Transviolet


-from Los Angeles, CA


-After a successful catfishing on a musician networking website, Sarah McTaggart began to collaborate with producer and bassist Mike Panek across the world, and over the internet writing the beginnings of what would eventually become Transviolet.
She made the move from the Cayman Islands, to Toronto, landing eventually in San Diego where they met for the first time and sparks flew, or at the very least no one was serial killed. Jon Garcia was brought in on drums, and later Judah McCarthy on guitar and keys after moving to LA and signing their first publishing deal.

For two years the band locked themselves in studios across the purgatory that is the San Fernando Valley (which would later be the title of their 2018 release), writing song after song, until piquing the interest of LA Reid and their first major label partner EPIC records.

From the very beginning, Transviolet has made a point to approach music differently. Like when they released their first single Girls Your Age, the band sent out 2,000 plain manilla envelopes to kids across the country containing a cassette tape that only said "play me", not realizing that was pretty near to the exact plot of the horror movie SAW. Blogs and press outlets took notice, but no one cared nearly as much as the mothers across the country when they took to facebook to demand answers, and threaten the band with legal action. It was hilarious.
24 hours later and ‪Katy Perry‬ Tweeted out the song, a week later ‪Harry Styles‬. A flood of attention came to the band and they were thrown into the deep end that is the music industry. Writing with collaborators DreamLab (‪Selena Gomez‬, ‪Miley Cyrus‬, ‪Nicki Minaj‬…) Sam Hollander ( ‪Panic At the disco‬, ‪Fitz and the tantrums‬) ‪Andrew Dawson‬ (‪Kanye West‬, ‪Tyler the Creator‬) and Nate Motte of 3OH!3, among many others, Transviolet put out two more EPs, seeing critical acclaim from countless press outlets.

Now in 2019 with multiple support (Twenty one pilots, LANY, ‪Dua Lipa‬, ‪Joywave‬) and headling tours (US, UK) under their collective belt, and tens of millions of streams - Transviolet is gearing up to release their first Independent full album. Feeling as they're writing the best material of their career thus far, the band couldn't be more ready to show the world, just who it is, they are.

Self written, self mixed, self released, the band is taking the reins and show no signs of slowing down.





KiNG MALA


-from Los Angeles, CA


-KiNG MALA is the moniker of El Paso born, Los Angeles based alternative soul artist Areli Castro. Touching on themes such as lust, recklessness and badass femininity, KiNG MALA isn't afraid to spill her guts. Setting out with the intention to create brave and unapologetic music, the bold and brazen artist is delivering her own distinct sound, just the way she wants it. Castro shares, "Thats really the inspiration for the name KiNG MALA, king cuz fuck being someone's queen, and mala literally means "bad bitch" in spanish."

KiNG MALA doesn't hesitate in spilling her feelings. Her music narrates letting go of fear, being honest with yourself and those around you and ultimately living your truest self. Life is messy and we shouldn't feel ashamed to show our emotions and speak our mind. KiNG MALA hopes her music may allow others to feel confident and cool, confiding, "I hope it helps people feel okay with what they feel, I'm a person with very intense feelings and it took me a long time to realize that that's a gift not a weakness." Raised in a hispanic home, the artist is passionate about supporting the LGBTQ+, POC and Indigenous communities and being open about mental health. -





Lorelei Marcell


-from Boston, MA




-Lorelei Marcell is a 17 year-old singer songwriter from the Boston area whose first 2020 song release "Dreamin About You" with Valerie Broussard (Kygo, Galantis), Stefan Litrownik (One Direction, Andy Grammer), and Shannon McArthur (Dashboard Confessional) reflects on the struggle between gratefulness for past love and sadness that it's over. Her most recent release, "Eyes Closed" (Aug. 2020) was written in collaboration with Grammy nominated songwriter James Abrahart a/k/a JHart (Justin Bieber, Keith Urban, Usher) with whom she has written an additional three yet to be released pop songs embodying her soulful sound that have won wide praise in live performance venues.