Friday October 22 2021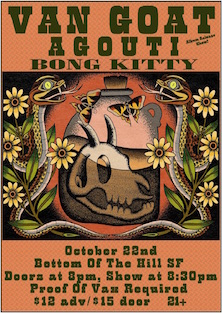 8:00PM

doors -- music at 8:30PM


••• 21 AND OVER




$

12

in advance

/ $15

at the door


Van Goat


Album release show


www.vangoatband.com/


punk rock surf swing


Agouti


agoutiband.com/


DIY psych, garage rock


Suzanimal
suzanimal.bandcamp.com/releases


electropop indie rock




---

Van Goat


-from Oakland, CA


-Punk. Swing. Ragtime. Southern jazz. Surf. Van Goat is a band to which you could apply many labels, but none would quite prepare you for what you're about to hear.
"raw and so energetic that you'll want to upstage your granddaddy on the dance floor." - good Times Santa Cruz
"Like a skeleton band in Hell- jazz art punk on high." - american pancake
"A party at the push of a play button." - Earbuddy
"A danceable feast, the gin-soaked soundtrack for some crumbling speakeasy, full of danger and menace. " - Louder than a doubt





Agouti


-from SanFrancisco, CA


-Agouti is a psychedelic rock band that surfaced from songwriter and producer Carmen Caruso after a trip to Costa Rica's cloud forests. Escaping from chronic fatigue and dysfunctional routine, she ruminated on what to do next. Caruso realized many of her musical facets - early experiences in choir, infatuation with 60s and 70s rock, forays into building new instruments, and making experimental music - all oscillated around psychedelic rock.

When Caruso returned home to San Francisco, she started down a path to produce her own brand of psychedelic music. She created a recording studio in her basement, gutting the entire room and rebuilding it into a soundproof space. She fixed up a 70s bass amp, a 4-track reel-to-reel, and a vintage mixer. Finally, she began writing a new set of songs. The end results, "Summertime" and "Chameleon", have been featured in The Bay Bridged, Deli Magazine, and included in KQED's Mixtape of up-and-coming psychedelic bands.





Suzanimal


-from San Francisco, CA


-Suzanimal is a psychedelic pop project from San Francisco inspired by their love of the Talking Heads, Sylvan Esso & LCD Soundsystem.

Body is an ambitious EP of groove-driven tracks, all topped by Galal's seductive yet light-as-air vocals. It's designed to make you lose yourself to the rhythm with enough of the unexpected to keep you on your toes 'til the afterparty.