Monday November 8 2021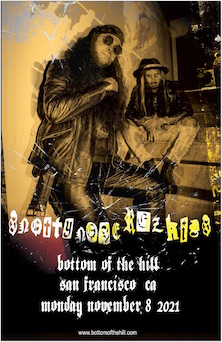 8:00PM

doors -- music at 8:30PM


••• ALL AGES




$

15

in advance

/ $18

at the door


Snotty Nose Rez Kids


snottynoserezkids.com


indigenous hip-hop/rap


Lex Leosis


www.lexleosis.com/


hip-hop/rap


Stevie Ray
wwwhttps://www.callmestevieray.com/


hip hop rap




---

Snotty Nose Rez Kids


-from Vancouver, British Columbia, Canada


-Snotty Nose Rez Kids is a Canadian Hip-Hop duo of Haisla (Indigenous) descent from Kitimat, BC, composed of rappers Yung Trybez and Young D. Formed in 2016, SNRK released their first self-titled album in January 2017, and followed up that same year with their second full-length, The Average Savage in September 2017. The latter went on to secure them Best Hip Hop Artist at the Western Canadian Music Awards, cemented them on 2018's Top 10 list of the coveted Polaris Music Prize, and landed them a 2019 Juno Nomination for best Indigenous Music Album. The group toured heavily in Canada with appearances in New York City, Seattle and Darwin, Australia. They quickly gained notoriety for their energetic, inspiring and thought provoking performances.

SNRK led 2019 with the debut of their third album, TRAPLINE, which received stellar reviews from Exclaim!, Beatroute, Bandcamp, Hip Hop Canada, Now Magazine, Georgia Straight, and CBC Music, and picked up press support from Complex, The Hype Magazine, Okayplayer, Noisey, and the FADER. The duo embarked on a 60+ show tour of Canada, US, Mexico, UK and Australia receiving a groundswell of support for the album and for the tour show, scoring 9/9 on multiple Exclaim! show reviews. That same year, SNRK won Breakout Artist at the Western Canadian Music Awards and the album was shortlisted for the Polaris Music Prize, marking SNRK as one of only three artists to ever be shortlisted in back-to-back years. They rounded out the Year with TRAPLINE listed on numbers Best Album of the Year lists. TRAPLINE was named one of the 50 Best Albums of the 2010's, Top 10 Hip Hop Album of the Year, and Top 50 Songs of the 2010's for Boujee Natives by Exclaim!. SNRK begin 2020 with the release of their first EP, BORN DEADLY





Lex Leosis


-from Toronto, Ontario, Canada


-An artist well known for her dynamic flows, aggressive stage presence and elaborate story-telling, Lex Leosis is loud, opinionated, constantly fighting for what she believes in and hungry to make something of her family name. She's got an attack in her flow, juxtaposed with a finesse in her lyricism and a hunger in her vocal tone. Her family gave her traditions, Toronto shaped her, and California helped form her sound. Growing up in the West End of Toronto with a single mother who worked around the clock taught her discipline, hard work and survival. It gave Lex the energy to perfect her craft, grow her career and exchange stories with artists from all over the world.

From humble beginnings, Lex first found a home in hip-hop at rap competitions and cyphers. She met a number of creatives through online rap communities and has dropped everything multiple times to join her peers in cities all over the U.S. to collaborate, make music and perform. Spending most of her time in the Bay Area of California, Lex has allowed her traveling influences to expand her music sound and capability.

Lex has spent much of the past two years devoting herself to the growth of her hip-hop group, The Sorority. The group made waves with a 2016 International Women's Day Cypher, and since then have released a debut album to critical acclaim, and toured Canada multiple times, sharing festival stages with many great artists. Despite balancing the group, Lex has been hard at work developing her own music infusing her multiple inspirations, Greek identity, and personal history with her own flavor, and is excited for what 2020 has in store.

Outside of music and performance, Lex regularly works to equip the youth of today with creative tools to develop their own artistry. Lex is a mentor in the Hamilton and Toronto hip-hop communities working as a lead facilitator for youth programs that teach kids to write, rhyme and rap. A unique part of the hip-hop landscape, Lex Leosis is an emcee you won't forget.





Stevie Ray


-from San Francisco/Los Angeles, CA


-Born and raised in the San Francisco Bay Area, Stevie Ray discovered music at an early age as the son of a musician. After spending his early years playing guitar in rock bands, he discovered a passion for hip hop when battle rapping on the bus to his high school football games.


Feeling largely uninspired by the invasive tech industry and the ceiling that seemingly existed for all of his music colleagues, he uprooted and moved to Los Angeles with intentions to grow as an artist and human. Upon arrival Stevie was met with much of the same disappointment, as his Los Angeles colleagues shared the same disheartened attitude, and a false notion of competition that seemed to be the root of this defeatist energy he couldn't escape.


What followed next was a period of isolation and reflection. In solitude he discovered belief in self, freedom in thought, and unwavering love for his fellow human beings. This period of solitude gave birth to the identity Stevie Ray, a return to his government name, and a commitment to his core beliefs of generosity, discipline, and compassion.


Upon discovery, Stevie reunited with Andre Paxton, one of his first rock bandmates, to develop this philosophical landscape into a sonic playground. Drawing inspiration from artists like J. Cole, Big K.R.I.T., Kanye West, Mac Miller, and Joey Bada$$ the result was FREE, the official debut of Stevie Ray.