Thursday November 11 2021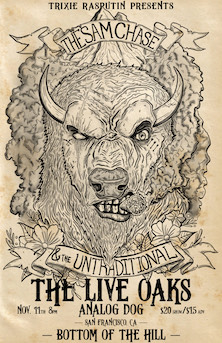 7:30PM

doors -- music at 8:00PM


••• 21 AND OVER




$

15

in advance

/ $20

at the door


Trixie Rasputin

presents...


The Sam Chase & the Untraditional


www.thesamchase.com


acoustic folk punk


The Live Oaks


www.theliveoaksband.com/


americana blues rock


Analog Dog
www.analogdogband.com/


psychedelic indie pop rock




---
The Sam Chase & the Untraditional


-from San Francisco, CA


-The Sam Chase & The Untraditional hails from San Francisco, California. This juggernaut of a band blends rock n roll with folk music while maintaining the sensibilities and attitudes that come from growing up on a healthy diet of punk rock.

​The leader of the band is The Sam Chase himself, a natural storyteller with a voice that sounds as if it has weathered many an epic tale. With boot stomping orchestration and lyrics that have been immortalized on the tattooed skin of their fans, The Sam Chase & The Untraditional doesn't mess around.

These are the warriors we need in these troubled times.




The Live Oaks
-from Oakland, CA
-The Live Oaks are a rapidly emerging Americana band that was started in the hills of Oakland. They evoke the classic spirit of San Francisco 60's rock & roll, with strong soul, rhythm & blues, and country influences. Imagine Bob Dylan and The Band, mixed with CCR and a touch of Otis Redding. They've got a swinging groove that lights a fire under every type of audience, focus's on the strengths of each musician and turns any night into a rollicking good time.
​

Recently helped sell out premier venues in San Francisco, both the Rickshaw Stop with Larkin Poe, and The Independent with Sweet Plot, and recently opened for Norman Greenbaum. Keep them on your radar, The Live Oaks have a new album coming this summer!





Analog Dog


-from San Francisco, CA




-Analog Dog is a psychedelic food pyramid of sound, built on a foundation of rock, layered with ample helpings of indie and pop courses, several servings of funk and jazz, and sparingly but effectively used transformation of space and time. A balanced diet from this dynamic quintet will guarantee to move your shoes, perk your ears, and open your third eye. No need for strife, variety is the spice of life.