Friday November 12 2021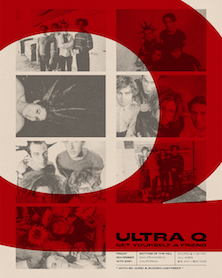 7:30PM

doors -- music at 8:30PM


••• ALL AGES




$

15

in advance

/ $20

at the door


Ultra Q


ultraqmusic.com/


alternantive rock


60 Juno


60juno.bandcamp.com/


surf post punk


Buzzed Lightbeer
www.facebook.com/buzzedlightbeerband


garage punk




---

Ultra Q


-from Oakland, CA


-Not to add to the deluge of artistic clichés brought on by the Global Event Which Shall Not Be Named, but spending more or less a year in the house offers plenty of time for reflection, reevaluation, and revision. Though there was a lot to process already in those months, it was an opportune time to try and get your shit together, whatever that may mean for you. For Jakob Armstrong—in addition to many other things like the rest of us—part of it meant fine-tuning a collection of songs first recorded in late 2019. A prolonged process leading to five of the seven songs on Get Yourself a Friend retooled into their better-than-even final form.

Jakob Armstrong—youngest son of Green Day frontman Billie Joe—began playing guitar at seven years old and honed his craft privately until about sixteen, playing in bands in and around Oakland after meeting friends with like-minded tastes in music. Soon enough, with the memories of Ultraman action figures fighting in his mind, he and a group of friends he cultivated from those years playing around and pouring over records, formed Ultra Q (its name inspired by an Ultraman prequel series).

Fusing together the skyward lift of Interpol, the clever guitar interplay of the Strokes, the maudlin romanticism of the Cure, and the often impressionistic narrative gifts of Arctic Monkeys, Ultra Q's growth since their 2019 EP We're Starting to Get Along has been exponential. A traditional alternative rock sound was baked by the California heat, shards of broken glass gleaming in the sunlight, spanning the distance from Berkeley to Rodeo Drive. Over blaring guitars and thunderous drums, Armstrong's voice is carried by a very familiar lilt. 2020's In a Cave in a Video Game, self-recorded by Armstrong on a whim while quarantined, could easily be slotted between the blown-out, lo-fi tones of early Wavves and the works of intentionally harsh-sounding Columbus band Psychedelic Horseshit.






60 Juno


-from Atwater, CA




-






Buzzed Lightbeer
gabi, kendall, justine
-from San Francisco, CA
-Dionysian fem punk trio. -3-piece sf fem garage garbage.
"Now this is "classic punk"...but with a 21st Century vibe! This record is angsty, fidgety and funny: everything a great punk EP should be rolled into one."