Saturday November 13 2021
<<< Afternoon show
1:00PM

doors -- music at 1:30PM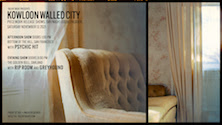 ••• ALL AGES




$

12

in advance

/ $15

at the door




Talent Moat presents...


Kowloon Walled City
inthewalledcity.com/


Album release show




noise rock post-hardcore


Psychic Hit
www.psychic-hit.com/hang-n-bang


Rock, Hard Rock, Proto-Metal, Rock n Roll, Hard Prog


Evelyn Davis
evelyndavismusic.bandcamp.com/releases


art rock avant pop



---

Kowloon Walled City


-from Oakland, CA


-In the world of heavy music, few bands embrace dynamics and negative space like Kowloon Walled City. Since forming 15 years ago, the band has increasingly refined its deconstructed approach to noise rock, math rock, and doom, landing them on stages with similar boundary-pushing bands like Neurosis, YOB, Sleep, Sumac and Thou.

With Piecework (Neurot Recordings/Gilead Media), the band's fourth album and first since 2016's Grievances, Kowloon Walled City reaches new levels of restraint. Songs are bleak and slow, but concise. There are stretches of near silence. While the band has always operated under the MO that less is more, it has doubled down on that ethos for Piecework. Singer/guitarist Scott Evans and guitarist Jon Howell, the main songwriters, self-imposed restrictions to push themselves creatively—"restraining ourselves into oblivion," as Howell put it.

But the negative space amplifies the ruptures of heady aggressiveness that anchor Piecework. Angular guitar notes from Howell skew off the neck, dissolving into space. Ian Miller's bass lines churn in the muck. Drums and cymbal smashing by Dan Sneddon punctuate dead air. (Sneddon, formerly of Early Graves, makes his recording debut with the band five years after joining.) There's sadness and anger in Evans' shouted vocals, but also a desire for something better. Piecework feels not only like an artistic accomplishment but a triumph of perseverance and vision.






Psychic Hit


-from Oakland, CA


-Oakland, CA based hard rockin proto-metal sweetheart band, Psychic Hit, was formed in 2017 by guitarist Andrea Genevieve (Queen Crescent, Purple Rhinestone Eagle) and vocalist/violinist Ariana Jade (Hedersleben, Nik Turner's Hawkwind). Having met through the thriving Bay Area rock n roll network, the tenacious pair began to dream up a project that fused their wide-ranging tastes in music. What resulted was a band that would combine the raw power of early Judas Priest and Scorpions, the melodic sensibilities of Fleetwood Mac, and the esoteric appeal of lesser known acts such as Lucifer's Friend and Flower Travellin' Band.

In 2018, the duo was joined by bassist Melanie Burkett (Ovvl) and drummer Justin Divver (Funeral Chant). With the talented rhythm section locked in, the four musicians began to embark on a songwriting enterprise that resulted in their first, self-recorded demo in the fall of that year. After the demo was recorded, the band welcomed fifth member, Jake Palladino (Pins of Light, Hightower), to join Andrea Genevieve on guitar.

Although Psychic Hit's sound is heavily influenced by both 70s greats and rarities, the band is anything but an anachronism. Like modern contemporaries such as Kadavar, Lucifer, and Hällas, Psychic Hit seeks to recast rock music in their own image, rather than to just simply imitate eras past. In an age where the dark forces of monotony and monocracy loom large on the horizon, Psychic Hit appeals to their listeners to embrace the regenerative, communal power of rock n roll.




Evelyn Davis


-from

Detroit/Oakland, CA

-Detroit native, Oakland resident, and general wanderer Evelyn Davis is an inside/prepared/new music pianist, improvisor, pipe organist, composer, vocalist, synthesist, teacher, songstress, and maker of /participator in oddly shaped musics with an occasional side of performance art. Evelyn fronts CHIROMANCER, a plate-juggly art rock duo.