Wednesday November 17 2021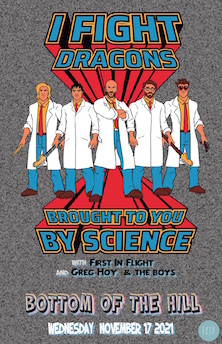 8:00PM

doors -- music at 8:30PM


••• ALL AGES




$

15


I Fight Dragons


ifightdragons.com/


pop rock with chiptunes


First In Flight


firstinflightband.com/


dance-pop rock


Greg Hoy
https://thegreghoy.com/


retro power pop




---

I Fight Dragons


-from Chicago, IL


-I Fight Dragons is a rock band from Chicago. Their music is a combination of pop/rock with chiptune, featuring electronic sounds made using Nintendo Game Boys and Nintendo Entertainment Systems.
To date they have released three full-length albums: 2011's KABOOM!, which came out on Photo Finish / Atlantic Records, 2014's The Near Future, which they self-released after raising over $100,000 on Kickstarter through their "Project Atma" project, and 2019's Canon Eyes. They have also released two EPs, 2009's Cool Is Just A Number and 2010's Welcome To The Breakdown.
Their music has been featured on Nintendo Video as well as on the WWE, and they wrote and performed the theme song for ABC's The Goldbergs: Rewind ("The Goldbergs" Main Title Theme). From 2010 until 2012 they were signed to Photo Finish / Atlantic Records, but in fall 2012 they won their release from the label. They have toured the USA with mc chris and Whole Wheat Bread in 2009, 3OH!3, Cobra Starship, and Travie McCoy in 2010, The Protomen in 2011, and they were on the entire 2012 and 2014 Vans Warped Tours. Since then, they have toured sporadically as well as headlining annual holiday shows in Chicago. For tour dates, merchandise, email list, and more visit www.ifightdragons.com





First In Flight


-from San Francisco, CA


-"First in Flight will push you off the ledge... and catch you before you hit the ground"

Two metal musicians looking for a change. Two jazz geeks looking to rock. A small suburb considered a "speed bump" between San Francisco and Los Angeles, a Craigslist post, a high school marching band prodigy, a college cheerleader, and bubble tea. This was the beginning of what became the national touring act First in Flight.

It only takes one small decision to change someones life, and First in Flight is here to be your anthem music to make that change. They've created an 80's fueled dance rock sound with the goal of empowering you to face your fears. Imagine if Cobra Starship and IDKHOW got into a bar fight. That sound. The sweetness of cotton candy in the middle of a mosh pit. They create music for those looking for an escape, seeking independence, and craving change. If My Chemical Romance is a shoulder to cry on, then First in Flight is the locker room pump up speech that comes after.

Recently, they released their hit single "It's Cool" reaching nearly 1M streams on Spotify, as well as their new track "Skeletons". They also exploded on Tik Tok, accumulating 300,000+ followers in under 3 months. They've gone viral with their popular videos landing them placements on BARSTOOL SPORTS, GRANDMA'S STORY, and the IG stories of THE OFFSPRING and LARS ULRICH from METALLICA.

They've seen similar success on Instagram. In less than 1 month, they increased their followers 13x from 5,000 to over 65,000, with their IG videos averaging 50K+ views. Engagement is higher than ever before and they continue on a skyrocketing trajectory towards 100,000 followers and creating an avid listener base of their new music.

First in Flight most recently came off a full US Tour with Finish Ticket Finish Ticket, and has performed with The Wrecks, Arrested Youth, Vinyl Theatre and more.




Greg Hoy


-from San Francisco, CA


-Bay area plug-in-and-play rock artist Greg Hoy is blowing the cobwebs off the van to tour supporting his 'Cacophony' vinyl LP release. The rock trio will also be performing songs from their last 6 song EP 'Enjoy the View' recorded by Steve Albini (Nirvana, Pixies) and mixed by Sylvia Massy (Tool, Johnny Cash, Tom Petty).

Divide & Conquor says 'Live, Hoy is like Jack White AND Jack Black rolled into one... I was addicted the first time I heard it' The Big Takeover Issue 83 says 'Drop the needle anywhere on his LPs and you're greeted with Hoy's crunchy, meaty, dirt discharging guitars & swaggering Mick Jagger/David Johansen-like growl. Hoy's boys kick out plenty of 70's punk, rnb, blues inspired jams.' Red Red Wine on a Sunday says 'Hoy's records are deep - like peeling layers off an onion - each song is a revelation!'.