Friday December 3 2021
CLOSED
Previous show with The Hunna canceled.
Friday December 3 2021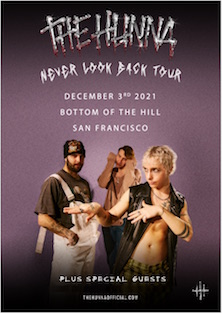 8:00PM

doors -- music at 8:30PM

••• ALL AGES
$
17.50

in advance

/ $20

at the door
Never Look Back Tour
The Hunna
store.thehunnaofficial.com/
altenative rock
Charming Liars
www.charmingliars.com/
Alternative Rock
Kelsy Karter
www.facebook.com/KelsyKarterMusic
pop soul rock and roll
---

The Hunna
Ryan Potter, Dan Dorney,
Jermaine Angin, Jack Metcalfe
-from

Watford, Herts, England


-Hailing from Watford, Herts, The Hunna – singer/guitarist Ryan Potter, lead guitarist Dan Dorney and drummer Jack Metcalfe – are three guys living the classic rock 'n' roll dream – one of touring, tattoos and tearing up the world's most iconic venues, and they've already got to phenomenal levels of fandom as, largely, a word-of-mouth success story.
The band returned in 2020 with a thrilling third album and a stonking great attitude that's alluded to in the title. It was recorded with crack producer John Feldmann, who has produced bands like Blink-182, Fever 333, Twenty One Pilots, Refused, Panic! At The Disco, Black Veil Brides & All Time Low.
The band's debut album (their name, itself, is an extraction of the word "hundred") came out in 2016, and hit No. 13 on the UK album chart. Things were happening fast, and the band was on the up: the venue capacities were increasing, the fanbase was growing exponentially. By the time they released second album , they were able to fill Brixton Academy twice.
"There's no plan B for us," says Ryan. "We won't stop until we get to where we believe we can get to. We want to be one of the biggest bands in the world, up there with our favourites: Kings Of Leon, Foo Fighters, Nirvana, The 1975. Headlining arenas, stadiums one day. We want to experience everything."






Charming Liars
Kiliyan Maguire - Vocals
Karnig Manoukian - Guitar, Production
Mike Kruger - Bass
-from UK/Los Angeles, CA
-Charming Liars' evolution began in London's West End when guitarist Karnig Manoukian and bassist Mike Kruger were still in their teens. Both came from homes with wide ranging and eclectic musical tastes, and that early exposure informed their approach to making music. They started writing and playing together in a series of bands and honed their musicianship with tours up and down the U.K.

In 2013 they moved to Los Angeles, a decision in part spurred on by an encouraging social media message from songwriter and producer John Feldmann (Panic! At the Disco, Plain White T's, 5 Seconds of Summer, Blink-182). Shortly after, the two connected with vocalist Kiliyan Maguire through a mutual friend. Those initial conversations led to songwriting and then recording sessions – the 3 realized that they had an organic musical chemistry that would lead to interesting possibilities.

2019 proved to be a breakout year for the band, who released their debut album, Thought, Flesh and Bone, a follow-up acoustic EP, Bare Bones, and closed the year with a live collection titled Live 2019. They also headlined shows on the West Coast, toured Europe with The Faim, and crossed the U.S. as direct support for Angels & Airwaves. Most recently Charming Liars returned to Europe with Palaye Royale.

Despite the challenges posed by 2020, Charming Liars continued writing and released a series of new singles including "Favorite Show," "BLAME," and "Impact." The new music has caught the attention of listeners around the world, as well as publications such as NPR, Grammy.com, Alternative Press, idobi Radio, and more. They ended the year with their "Live Sounds Of 2020" video series, which captured the energy of live shows that fans had been missing.

Charming Liars has shared additional videos from their live series over the last few months, and most recently debuted their new EP Sequence 1: Noise Maker. The band looks forward to playing these new songs live for the first time and reconnecting with fans when they hit the road with The Hunna later this year.






Kelsy Karter


-from New Zealand/Los Angeles, CA




-Singer Kelsy Karter makes vintage-influenced pop and soul with a contemporary twist. Born in New Zealand, Karter was raised in Australia, where she first started playing piano around age six. Growing up, she also studied dance and appeared in theater productions. However, it was listening to her parents' record collection, especially classic girl group and Motown sides, that inspired her to want to sing pop music. After high school, she relocated to Los Angeles to pursue her career, debuting with the 2012 single "The Revolution" and 2013 follow-up "Ghost Town." In 2015, she released the EP Kiss the Boys. More singles followed, including 2015's "Out of Drugs," 2018's "Too Many Hearts to Break," 2019's "Liquor Store on Mars, 2020's "Missing Person" and her latest release "Live from Nowhere".