Saturday December 11 2021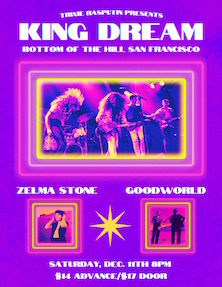 8:00PM

doors -- music at 8:30PM


••• 21 AND OVER




$

14

in advance

/ $17

at the door


Trixie Rasputin

presents...


King Dream
www.facebook.com/kingdreammusic


psychedelic rock


Zelma Stone
www.zelmastone.com/


indie rock


Goodworld
goodworld.bandcamp.com/


garage rock



---

King Dream


-from Oakland, CA


-King Dream is a psych-rock project from Bay Area songwriter and multi-instrumentalist Jeremy Lyon. With a soulful voice, roots planted in the golden era of California psychedelia, and a wry energy that places him firmly in the 21st century, Lyon charts a path through timeless themes: disillusionment with oneself, with adulthood, with one's country — and the discovery, time and again, that somehow there's still plenty worthy of a love song.

Lyon, a Bay Area native, previously co-founded the folk-rock band Tumbleweed Wanderers, who toured the country for five years before disbanding in 2016. Inspired by songwriters like Jim James, Jonathan Wilson and Blake Mills, Lyon spent the next two years reinventing himself and, thanks to his vocal ability and versatility, soon became one of the most in-demand sidemen in the Bay. Playing with different bands, he picked up a few things: new instruments and arrangement techniques; a love of darker textures and moody, atmospheric sounds on electric guitar. And then an invaluable collaborator- producer: Lyon credits Graham Patzner of Whiskerman with helping to shape and carry the new project from idea to reality.

King Dream's self-titled debut, out August 24th, 2018, is a reemergence of sorts. It's about places, relationships and empires crumbling, and the possibilities that announce themselves when the dust has cleared — when you find yourself alone for the first time in a long while, and you open your mouth and see what comes out.






Zelma Stone


-from San Francisco, CA


-There's a certain magic in the ability to gild tragedy with rhinestones, and Zelma Stone, the moniker of Bay Area native Chloe Zelma Studebaker, perfects that sleight of hand on The Best. Where 2020's lauded Dreamland was a backward glance at fresh grief, Studebaker's third record is an homage to what's ahead, and the EP's marriage of vulnerability and bravado asserts Zelma Stone as a captivating voice in contemporary songwriting. "In the past, I often felt caught up in the sensation of constantly looking back, wondering where the time went and what could have been," says Studebaker. "I spent a lot of this year learning to trust myself and embrace new chapters. The theme of moving forward and accepting change is very present throughout this record, and it was exciting exploring these ideas with a fuller sound and more dramatic dynamics."

Written in pre-pandemic San Francisco and recorded last fall in Stinson Beach, CA with producer and repeat collaborator Maryam Qudus, The Best is the culmination of Studebaker's years of songwriting and performing since starting Zelma Stone from her childhood home in 2017. Citing classic country stars like Patsy Cline and contemporary outfits like Amen Dunes among her inspiration, Studebaker's influences play well together on tracks like opener "Gift Horse," which sees her snarling "I'll be on my high horse when the words come to me," as sinuous, reverberating guitar snakes underneath. The rumble of the bassline and Studebaker's polished, distinctive delivery evokes a jukebox standard, but it's the doubt beneath this and every track on the EP–a doubling back, lyrically and sonically–that renders The Best particularly multifaceted. "I'm fine now, I'm fine now, I'm fine," she sings later on "Money Honey," and it could be a promise or a white flag, waved in defeat. The Best acknowledges that a heart is always holding more than one thing, and that what it contains can't always be labeled.

After a series of formative losses over the past decade, the songs on The Best are about grief but also discovery, the shedding of old identities and relationships to make space for an evolving self. "Come Back" is an earworm plea for constancy, the perfect encapsulation of our desire to be fully known and our fear of that exact phenomenon. "In my writing process, lyrics often materialize subconsciously, and the underlying meaning does not always come to me right away," Studebaker says. "Sometimes even months or years later, the meaning takes on a new form." True to her word, these tracks deepen with each listen, from flourishes of pedal steel to one-liners that stick like tattoos.

When plaintiveness rears its head—"I have things to say, I have many feelings" opens the EP's final and titular track—it feels like a moment of suspension between a curtain's rise and fall. Belied by her age, Studebaker's ability to withhold and reveal is a marvel, and these dexterous songs are a masterful balancing act between the self she knows and the self she projects, as winsome as they are wistful. Exploring new sonic terrain and marking her growth as a songwriter, The Best cements Zelma Stone's place among modern indie music's brightest up and coming acts.





Goodworld


-from San Francisco, CA




-Goodworld is the idea that the world is fundamentally good, or it is the name of a pretty cool amusement park.