Sunday December 12 2021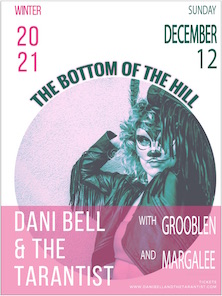 8:00PM

doors -- music at 8:30PM


••• 21 AND OVER




$12


Dani Bell & the Tarantist


www.theredwoodsmusic.com/dani-bell-the-tarantist


psychedelic dream pop, soul


Grooblen


www.grooblen.space/


indie rock jazz


Margalee
margalee.bandcamp.com/


experimental indie rock




---

Dani Bell & the Tarantist


-from San Diego, CA


-For an artist who sings with vulnerability and introspection, Dani Bell offers scarce hints of a persona through her performance with Dani Bell and the Tarantist. On stage, the singer's face is partly concealed by a feathered commedia dell'arte mask, which she procured in the Venice Republic. Her body reveals only a compulsive devotion to the music, the possessed dancing ecstasy of a tarantist.

Dani Bell and the Tarantist make frequent appearances around San Diego, but have also performed at a few festivals including Bottle Rock and Joshua Tree Music Fest.





Grooblen


-from San Francisco, CA


-All of the art, ridiculousness, and endless ideas in her head brings Ellie Stokes to describe her music under one, made-up, oh-so-goofy word: Grooblen.
Reflecting surreal, pensive, haunting, and at times silly themes in her music, San Francisco's Ellie Stokes is a flailing dinosaur trapped in a young womxn's body using art to help herself and others heal and transport them to another flippity-dippity musical world very unlike the one we all currently live in.
Grooblen is an accumulation of all of the above, and a little bit more, all presented in verse, catchy melodies, and the occasional "frrrm" of an accordion or "whirrrr" of a Nord-gan.

Spotify, Youtube, Apple Music links below, here's a handy dandy link to Bandcamp- but really, you can stream Grooblen anywhere you darn well please.





Margalee


-from Oakland, CA




-Margalee started with a collection of poems she wrote shortly after moving to the Bay when a mugging sent her into isolation. Sharing music online became a way of making friends, and soon the solo, self-produced bedroom project transformed into a four-piece ladies rock band that performed locally around the Bay. When the pandemic hit, the band folded and Margalee went back to being a bedroom project. Today, Margalee is reemerging as a solo multi-genre artist.