Tuesday December 14 2021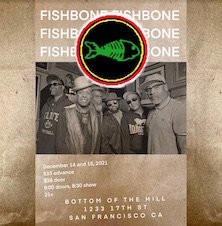 8:00PM

doors -- music at 8:30PM


••• 21 AND OVER




$

33

in advance

/ $38

at the door


Fishbone


fishbone.net/


funk fusion punk reggae ska


Chaki


www.facebook.com/chaki818


pop





---

Fishbone


-from Los Angeles, CA


-Legendary in the history of American Ska, Rock Fusion and (so-called) Black Rock, FISHBONE started their twenty five-year professional career in Los Angeles burgeoning, Alternative Rock music scene of the mid-1980s. Their sound has often been imitated, but never duplicated. They have toured worldwide with such bands as the Beastie Boys, Red Hot Chili Peppers, The Roots, Les Claypool/Primus, Fela Kuti, The Dead Kennedys and many more. Angelo Moore's ability to combine thought-provoking, humorous social commentary with Fishbone brethren's frenzied, up-tempo music and frantic, euphorically entertaining stage show has cultivated their undisputed reputation as one of the best live acts in music history. Moore himself is renowned as one of the very best live showmen; Gwen Stefani of platinum-selling Ska/Pop band No Doubt cites Moore as her idol.
Composing, creating, recording, releasing and performing original music for over two decades now Fishbone and their music has been featured in numerous films, commercials, and TV programs. Their catalogue has sold over 750,000 records worldwide, solidifying their rock n' roll legacy as one of the most influential alternative rock bands in music history.





Chaki


-from Los Angeles, CA




-Chaki is a funky alien wizard from Outer Space. He has shared the stage with like minded weirdos Peelander Z, El Vez, Bob Log III, Captured By Robots, Flipper and Shannon & The Clams. He is like Prince but not sexy.