Thursday December 30 2021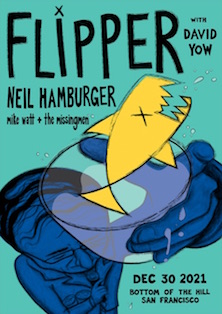 8:00PM

doors -- music at 9:00PM


••• 21 AND OVER




$

40

in advance

/ $50

at the door




Radio Valencia co-presents...


Flipper


www.facebook.com/people/Flipper/100044347963382/


punk rock


Neil Hamburger


www.americasfunnyman.com/


comedy


mike watt + the missingmen
hootpage.com/


post-punk rock




---

Flipper
David Yow - Vocals
Ted Falconi - Guitar
Rachel Thoele - Bass
Steve DePace - Drums
-from San Francisco, CA
-Flipper is an American rock band formed in San Francisco, California in 1979, continuing in often erratic fashion until the mid-1990s, then reuniting in 2005. The band influenced a number of grunge, punk rock and noise rock bands. Their slowed-down, bass-driven and heavily distorted style of punk is considered to have inspired bands such as the Melvins and Nirvana, whose bass player Krist Novoselic played with the band in the 2000s Currently they have David Yow of Jesus Lizard on vocals.






Neil Hamburger


-from Australia/Los Angeles, CA


-America's Funnyman Neil Hamburger is the hardest working comedian in existence, performing up to 399 shows a year internationally to critical acclaim and audience bewilderment. He has toured as the hand-picked opener for Tenacious D, Tim & Eric, and Faith No More, appeared on TV shows ranging from Tim and Eric Awesome Show Great Job! to Jimmy Kimmel Live!, and worked extensively with Tom Green on his internet talk show. Among his dozen or so albums and DVDs is the new LP release Hot February Night.
RECENT PRESS:
"Aphlegm-filledsackofputridself-loathing,Neil Hamburger is the perfect satire of a slick, professional nightclub comedian. If you've ever suspected that behind the glossy veneer of fake bonhomie ofthose perma-smile acts lies an ugly, embittered, grotesque soul — well Hamburger is that demon made flesh. In some living Sisyphean hell, every night he dons his tuxedo, greases down his hair and ploughs through the vile set that disgusts even him, just so he can earn a three- piece chicken dinner. His contempt for his own pitiful existence is surpassed only for his contempt for the audience who compel him trudge through his despicable cavalcade of jokes. And my, these gags are certainly not for the faint of heart, as he plumbs the depths of depravityforthesakeofalaugh."—Chortle(UK)
DRAGCITYP.O.BOX476867CHICAGO,ILLINOIS 60647 PH 312.455.1015/ FX 312.455.1057/ press@dragcity.com
"Hamburger is the clapped-out husk ofa decorous Southern gentleman, now coughing in painful hacks, suppurating filth through his tuxedo, and her to tip a slurry of abuse all over celebrity and modern life...a combination of malignance and desiccated vaudeville." — The Guardian (UK)
"Neil Hamburger remains the greatest comedian I've seen the greater majority of an audience walk out on.... No one was leaving their seats this evening though, as this peerless performer shocked and delighted in equal measure.... Ontheroadfor12yearswith scarcely a day off, Hamburger is a condemned showbiz lag, doomed to perform his antagonistic anti-comedy to potential hostility forever." — TheScotsman (UK)
"A brilliantly awful persona of an old-school, C-list funnyman — the kind with an ill-fitting tuxedo and an enormous, greasy combover — on a very bad night. Neil Hamburger toys with an audience's expectations (and patience), and indeed his act is
a kind ofrude commentary on stand-up comedy altogether." — New York Times






mike watt + the missingmen


-from San Pedro, CA


-"What can be romantic to Mike Watt?"

This question is from the song "One Reporter's Opinion." It first appeared on "Double Nickels on the Dime," the Minutemen's acclaimed 1984, 45-track, two record release; often named among the best and most influential albums of the 1980's. At the time of the song's recording, this query may have seemed rhetorical, as the band was an integral part of Los Angeles's explosive early punk and hardcore scene. By 1984, The Minutemen - - Mike Watt on bass, guitarist D Boon and drummer George Hurley - - had already earned a reputation for fierce, rapid-fire performances. Their songs were abrupt gusts of genre-bending music, with concise, satirical lyrics that probed and skewered topics like Reagan era politics and commercial popular culture.

Yet nearly 30 years later, this question continues to haunt Watt, although it's long been freed of any presumed irony. In the intervening years, it has become increasingly evident that much of this bass player, songwriter and "spieler's" life is in fact very romantic to Mike Watt.

His passions are observable in everything. It's heard in Watt's musical signature - an extraordinarily lyrical bass playing style - a singular sound that leaps from any of his many recordings. It's visible in his mystical veneration of the natural world, revealed by equally allusive photos of seagulls, sea lions and sunrises taken during his daily "crack of dawn" biking and kayaking excursions in San Pedro, California, his beloved hometown. (Some of these exquisite images were the subject of a 2010 solo exhibition, "Eye-Gifts From Pedro" at the Track 16 Gallery in Santa Monica, CA., and are part of his book, "On and Off Bass," Three Rooms Press, 2012). His romance extends to the ordinary, too, observable in the way he describes his state of mind, meals, gigs, friends and daily activities in his compulsively detailed tour diaries available on-line since 1997 (before the term "blog" was coined), on his self-built and meticulously maintained website: hootpage.com, which he launched in 1996.

Watt is a cultural omnivore. Especially over the last decade, his openness (and eagerness) to devour new musical experience has become increasingly audible (and visible) in the dozens of projects and live performances he's participated in with artists as divergent as Yoko Ono, Black Moth Super Rainbow, Petra Haden and Kelly Clarkson.

With the songwriting and recording process freed from terra firma through digital technology and internet file sharing, Watt's been able to contribute bass to recordings by friends and fans from all over the world, who have contacted him through email and social media. He's also sought the partnership of musicians he's encountered on his own: through his (since 2001) web-based radio series "The Watt from Pedro Show," or met on tour, particularly since 2003 when he began playing bass with the perpetually globetrotting Iggy and the Stooges. These opportunities have yielded several ongoing collaborations, including multiple recordings with members of the Japanese band Migu and England's The Go! Team. To accommodate this explosion of creativity, in 2011 Watt launched a new label, clenchedwrench (www.clenchedwrench.com), his first DIY imprint in almost three decades. Its first release was "Hyphenated Man," the third of his "operas," in March 2011. The label has since released "Dos y Dos," the 4th (Mike Watt and Kira Roessler) Dos album (2011) and "Speilgusher" (2012) with poet, rock critic and Blue Oyster Cult lyricist Richard Meltzer. "La Busta Gialla" by Il Sogno del Mariano, a trio pairing Watt with Italian musicians Stefano Pilia on guitar, and Andrea Belfi on drums, and several more collaborative recordings are scheduled for release in 2012.

History is ultimately a revisionist art form. Biography, too, is less ambiguous and more subjective in the rearview mirror. Glancing backward, it might appear obvious now how Watt has grown as a musician and as a man. His legendary big heart, acute intelligence and irrepressible curiosity, combined with his strong work ethic and a much-admired artistic authenticity have secured his reputation. He is one of the most well respected musicians of the last three decades. He's also one of the most dearly loved.

In person, Watt is a man of sharp contrasts, frequently veering from extremely silent and shy to bearishly loud and argumentative. However, despite his penchant for debate and in his own words "an unfortunate personality," most anyone who has ever encountered him remembers him fondly. His renown as a sweet guy follows him everywhere.

Admittedly, too, Watt has always had a hankering for mysteries, especially those that remain unsolved. He also likes the principle that for everything revealed something else is concealed. For those reasons, it's not surprising that although one is often initially met by Watt's outsized enthusiasm for music, books, nature and people, it barely masks an underlying sense of sadness and loss. So in considering this self-mining, however symbolic, mostly autobiographical artist, the answer to the question "Who is the man behind the curtain?" seems to get both more vivid and more elusive with time.