Wednesday January 12 2022
CLOSED
The previously scheduled show—with

Spud Cannon

— is postponing to August 24th. Your tickets have been transferred to the new date automatically. If you were not interested in attending on that new date, please contact us for a refund —before June please.
Wednesday January 12 2022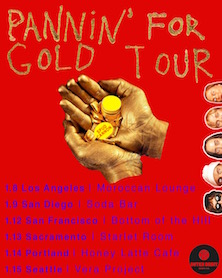 8:00PM

doors -- music at 8:30PM

••• 21 AND OVER
$
12

in advance

/ $15

at the door
Spud Cannon
spudcannonband.com/
garage rock indie pop
Spud Buddy
www.facebook.com/spudbuddyband/
country rock
States of Nature
www.statesofnature.org/
rock n' roll post-hardcore
---

Spud Cannon


-from Poughkeepsie/Brooklyn, NY


-Beginning at Vassar College in the fall of 2016, the story of Spud Cannon charts the emotional journey of finding oneself with vignettes of rock and roll highs and lows interspersed throughout. All, mostly, before the quintet of Meg Matthews (lead vox), Jackson Walker Lewis (guitar), Ari Bowe (keys), Lucy Horgan (bass) and Benjamin Scharf (drums) could buy a drink (legally).

Spud Cannon's forthcoming third full-length, "Good Kids Make Bad Apples," bristles with an immediacy inspired in-part by all-night, definitely-allowed recording sessions at the Vassar squash courts. Each song recorded in the Wall of Sound-style court are pure takes capturing the energy of the Spud Cannon live experience in its purest form to date.

Returning from a stressful tour that nearly broke them apart for good, the album's nine songs find the band locked in on the other side of turmoil stronger than ever. Reflections on relationships, knowing one's worth, or simply just wanting to have a good time are all spun through Spud Cannon's infectious rock sound. Like a good friend who knows exactly how to cheer you up or clock an ex from across the room and steer you away, "Good Kids Make Bad Apples" is a hand on the shoulder in the times that led you to yourself.





Spud Buddy


-from San Francisco, CA




-Like many of their heroes before them, San Francisco, CA band Spud Buddy came into being as a backing band. They spent a year supporting country singer-songwriter Margo Cilker before splitting off a year ago to play their own brand of twangy Bay Area rock n' roll. Drawing on a wide range of influences spanning from sixties rock n' roll to early aughts pop-punk, guitarists Simon Hochberg and Alex Rosenblatt, bassist Phil Thorneycroft, and drummer Eli Popuch dial in the perfect balance of contrasts -- dreamy but gritty, worried but irreverent -- with one goal in mind: be the tightest, least pretentious, most fun band they can.





States of Nature


-from San Francisco, CA


-Blending 90s era Dischord with modern day punk influenced indie rock, San Francisco's States of Nature brings a fresh take on a familiar sound with dueling vocals, shouty yet memorable hooks, and strong counterpointed movement to inspire a rock n roll frenzy.

States of Nature draws lyrics through moments notable and ordinary to create an abstract expression of personal honesty, striving for hope out of grief and growth out of darkness.

States of Nature is Eric Urbach (ex. Everybody Row) on guitar/vocals, Lindsey Anne on Bass/Vocals, Dennis Orason on guitar, and ISA KNIFE (Dead To Me) on Drums.