Saturday January 15 2022




<<rescheduled from 8/14/21 <from 11/21/20 <from 8/8/20 <from 5/16/20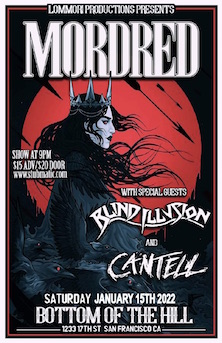 8:30PM

doors -- music at 9:00PM


••• 21 AND OVER




$

15

in advance

/ $20

at the door




Lommori Productions present...


Mordred
mordred.company.site/


rock and roll / soul


Blind Illusion


www.blindillusionofficial.com/


r&b surf stomp


Cantell
cantell.rocks/


Indie Rock / Surf Pop




---

Mordred
Scott Holderby--vocals
James Sanguinetti--guitars
Danny White--guitars
Art Liboon--bass
Aaron (Pause) Vaughn--keyboards, vocals, turntables
Jeff Gomes--drums
-from San Francisco, CA
-"Cross-over Thrash pioneers Mordred have returned with a new EP that is jam-packed with enough visceral energy to power your neighbouring town. Single 'Not For You' is a punchy, rough and tumble escapade that carries a strong message, all the while finding a perfect equilibrium between the 'classic' Mordered sound we all remember and a fresh new sonic horizon. The bastard sons of Bay Area Thrash are BACK with a glint in their collective eye and gator smile. Bring it on!" Overdrive.ie

Before Anthrax collaborated with Public Enemy, before Rage Against The Machine tore up the DNC convention, and before Limp Bizkit shredded Woodstock, there was a band called Mordred from the Bay Area of San Francisco, California that started it all.

Mordred, a band always ahead of its time, was formed back in 1984 in the San Francisco Bay Area during the era that gave us the big 4: Metallica, Slayer, Anthrax & Megadeth. One of the first bands in the crossover thrash metal genre, blending funk, metal and DJ Pause on the decks, they released their debut album 'Fools Game' back in 1989. The album gave birth to the hit single 'Everyday's A Holiday', a huge crowd pleaser at the live shows. 'Everyday's A Holiday' also yielded a video which played in heavy rotation on MTV & other music stations internationally, in addition to helping secure successful American/European tour supports to big metal bands.

In 1991, their second album 'In This Life' garnered 5 star reviews in Kerrang and others, gaining the band huge critical acclaim and cementing their place in the Bay Area's famous names."In This Life is an elastic bastard of epileptic proportions. A flexibile colossus of 10,000 guitars and schizo sonic FX.....In This Life is faultless. Disturbing. Fresh. A truly great innovation" Kerrang Mag

This album spawned 2 hit singles, Falling Away & Esse Quam Videri, both videos enjoying heavy rotation on MTV and worldwide. Touring for support of In This Life produced a live home video, In This LIVE, from one of their amazing headlining shows at the Marquee club in London, which sold out both nights. 1992 arrived & Mordred release the 6 track EP that was 'Vision', the EP included a wide variety of the crossover thrash sound & again enjoyed lots of radio exposure.

In 2013, Mordred came back to life with a passion, the line up including five of the original In This Life members minus drummer Gannon Hall who was replaced by Jeff Gomes of Fungo Mungo. Their reunion tours of 2014 and 2015 saw a new and previous generation of fans and a show at Bloodstock 2015 lit a fire with the band and fans and proved they were back and meant business.






Blind Illusion
Mark Biedermann
Doug Piercy
Tom Gears
Andy Galeon
-from Bay Area, CA
-The Epic Original Progressive Thrash Metal band established in 1978! It's first release featured Mark Biederman, Les Claypool, Larry Lalonde, and Mig Miner on the cult classic album The Sane Asylum.

As of August 10th 2020 we have announce Andy Galeon previously of Death Angel as our new drummer. We have been in the studio recording brand new music and it is sounding killer!! We can't wait to release the first song for you to hear. The current line up features Andy Galeon on Drums, Doug Piercy of Heathen on Guitar, Bassist Tom Gears and Blind Illusion band leader Mark Biedermann!

The sound is heavy and we feel something special is being recorded. Amid these wild times of Covid we are happily laying down some intesnse Thrash Metal for your ears! We will keep you updated as we progress!

Blind Illusion was formed by-15 year old Mark Biedermann, along with drummer Bret Hern and bassist Les Claypool. The band's earliest sound had been musically rooted as progressive metal, with Biedermann citing as his main inspirations Rush, King Crimson, Led Zeppelin, Black Sabbath, Van Halen and Jethro Tull. However, external input from later musicians, many with ties to the Bay Area thrash scene would add a Thrash Metal direction to the band. In 1983 live recordings traded by fans with songs like "Death Noise", "Darkness", "Kamikaze", "World That's an Illusion", "Helter Skelter (Beatles)", and "Concerto" were part of their set list. Blind Illusion had already released 2 demos by 1983. During this period, Blind Illusion played extensively with bands such as Exodus, Testament, Death Angel, Metallica and Possessed playing shows throughout the area throught the 80's. Mark Biedermann took over vocal duties in place of former singer Dave White who left the band to join Heathen and released a third demo Trilogy of Terror that was produced by Metallica's guitarist Kirk Hammett.

The band also added second guitarist John Marshall (later of Metal Church) who, in 1987, would be replaced by guitarist Larry LaLonde, formerly of pioneering death metal band Possessed. In the same year, Blind Illusion signed a record deal with Music for Nations on their Under One Flag Record/Combat division, with whom the band recorded their debut record in 1987, The Sane Asylum, which was released in 1988. The album was considered a Thrash Metal classic, featuring tracks such as Vengeance is Mine, Death Noise, Kamakazi, Smash The Crystal, Blood Shower etc.. At the same time Mark Biedermann worked with producer Sandy Pearlman in 1987 contributing rhythm and guitar leads on four songs for Blue Öyster Cult on their Imaginos album along side Joe Satriani and Robbie Krieger from The Doors. Metal Mind Productions re-distributed a limited edition pressing of The Sane Asylum in 2007 as the 1988 Combat Records released version of the album had been long out of print. Mark Biedermann reformed Blind Illusion in 2009 with a new-lineup, releasing Demon Master on July 7, 2010. In December 2013, Biedermann bumped into DRI's Bass player and Metal Photographer Harald Oimoen in Berkeley, California. Harald called drummer and long time friend Cire the same day to ask him if he wanted to join forces and help put Mark and his legendary music back into the limelight. World in Sound Records out of Germany re-mastered and released The Sane Asylum in March 2015 with bonus tracks from"Trilogy of Terror" demo.

Harald convinced Mark to go back to his roots of Progressive Thrash Metal again after the lukewarm reception to Demon Master. In April 2017 Guitar Legend Doug Piercy who has known Mark since 1982 joined forces with his old friend in Blind Illusion. Due to Haralds conflicting bands scheduling, Tom Gears a veteran of many local bands passed audition instantly, replacing Harald O on Bass. After a successful European Tour in the Summer of 2017 Blind Illusion found itself back in rehearsals working on their new EP 2018. In 2018 Blind Illusion embarked on their second European Tour and were featured at the Keep It True Festival in Germany. After the tour Blind Illusion decided to hit the studio with James Boblak mixing/ engineering and mastered by Legendary Mastering Guru Dave Collins. "2018" EP Produced by Doug Piercy and Blind Illusion.

In 2019 the band reached out to Serg MP the bassist for Bestial Invasion to find a touring partner in Europe. He introduced us the band to Fusion Bomb from Luxembourg. The two bands hit it off right away and scheduled the Slam Asylum 2019 tour of Germany, Belgium and the Netherlands. Special thanks for booking the tour are given to Jochen Boellath from Daredevil Records. Many thanks to one of the bands biggest supporters Paul van Rijswijk, guitarist of the Dutch Heavy Metal band Emerald for booking Blind Illusion on the Heavy Metal Maniacs festival in Amstelveen.





Cantell
Randy Markham (Marlon Rando) vocals ,
Daniel (DAP) guitars,
Fuji (Rick) bass
Eric (Salvo) drums
-from Berkeley, CA
- Cantell seem rather reckless with their sonic darts. This aim and aggression of these East Bay natives draw from several rockwells, a variety uncamped at any one bucket. Is it thrash/punk compiled, ragey math-rock, or Maidenesque metalcore? A tough call for any listener to ID their brand of swiss. Rick exemplifies this like a 2nd guitar player with unsettled, splintered jablines, yet the open-note-drops confirm it's a bass. Salvo A.D.D.'s the drumkit into a jungley, multi-paced battery; a squinting rhythm section well-oiled by Dap, whose melodesia never shies to chug or sprint, weaving subtle blues chops into his assertions. All good for Marlon Rando, fronting a thunderous growl & seasoned Tito's timbre through his holler, swelled by backups from the rest. Easy to assume they're aiming to miss the dartboard completely; like a kid hucking for the first time, you figure it out or not…maybe you just Cantell.
Rick (Garett Fujimura) Bass/voxSalvo (Eric Salvador) Drums/voxDap (Daniel Paragas) Guitar/voxMarlon Rando (Randy Markham) Guitar/lead vox

Gripping vocals, shredding lyrics, and a strangely optimistic melancholy are the meat and potatoes of Cantell's music. A percussive, rock band capable of leaving emo fans shaking, punkers with their jaws on the floor, housewives quivering, and metal kids feeling hip for a second or two. Cantell is as pure and emotional as it gets. With thick layers of instrumentation fronted by Randy Markham, in-your-face voice and a tender ear for sophisticated pop poignancy, Cantell is able to combine the smarts of metal with the boldness of punk. All while crafting tightly produced, hook-laden rock, appealing to indie, folk, and pop fans alike. To put it another way, Cantell takes you to a time when the party has ended. The premises has been vacated, and you're left to clean up the mess, wondering how you ended up in this situation, reminiscing of how you didn't get the girl at the party, and how life doesn't seem to be coming up roses at the moment. Though, even with a dark, moody atmosphere looming overhead, a bit of sunshine cracks through the clouds and promises that tomorrow might, just maybe, be a bit better and the day after that may find you shaking the dust off and picking yourself right back up. Here is a band that hides the optimism, but has plenty of it. This is what you always crave after the dark times seem to be setting in. -Cantell is Randy Markham (Marlon Rando) vocals , Daniel (DAP) guitars, Fuji (Rick) bass and Eric (Salvo) drums.