Saturday January 22 2022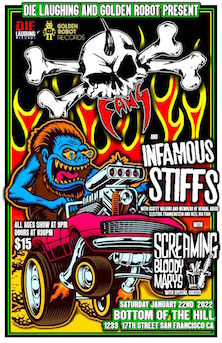 8:30PM

doors -- music at 9:00PM


••• ALL AGES




$

15




Die Laughing Records and Golden Robot Records present...


Fang
www.facebook.com/fangpunks


hardcore punk




Infamous Stiffs




with Scotty Wilkins and members of

Verbal Abuse, Electric Frankenstein,

and

Reel Big Fish


www.infamousstiffs.com/


punk rock 'n' roll


Screaming Bloody Marys




with special guests


www.screamingbloodymarys.com/


Punk




---

Fang
Sammytown – Vocals
Obidiah Bowling – Guitar
Tommy Knox – Guitar
Brandon Brown – Bass
Mike Eightysixed - Drum
-from Oakland, CA
-Fang is an influential OAKLAND CALIFORNIA-based band, established in 1980 in
the hardcore scene of Berkeley, CA. The current lineup is original front man Sam
McBride (Sammytown) on vocals along with Obadiah Bowling and Tommy Knox on
guitar, bass player Brandon Brown and drummer Mike Eightysixed.
In the past five years, Fang has toured Brazil, Cuba, Mexico, Japan and Europe as
well as numerous U.S. tours. They are always looking to find ways to tour foreign
countries that are just now beginning to open up to punk rock bands.

Fang has gone on to influence an array of US West Coast bands and has been
instrumental in the hardcore punk movement. They have an array of festivals here
and abroad under their belt including Rebellion UK 2018 and the wildly popular US
Crash Fest, where their 2019 appearance was mind blowing as they performed hits
from their Rise Up album with Die Laughing Records.
Sammytown and Fang were recently profiled in the documentary "Turn It Around:
The Story of East Bay Punk," which has received more than expected national and
international exposure. Fang has their song "We Die Alone" in movie & soundtrack
for The Ranger starring Jeremy Holm and Chloe Levin now airing on Shudder
Network.
Fans in 2021 will be the beneficiary of back catalog of Fang records made available
for the first time ever as digital downloads and some surprises from this iconic active
Oakland hardcore punk band.





Infamous Stiffs


-from Southern California


-Formed in 2019 in Southern California, the members of Infamous Stiffs have spent decades
playing punk rock 'n' roll in various incarnations...all roads leading to the sonic condition that is
Infamous Stiffs. A relentless assault of loud infectious hooks and shakes, that'll make you
move!

Infamous Stiffs are:
Scott Wilkins - Vocals: AKA "Snotty Scotty" the former voice and snarl in front of CD2
(Condemned to Death), Verbal Abuse, Electric Frankenstein and Hollywood Hate.
Jim Perrault - Bass: Last known for his affiliation with Orange County's notorious Graceland
Mafia as well as doing time with The Legendary Swagger and The County Stars
Mark Pananides - Guitar: Also a Hollywood Hate Alumni. Other previous bands include,
Nardcore's Rat Pack, The Living End (U.S. band pre-dating the Australian one) as well as a stint
in Junkyard as a stand in on a string of dates.
John Gilhooey - Guitar: Formerly of Huntington Beach Ska-punk fave's The Zero Class, John is
also a long time and not so infamous So Cal. music photojournalist.
Drummer Ryland Steen, ex-Reel Big Fish and current drummer of classic rock band America
(yes, America) contributed his skills to the band for the self-titled, debut record.
For all of your tooth-chipping' punk rock 'n' roll needs, Infamous Stiffs has got you covered.






Screaming Bloody Marys
Dave Dalton - Vocals, Guitar
Danny Norwood - Lead Guitar
John Hansen- Bass
Greg Langston - Drums
-from San Francisco Bay Area, CA
-The Renaissance
Screaming Bloody Marys (SBM) are a San Francisco Bay Area punk band formed in late 1988 by singer/songwriters Roger Migdow (aka Spider) and Dave Dalton. Migdow and Dalton previously performed together in another band from the San Francisco punk scene, Dick and Jane, with Linda XYZ, formerly of Alienation. Dick and Jane shared the stage with the likes of Johnny Thunders, Green Day, The Melvins and The Dwarves. Joining Migdow and Dalton in the original incarnation of SBM was Jeff Smoot on bass and Chris Sissy on drums. Sissy unfortunately lasted just one show, finding that he was actually scared of punk rock, which explained his surname to his crestfallen bandmates. Sissy was immediately replaced by Paul Burch from the indie label Alternative Tentacles band Burning Image. A former bandmate of Dalton's, WessJanes, from an earlier collaboration Beauty of Dogs, and a stint with GG Allin, was then added on lead guitar, moving Dalton from lead to rhythm guitar. After one tour, Janes left the band and was replaced on lead guitar by Juan Jesus.

At the time, Screaming Bloody Marys were Spider/vocals, Dalton/rhythm guitar, Jesus/lead guitar, Smoot/bass, and Burch/drums, a lineup that up would last 2 years.
SBM recorded on their self established label Die Laughing Records, and toured North America, Canada and abroad throughout the 1990's. They shared the stage with such notable bands as Nirvana, Soundgarden, The Adicts, The Ramones, Hole and L7, until 1998, when they disbanded.

The Reformation
At the end of 2015, thanks to Landon Gale from Covert Booking, Dick Manitoba from The Dictators, and Tim Armstrong from Rancid, The Screaming Bloody Marys were back!
Landon, the booking agent for The Dictators, asked Dalton to open a show at the legendary San Francisco club, Slim's,with an acoustic punk rock set. Dalton agreed, and as the show neared, Landon also asked other band members and friends to sit in for the show. As the show grew, Dalton saw this as an opportunity to reunite with his former bandmates, and
reached out to them. He called on Juan Jesus, as well as Hans Hunt, former bass player for The Undead SF, who had played stints on bass with SBM. With Burch unavailable, Dalton contacted Brian Tierney from The Gargoyles to sit in on drums. Now they just needed a singer, and a longtime friend caught Dalton's eye on Facebook, Angel X Stacy, from Venus Bleeding. Angel proved to be the missing link.

Once reunited, SBM did a couple of shows with that lineup, before being asked to play a special Gilman Street show in honor of the late Marian Anderson of The InSaints. Deciding he was done with punk rock, drummer Brian Tierney was a late scratch, and at that critical moment, Greg Langston, drummer for The InSaints, stepped into the breach. After sitting in with SBM at the show, Langston decided to make himself at home, and a new era of Screaming Bloody Marys had begun. The Now Shortly after coming together SBM bass player, Hans Hunt, exited and was replaced by New Jersey transplant Ian Larkin. SBM enjoyed some exciting shows including the Moto Bay Classic on Pier 39 in San Francisco with The Vandals and TSOL, as well as opening The Dead Kennedys 40th Anniversary Show at the UC Berkeley Theatre. After recording a 7" split with The Vibrators on Die Laughing Records, bass player Ian, departed and was replaced by John Hanson of the psychedelic band Savage Resurrection. An old friendship between Dalton and Danny Norwood of Social Unrest led to Norwood joining SBM on lead guitar. The timing was perfect as front woman Angel was relocating to Oregon, leaving lead vocals open for Dave Dalton to take on the task and continue with rhythm guitar as well. The outcome has been an all star lineup of sorts, that feels like SBM was always working towards. SBM's first appearance with Dalton on lead vocals was at the 2019 Crash Fest at the Oakland Metro Theatre, and was received to rave reviews. The band has hit the ground running and not looked back, ever since. SBM plans on recording a new album sometime in early 2021, while they wait for shows and festivals to return, after the devastating pandemic of 2020.