Friday February 18 2022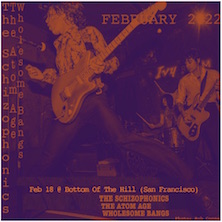 8:30PM

doors -- music at 9:00PM


••• 21 AND OVER




$

15


The Schizophonics


schizophonics.com/


garage rock


The Atom Age


theatomage.squarespace.com/media-horizon


r&b surf stomp


Wholesome Bangs
www.facebook.com/WholesomeBangs/


lo-fi indie rock




---

The Schizophonics


-from San Diego, CA


-Over the last few years, THE SCHIZOPHONICS have built up a formidable reputation around the world as an explosive live act. Tapping into the same unstoppable combination of rock 'n' roll energy and showmanship that fueled THE MC5 in the heyday of the Grande Ballroom, their wild live show is heavily influenced by artists like JAMES BROWN, IGGY POP, JIMI HENDRIX, LITTLE RICHARD, and THE SONICS. Singer/guitarist Pat Beers and drummer Lety Beers formed the band in San Diego in 2009 and have worked tirelessly since then, playing hundreds of shows around the globe and winning 7 San Diego music awards. In 2013 they were recruited as the backing/opening band for EL VEZ, which helped the band make a name for itself in Europe. Since then, they've played in fourteen countries, and supported tours by like-minded acts like ROCKET FROM THE CRYPT, LITTLE BARRIE, and THE WOGGLES and have opened for the DAMNED, HIVES and CAGE THE ELEPHANT. Shindig magazine described their live show "Like watching some insane hybrid of WAYNE KRAMER, JAMES BROWN, and the Tazmanian Devil". "One of my favorite live bands ever!" proclaims Tim Mays, who has run the Casbah in San Diego for 30 years and has seen literally thousands of live bands come through his doors. "The Schizophonics bring the goods every time they play," he enthuses.

The band is more than just an outstanding live act, they're also committed to writing great, memorable songs. After releasing 2 singles and an EP over the last few years on Munster, Ugly Things, and Pig Baby Records, they put out their first full-length album in July 2017 titled Land Of The Living on the label Sympathy For The Record Industry with famed record man Long Gone John. In January of 2019 they started work on their 2nd LP recruiting Dave Gardner (Hot Snakes, RFTC) mixing engineer Stephen Kaye ( JD McPherson, Mike Krol) and Pierre De Reeder (Rilo Kiley) to put their live, raw sound to tape.





The Atom Age


-from Oakland, CA


-Run hot enough, a vacuum tube implodes, collapsing in on itself in the shithot blast of a rock and roll suicide. Once the heat kicks in, there's no other outcome but thermal shock and shattered glass.

Since 2009, Oakland's The Atom Age have been scattering slivers of imploded tubes all across the Bay Area. A rocket propelled ode to the unhinged power of '60s punk and R&B, the Age are more Sonics than Hives, and more Link Wray than Jack White. Coming to life out of the Bay's punk scene, they're a powder keg of a live band. But in the past, capturing this energy on record has proven a challenge. Over their last three albums, the Atom Age have documented their considerable strength for songwriting (most notably 2015's Hot Shame), but something has almost always been lost in the equation of tracking and layering. Only now, thanks to the sympatico production work of Dave Schiffman (The Bronx, Pup, Jimmy Eat World) has the mutant fission of their live shows truly been captured on record.

Blazing by in a relentless 25 minutes, Cry Til You Die is Atom Age at their most swaggeringly explosive, their pop craftsmanship fused inseparably to every skronking sax line and Farfisa wail. Lead single "Walk Through Walls," with its stabbed keys and bleating saxophone, is less a walk than a drunken march across boundaries—a sauced night stroll which slams headlong into one of the band's best riffs to date. "Bad Seeds," sailing on a snaking surf riff, recalls the sleaze of early Tarantino soundtracks. Recorded live at District Recordings in San Jose, CA, every track on Cry Til You Die is slick with sweat, and coated in a fine layer of grime. From the leading howl in opener "Love is a Numbers Game" to the final shriek of feedback on the closing title track, this is The Atom Age at the top of their craft.

As soon as the record begins, you'll start to feel the heat. But be warned: once it builds, it doesn't let up. By the end, there's no other outcome. You might not implode, but you will Cry Til You Die!- - Mike Huguenor





Wholesome Bangs


-from San Francisco, CA


-Fluff your fringe and cut loose with Wholesome Bangs, a 5-piece Rock/Indie/Lo-Fi group from San Francisco.
Tom carves colors in sound and Kiran feeds your insatiable desire to whomp. Ben puts crunch in the punch while Josh and Siobhán give your ears something to chew on.
Influenced by raw rock and roll, this group is on a mission to create music that bangs ... wholesomely, that is.