Thursday March 3 2022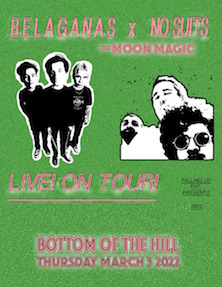 <<< rescheduled from 1/19/2022


8:00PM

doors -- music at 8:30PM


••• ALL AGES




$12


Belaganas

[co-headlining]


www.belaganas.com/


alternative hip-hop punk rap


No Suits

[co-headlining]


www.facebook.com/nosuitsmusic


funk r&b hip hop


Versoul
versoulmusic.com/


hip-hop/rap r&b





note: Either co-headliner may play last.



---

Belaganas


-from Phoenix, AZ


-Belaganas is a band formed in Phoenix, Arizona that performs alternative hip-hop and bedroom pop. Formed by frontmen and vocalists Joey J and Shanker, the band also features drummer Nick Wille, and are known for their captivating live performances and emotionally charged music. The trio began writing music in summer of 2016 and since then has released a number of singles detailing teen angst and punk-style anthems delivered through hip-hop sonics. You can find the boys online through their social media @belaganasmusic to keep up with their antics.





No Suits


-from Los Angeles, CA


-What's good, we are no suits. We are three friends from San Diego who met in class and now live and make tunes together in LA.

Max (white guy) is a professional meditator as well as a wanna be vegan. Saj (Indian guy) is the wildcard and tries to lift people off the ground when he is drunk. Reed is the most racially ambiguous, we call him Moroccan but no one really knows.

Musically, we are pretty diverse. We all have different styles and influences. No suits lies between a band and production group; we try to bring in as many flavors as we can by collaborating with different artists.

For us no suits is about creating our own lane and rejecting the idea of conformity. We have nothing against suits as an article of clothing, but our philosophy is to not follow the suit mentality.





Versoul


-from San Francisco, CA


-Versoul is an alternative hip-hop artist, producer and sound engineer born in San Francisco and raised throughout the Bay Area. Bouncing to the soundwaves of music in her mother's belly in 1993, Versoul grew up captivated by music, from R&B to Hip-Hop, Rock, Alternative and Soul. From rapping and freestyling at the age of 8 to learning to play the guitar and composing songs by 13 to then producing and recording her own music at 14 years old, Versoul was raised in the world of music.

Through her own music, Versoul transforms pain in to power, trauma into triumph and struggles into strength. Utilizing each life lesson, loss, gain and experience as inspirational catapults to continue living each day to the fullest and learning to be fully grounded in the present while inspiring others along the way through her story. Versoul has 1 album titled "Soulrise" co-produced by Kyoshy the Kid and sponsored by Womens Audio Mission, 4 singles; "Slow Down" produced by Versoul and "Time" co-produced by The Whoadees, along with "Grow With Me" and "Don't Mess With My Mom" produced by Veggibeats each available on all platforms.

In addition to her music, Versoul also produces videos and is a studio engineer under Avdio1015 providing authentic quality content and sound to local independent artists at competitive prices. Versoul continues to produce, record and engineer her own music and is working on a new album to release soon.