Friday March 18 2022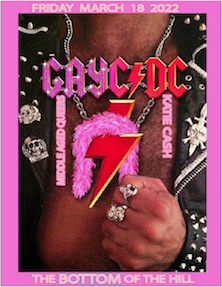 <<< rescheduled from 3/14/2020


8:30PM

doors -- music at 9:00PM


••• 21 AND OVER




$15


GAYC/DC
gaycdcofficial.com/


Glam/Sassy/Porn/Punk/Metal/Dirty Rock n' Roll


The Homobiles
www.facebook.com/The-Homobiles-1381340508850417/


Q

ueer punk


Middle Aged Queers
www.facebook.com/middleagedqueers/


punk queercore




---

GAYC-DC
Chris Freeman, Steve McKnight, Glen Pavan,
Karl Rumpf, Brian Welch
-from Los Angeles, CA
-GayC/DC is the world's first and only all-gay tribute to the music of AC/DC!
Founded by Chris Freeman (bass player from iconic queer punk band Pansy Division), the idea for GayC/DC came from bouncing around names for more tribute bands with gay members after he'd been playing with the Gay Gay's (gay tribute to the Go Go's) for more than a decade. After the Gay Gay's went on hiatus, Freeman moved forward with forming a band that could be as good as AC/DC.
Freeman began by recruiting lightning-speed guitarist, Steve McKnight after meeting him online and sharing similar musical tastes. McKnight has been a part of the LA music scene since the late '80s in Cry Wolf, a melodic hard rock band that made their mark on the Sunset Strip and beyond with several major albums under their belt.
Also recruited was Karl Rumpf on rhythm guitar, who Freeman had met while on tour with Pansy Division and later worked with in a band/project called Dart. Rumpf was also in the last incarnation of the Gay Gay's, along with drummer Brian Welch who Freeman had also met while on tour. Welch had spent years touring with Extreme as their drum tech, so he was a natural fit.
This four-piece spent months looking for a gay vocalist to no avail. Finally, Freeman asked the others if HE could audition. Nervously, he did, the band agreed, and they were off—but now they needed a bassist, so Freeman recruited bass player extraordinaire, Glen Pavan, once again someone Freeman had met while on tour. Pavan had previously been keeping the low end down for LA queer punk rockers Best Revenge (who got their name from a Pansy Division song).
Now in their second year as a band, the word of mouth has been intense, even scoring a "pick of the week" in LA Weekly for a recent LA gig.
The band remains true to the music (working diligently to replicate the actual sound of AC/DC), while playing around with the lyrics and changing pronouns to suit the gay angle. Hence, TNT becomes PNP (a song about the "party-n-play" status some gay men post in their online sex ads), Bad Boy Boogie becomes Gay Boy Boogie (do you really need to ask?), and Big Balls needed ... no changing at all!
To say the band is off-the-hook live is an understatement. There is never a dull moment with all the costume changes and props being trotted out, all in the name of outrageous entertainment. Even those who say they don't like AC/DC end up being fans.





The Homobiles
Lynn Breedlove (ex-Tribe 8) – vocals
Stephany Joy Ashley – vocals
Fureigh (ex-The Shondes) – guitar, more vocals
Ed Varga (Homo A Go Go) – drums
Corrie Bennett – violin
Mya Byrne – bass
-from San Francisco, CA
-Queer party punk supergroup singing songs about cars and babes, crimes and change, bathhouses and ballot measures. Featuring Lynn Breedlove (ex-Tribe-8 frontman and founder of Homobiles the ride service) and Stephany Joy Ashley (St. James Infirmary director) on lead vocals, Fureigh (ex-The Shondes) on guitar, storied queer festival Homo A Go Go creator Ed Varga on drums, award-winning songwriter Mya Byrne on bass, and radical healer Corrie Bennett on violin.

"Insanely awesome." —48 Hills

"They make me wish I was a homo too!" —actual quote from a straight fan




Middle Aged Queers
Niki: Beats the drugs–I mean drums.
Josh: Plays bass and sometimes other fish.
Mag: Wields the six-string axe of doom.
Shaun: Yells and calls it "singing"
-from Oakland, CA
-Bay Area queerdos making noise in the sunset prime of our lives.

All these songs were recorded with an iphone and aren't really great quality. Sorry! We do plan on recording in November 2019 and will promptly post studio-quality songs here ASAP.