Friday April 8 2022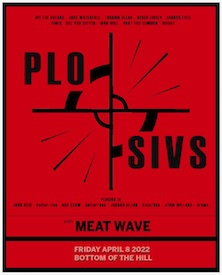 8:00PM

doors -- music at 9:00PM


••• 21 AND OVER




$

20

in advance

/ $24

at the door


Plosivs


www.facebook.com/PLOSIVS/


punk


Meat Wave


www.facebook.com/MeatWaveChicago/


punk



---

Plosivs


-from San Diego, CA


-PLOSIVS, the brand new punk outfit featuring John Reis (Hot Snakes / Rocket From The Crypt / Drive Like Jehu), Rob Crow (Pinback), Atom Willard (Against Me!) and Jordan Clark (Mrs. Magician), are excited to present "Hit The Breaks," the band's first official offering. A song described as "a headfirst charge straight into the highest form of kinetic energy, be it sonic, fluid, or pure human euphoria," "Hit The Breaks" was recorded on a day in October 2020 at Singing Serpent Studio with engineer Ben Moore at the controls. Stream "Hit The Breaks" on YouTube HERE. Reis had the following to share about the formation of the band:

"I think part of why we started this group is that we needed a positive reaction to combat the overwhelming uncertainty of life. We need to make stuff with guitars and voices to feel normal."

Denoting consonants that are produced by stopping the airflow by using the lips, teeth or palate, followed by a sudden release of air, the misspelling of PLOSIVS is intentional. Their foundation is built on the songwriting collaboration of Rob Crow and John Reis (both with long rap sheets of musical exploits dating back to the late-Eighties and extending to present day).

Crow is probably most recognized as half of the duo Pinback and has also helmed groups such as Heavy Vegetable, Goblin Cock, Rob Crow's Gloomy Place as well as literally 45 other recording projects. Reis is most associated with being Hot Snakes' riff architect and axe slinger, Rocket From The Crypt carnival barker and Drive Like Jehu's guitarsonist.

Enter "percussionist to the stars" Atom Willard. Atom was the longstanding drummer of Rocket From The Crypt, eventually playing with the likes of Social Distortion, Angels and Airwaves, The Offspring and currently Against Me! Providing the youthful exuberance from whence these elder statesmen (vampires) would drink, bassist Jordan Clark of Mrs. Magician rounds out the quartet that was born during a year of cancelled tours, postponed record releases and a vast horizon of unemployment to create a new sound in the "distance rock" movement.





Meat Wave


-from Chicago, IL




-Meat Wave is an aggressive, lo-fi punk band. They're a heavy three-piece whose whirling guitar parts and pummeling rhythm section guide simple song structures. Meat Wave were planning on touring for much of 2020 to push a new LP, but COVID cleared their calendar and delayed their album (as it did for so many working bands). Rather than sit around and wait, the band hunkered down to write, record, and self-release an EP of new material called Volcano Park, and if you've ever listened to Meat Wave before, you won't be surprised that it absolutely rips. They've spent almost ten years mastering their style of driving, rhythmic, dissonant-yet-melodic punk rock, and Volcano Park feels like a culmination of all their past efforts. All of Meat Wave's best qualities are proudly on display: Ryan Wizniak's relentlessly jumpy drums, Chris Sutter's unsettling guitars and wildly catchy vocals, and Joe Gac's grimy bass.