Sunday April 10 2022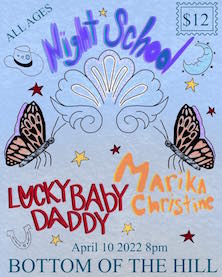 8:00PM

doors -- music at 8:30PM


••• ALL AGES




$12


Night School


www.facebook.com/nightscool


Doo-wop garage rock


Marika Christine


marikachristine.bandcamp.com/


freak folk alternative indie rock


Mary Claire

------Lucky Baby Daddy

off the bill


murrclurrr.bandcamp.com/


alternative witchy singer-songwriter



---

Night School


-from Oakland, CA


-Doo-wop garage rock band from Oakland. Influenced by: The Shirelles, The Ronettes, The Crystals, The Shangri-las, Cocteau Twins.

Based out of Oakland, California, Night School is a garage band. Their sound combines poppy-beach melodies anchored by melancholy vocals, at times veering towards gritty punk and screamy angst delivered with gusto. The Best Coast influence is undeniable, and the band actually opened for Bethany Cosentino last February at Bottom of the Hill in SF. At present, their short but striking song portfolio is decidedly less repetitive than their more famous counterpart, still California-pop, but the kind that makes you sad-happy..





Marika Christine


-from San Francisco, CA


-Marika Christine is a musical dreamer from San Francisco, CA. Her songs are inspired by nature, relationships, and the highs and lows of being human. The bones of her songwriting lie in fluid chord progressions and earnest lyrics but Marika's flare for odd rhythms and gentle psychedelic tones keep the listener on their toes.

Her debut album Puzzle World was released in the early months of 2021. She was joined by Adam Wilson, Fabrizio Incerti, Maria Donjacour, and her brother Janis Stuurman. The record is a portrait of change and explores the universal journey to figure out where one belongs in their own mind and in the world beyond. It floats through a broad sonic landscape, from jangly indie rock, to acoustic guitar songs, and haunting synth lullabies. Marika Christine and her band currently perform regularly in the San Francisco Bay Area and are working on their next album. Her single "Music and Heart" is due to be released in January 2022.






Mary Claire


-from San Francisco, CA




-just trying to sound like my favorite episode of Radio Lab.