Friday April 15 2022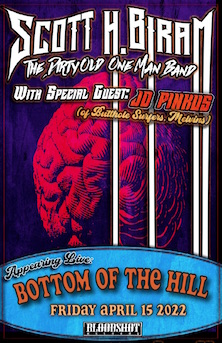 8:00PM

doors -- music at 8:30PM


••• 21 AND OVER




$

15

in advance

/ $20

at the door




Radio Valencia

co-presents...


Scott H. Biram


www.scotthbiram.com/


blues, country, punk, funk


JD Pinkus


from

Butthole Surfers


www.jdpinkus.com/


alternative-bluegrass folk


Shovelman
www.shovelman.com/


psychedelic blues rock




---

Scott H. Biram


-from Austin, TX


-"The Dirty Old One Man Band". Scott H. Biram unleashes a fervent display of conviction through, not only the genuine blues, classic country, bluegrass, and rock n roll, but he seals the deal with punk, heavy metal, and frankly, anything else he wants to. He's The Dirty Old One Man Band.

He will still the room with haunting South Texas blues, then turn it upside down, into a truck driver's mosh pit. Like he says, it might be baptism, or it might be murder, either way…you gonna see the light.

This legally ordained preacher's singing, yodeling, growling, leering and brash preachin' and hollerin' is accompanied by sloppy riffs, and licks literally yanked, one at a time, out of his collection of crusty, worn out, Gibson hollowbody guitars, and battle axes. All this held down with a pounding backbeat brought forth by his amplified left foot, and self customed stomp board. The remainder of this brutally charming one-man band consists of an unwieldy combination of beat-up amplifiers and old microphones strung together by a tangled mess of guitar cables. Don't get too close! You gonna get some grease on ya!

Years of compulsive touring, along with a steady diet of down and dirty blues, rock, punk, country, and hillbilly have developed Scott H. Biram's signature concoction, attracting a hefty array of fans who dig the bizarre and twisted sides of the rock and roll spectrum. His live shows, performed all over the world, deliver a take no prisoners attitude, a stomping, pulsing John Lee Hooker-channeling, and cockeyed tales of black water baptisms and murder, all while romanticizing the on-the-road lifestyle. SCOTT H. BIRAM IS THE DIRTY OLD ONE MAN BAND.





JD Pinkus (from Butthole Surfers)


-


-JD Pinkus is an American bassist best known for his work with American punk band Butthole Surfers from1985 to 1994 and since the 2009 reunion.
In 1990, he and Butthole Surfers' lead vocalist Gibby Haynes released Digital Dump, the only album from their psychedelic house music side project The Jackofficers.
Upon leaving Butthole Surfers, Pinkus worked full-time with the Austin trio Daddy Longhead, which he had assembled during his waning months in the band, and which included longtime Atlanta associate Jimbo Young on guitar and Rey Washam on drums. Daddy Longhead retired after 10 years, leaving Pinkus free to explore other projects including Skinny Leonard and Areola 51. Pinkus played with Helios Creed on his albums NUGG:
The Transport [1996] and Activated Condition [1998], and has also collaborated with Bad Livers frontman Danny Barnes several times in a live setting.
JD Pinkus then co-founded the band Honky who went on to record five albums and are still currently active.
Pinkus also performs with Pure Luck,who released a self-titled release in 2017 on Heavy Feather Records. He leaves his bass to play Banjo and Guitar in this project. On their 30th anniversary tour in 2013, Pinkus joined the Melvins in place of Jared Warren (on paternity leave) as well as performing with the opening Honky. He subsequently joined the Melvins full-time, touring with them in 2014 in support of the album Hold It In, which also featured Butthole Surfers founder Paul Leary, and again
in 2015. He also plays on the song Captain Come Down which was first released in 2015 on Chaos as Usual, a split release with Le Butcherettes, and later included on the 2016 album Basses Loaded.
In 2018, JD Pinkus released a solo album, Keep on the Grass on cassette tape on Danny Barnes Minner Bucket Records and later Vinyl and Compact Disc through Heavy Feather Records. It was recorded entirely on banjo and features a rendition of the song Bride of Crankenstein from the Melvins album Hold It In.
The Keepon the Grass album release show was with Sleep in San Pedro on September 15th 2018.
On February 12, 2018, the Melvins announced that Pinkus would be joining them, alongside current bassist Steven McDonald (Redd Kross), on their next album and subsequent tour. Released on April 20, 2018, the aptly titled Pinkus Abortion Technician features both bass players and four songs written or co-written by Pinkus. In May of 2021 JD Pinkus and Daddy Longhead released another album titled 'Twinkle" which was originally recorded but not distributed in 1998.
JD Pinkus is now releasing his second solo "space grass" banjo album titled "Fungus Shui." The album was written, recorded, and mixed by Pinkus himself at Plastic Cannon Studio in Asheville, North Carolina. The album was mastered by Kramer.
Fungus Shui LP's were released on Shimmy Disc and CD's available through Heavy Feather Records on August 20th 2021.






Shovelman


-from San Francisco, CA




-Shovelman, also known as Isaac Frankle, is shovel guitar wielding surrealist folk superhero. Playing good old fashion folktronica grown and looped straight out of the ground. His shovel folk style delta blues is processed through filters and loops, adding a sonic edge to a classic down home sound.