Wednesday April 20 2022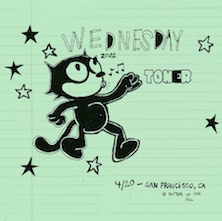 8:00PM

doors -- music at 8:30PM


••• ALL AGES




$

13

in advance

/ $15

at the door
Wednesday


wednesdayband.bandcamp.com/


country-gaze indie lo-fi


TONER


www.facebook.com/tonerca


indie pop punk alternative




------Nothing Natural

off the bill




---

Wednesday


-from Asheville, NC


-In a long and emotionally exhausting year of being inside (alone, in my case,) I have found myself thinking about mirrors. How to avoid spending too much time in them, most days. Taking inventory of the real, physical self is difficult work, work that I'm not entirely opposed to but work that became immediately more treacherous for me when I had to witness the very real toll that time, modern anxieties, isolation, and boredom were taking on me. It was easier, it seemed, to spiral into a not-so-distant glorious past, to use memory as a tool of both excitement and healing.

But, speaking of excitement, I like to stumble towards a band with no agenda, no purpose, uncovering sound almost on accident. This is how I first heard Wednesday. The band came to me and I don't remember how, or why. They simply arrived, as if we'd been traveling toward each other our whole lives. I Was Trying To Describe You To Someone soaked into my summer of 2020, and in sound, in spirit, in central concerns and the execution of them, it took me back to an era before the current era, which I'd needed at the time. The past can feel less hellish than the present if we are, sometimes, not fully honest with ourselves.

There is the trick of nostalgia that I spend a lot of time playing with in my own writing, and somewhat tormented by in my own living. The very real idea that nostalgia is both a useful tool and also a weapon if it isn't paired with something that approaches a type of rigorous honesty. Which is hard to do, sometimes. My memories flare and fire with only the finest aesthetics of a past that I was certainly in, but I often deem myself as only a secondary character, if even that. Which, of course, lets me off the hook in the name of fluorescence and flourish, in the name of sound and sight.

I love Twin Plagues first for its songs, plainly. If you, listening to Wednesday for the first time around or even the second time around, stumble onto this album, I promise you the songs will be what grab you first, beyond any of my foolish high-level emotional theorizing or projections. Every band that loves the pursuit of their craft the way this band does is one to follow, because getting to sit on the sidelines and watch them level up is a real generosity. Twin Plagues is overflowing with hooks, but what most delighted me about the band from the start has taken a leap: they have managed, somehow, to get even better at structuring their noise from one movement of a song to the next. The idea of the "song" itself is flexible in their hands, so much so that each song holds two, or three songs within. This, again, generosity. "Cody's Only" is a ballad until it begins to threaten a storm of volume, and then, in its final act, it becomes something else altogether. "One More Last One" is a shoegaze-y trip that swells and swells until it overflows, but it doesn't stop. It keeps offering and offering and offering. I say "noise," and never in a dismissive sense. Everything has a place, and so much of its place is to serve the true heart of this album, and the true heart of Wednesday's music, which is allowing cracks through which tenderness can enter and exit as needed. Tenderness that, it seems to me, is always wrestling underneath whatever else might be happening on a song's surface.

But if I may go back to all of these ideas of nostalgia and our old, tricky, past selves that are, indeed, a part of the house of bricks that make up our present self, what I also hope you, listener, might adore about this album is the exact moment at the start of "The Burned Down Dairy Queen" when Karly sings I was hiding in a room in my mind / and I made me take a look at myself. Because if you, like me, have been avoiding mirrors – both metaphorical and real – this is where the album becomes a lighthouse, echoing bright across the darkness of my otherwise dark and empty chambers. So much of these songs meditate on the past in far less romantic ways than I have found myself meditating on the past, and I was desperate for the recalibration that this album provided. I was desperate for making myself less blurry in my own memories and reckoning with my full, multitudinous self. The self that was once unkind, or less gentle, or less curious than I am now. I needed this album to remind me to embrace the fullness of my unfinished nature, the years I have lived and – with any luck – the years I have to go.

So, yes, the songs are good. You will maybe roll down your windows on a comfortable day on the right stretch of road in a warm season and turn the volume up when "Birthday Song" gets good and loud and sing-along-able. You might sit atop a rooftop at night, closer to the moon than you were on the ground, and let "Ghost Of A Dog" churn and rattle you to some nighttime realization that you couldn't have had in silence.

But, even on top of all of this, on top of all the pleasures and the mercies that the sounds on this album might afford. I hope and think, too, that it will remind anyone who listens that we are a collection of many reflections. All of them deserving patience. — Hanif Abdurraqib






TONER


-from Oakland, CA


-Since 2015, Toner has been crafting a shade of shoegaze that could only come out of a hotboxed East Bay garage. Their sound honors the traditions of NorCal DIY (taking some root in skate punk and slacker rock), but what's most commendable is their understanding of what makes a great record in their preeminent genre. No, shoegaze is not about being the loudest or the most distorted, nor is it about conjuring wafts of euphoric haze that sound nice but leave no trace. It's about finding the timbres that scorch the eardrums while injecting the listener with serotonin. It's about keeping the song structures simple, but executing them splendidly. It's about finding a way to produce, mix and master guitar tones so that they're always recognized, never disguised amidst the cacophony of sound.

White Buffalo Roam, the latest record from the group, is another pristine addition to their discography. Bandleader Samuelito Cruz has expanded on his musical touchstones, incorporating the neon sheen of new wave, acoustic arrangements, and a sprinkling of 70s power pop into their sound. Some melodies and guitar leads, such as on album opener "Ox '45" and the searing "Bleeder," feel influenced by Yellow Magic Orchestra, recalling how acts like Phoenix with Bankrupt! or Grapetooth on their self-titled channeled this era to great effect. Doubling down on short songs and structures, Cruz doesn't waste any time in supplying you with his treasure trove of riffs and solos. Among the best are the Ty Segall-esque "Sugarbeat," the glistening "Nobody's Fool," and the jangling "Concentrator II."

Beyond this new sonic breakthrough, Cruz has perfected his stoned, monotone vocal style, carrying his melodies with a nonchalant attitude and supplying exactly what's needed so as to not distract from what he wants the focus on. What's even more wonderful is how his voice is paired with the ornate overtones of Ellie James, whose dreamy vocals throughout the record add a necessary depth and blissful counterbalance, the yin to Cruz's yang. Even when at their most subtle, like on the shining "Silver Lining," her voice adds such a beautiful counterpoint, it's as if fluorescent flecks fall from the stalactites of a cavern onto what lies beneath.

It'd be most remiss to not acknowledge the mixing and mastering of Jack Shirley. Not only are his mixes dynamic, incorporating panning shifts and layers of grit and grime, they are of the utmost sonic quality for a punk record; and yet, it's not saccharine, maintaining the vibe of what has thus far made Toner distinct. His work here allows for the final product to be multifaceted, creating a Russian doll effect where the best parts of the songs are found the deeper you dig. It's another ideal partnership for Cruz, whose keen sense of collaboration is perhaps what's most impressive about this entry into his catalogue.

Ending with the title track, White Buffalo Roam offers the listener a balanced entree of the highest quality ingredients. I'm inclined to say this album is like a bison burger - lean, profound in flavor, off the beaten path but enthralling you with its mystery. I'm also inclined to believe it contains some of Cruz's most excellent work to date, thanks in large part to a continued expansion of his vision and the help of talented partners. With one the West Coast's best shoegaze records of the year, Toner continues to set the tone for what they're capable of and what they will accomplish.