Friday May 13 2022

<<<< rescheduled from 9/17/2021 << from 9/18/2020 << from 3/27/2020


8:30PM

doors -- music at 9:00PM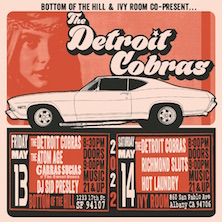 ••• 21 AND OVER




$

17

in advance

/ $20

at the door


The Detroit Cobras


thedetroitcobras.com/


rock and roll / soul


The Atom Age


theatomage.squarespace.com/media-horizon


r&b surf stomp


Garras Sucias
o

f

The Sweet Bones


www.facebook.com/Garras-Sucias-101086055506041/


low-fi punk rock


Sid Presley
www.facebook.com/DjSidPresley/


spinning: Rock and Roll, Surf/Instro





Ivy Room and Bottom of the Hill co-present the soulful garage rock legends the Detroit Cobras, on both stages! The original date of these shows inaugurate the two nightclubs joining as sister venues across the Bay, female owned and proudly independent! The support will be different on each show, so grab tickets to both while they last!



---

The Detroit Cobras
Rachel Nagy(vocals, cigarettes)
Mary Ramirez (guitar)
-from Detroit, MI
-Crawling out from the weed-choked lots of the once proud town, The Detroit Cobras whip out ass-shaking anthems to good times, wild times, and the high and lows of L-U-V; you best believe it and you best not mess with it.

Blurring the lines between R&B and R&R and soul, the Cobras are THE go-to party band for those in the know. Singer Rachel Nagy and guitarist Mary Ramirez are the bad girls by the exit doors at the school dance, all leather and heels, sneaking smokes and passing the flask. They have no time for dewy-eyed love songs or girl group decorum; they'll take care of business themselves with a bat of the eye or an elbow to the kidney. Rachel's "warm as the half pint of bourbon under the seat of your car" voice can boom to the back pews (Did we say "pews?" We meant "barstools") and Mary's riffs let you know that love and good times can be found in the tilt of a hip or at the end of a fist.

Surrounding themselves with a rotating cast of some of Motown's finest rockers, the Cobras specialize in unearthing and reinvigorating the hits, near hits and sometimes total misses from the deep and groovy history of soul, and making them THEIR OWN. Detroit Cobras albums are like a secret decoder ring that helps lead the way to a better, more soulful forgotten world.





The Atom Age


-from Oakland, CA


-Run hot enough, a vacuum tube implodes, collapsing in on itself in the shithot blast of a rock and roll suicide. Once the heat kicks in, there's no other outcome but thermal shock and shattered glass.

Since 2009, Oakland's The Atom Age have been scattering slivers of imploded tubes all across the Bay Area. A rocket propelled ode to the unhinged power of '60s punk and R&B, the Age are more Sonics than Hives, and more Link Wray than Jack White. Coming to life out of the Bay's punk scene, they're a powder keg of a live band. But in the past, capturing this energy on record has proven a challenge. Over their last three albums, the Atom Age have documented their considerable strength for songwriting (most notably 2015's Hot Shame), but something has almost always been lost in the equation of tracking and layering. Only now, thanks to the sympatico production work of Dave Schiffman (The Bronx, Pup, Jimmy Eat World) has the mutant fission of their live shows truly been captured on record.

Blazing by in a relentless 25 minutes, Cry Til You Die is Atom Age at their most swaggeringly explosive, their pop craftsmanship fused inseparably to every skronking sax line and Farfisa wail. Lead single "Walk Through Walls," with its stabbed keys and bleating saxophone, is less a walk than a drunken march across boundaries—a sauced night stroll which slams headlong into one of the band's best riffs to date. "Bad Seeds," sailing on a snaking surf riff, recalls the sleaze of early Tarantino soundtracks. Recorded live at District Recordings in San Jose, CA, every track on Cry Til You Die is slick with sweat, and coated in a fine layer of grime. From the leading howl in opener "Love is a Numbers Game" to the final shriek of feedback on the closing title track, this is The Atom Age at the top of their craft.

As soon as the record begins, you'll start to feel the heat. But be warned: once it builds, it doesn't let up. By the end, there's no other outcome. You might not implode, but you will Cry Til You Die!- - Mike Huguenor





Garras Sucias


(members of

The Sweet Bones

)




-from Oakland, CA


-Garras Sucias was born in 2021 during the pandemic that hit the world. From the ashes of The Sweet Bones, a garage punk rock band from the Bay Area, rises a new fury, undefined by modern thresholds. Garras Sucias takes garage and punk rock beyond their genres. They are influenced by The Kinks, The Ramones, Primal Scream, The Clash, and MC5, with Latin, garage, surf, and punk sounds at play. Spanish lyrics, strumming guitars, raw emotions, harmonies, and riffs are all part of this high energy music. Garras Sucias takes listeners through stories of love, sex, drugs, and an avalanche of rock. This is a gang of four modern lovers with battery acid surging fiercely through their veins. Their unique bilingual set will infect you with its energy.





Sid Presley
David Greenfield
-from San Francisco, CA


-

-David Greenfield, aka SID PRESLEY, plays rare & obscure music of the late 1950's through the 1960's, including raw garage rockers, surf and exotica instrumentals, international pop, greasy rhythm and blues, British Invasion, and much, much more.