Friday May 20 2022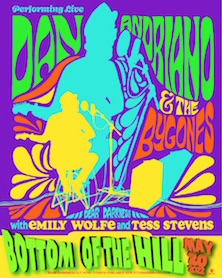 7:30PM

doors -- music at 8:30PM


••• 21 AND OVER




$

20

in advance

/ $24

at the door


Dan Andriano & the Bygones


danandriano.com/


Alternative/Indie


Emily Wolfe


www.emilywolfemusic.com/


alternative rock pop


Tess Stevens
www.tessstevens.com/


alternative pop punk




---

Dan Andriano & the Bygones


-from Chicago, IL


- Looking at Dan Andriano's catalog, one might assume that making new music is old hat for the veteran vocalist, songwriter, bassist and primary member of the beloved Chicago punk outfit Alkaline Trio. Decades into his prolific career, though, Andriano is just as in love with the process as he was in those early days of sweaty clubs and cramped vans.

On Andriano's new Epitaph Records album Dear Darkness, that unceasing passion is evident from the crystalline opening guitar notes of first track "Narcissus, Amateur Classic Narcissist" to the final strums of closer "Into Your Dream (The Sophie Moon)." The solo, self-produced project, which follows his 2015 release (as Dan Andriano in the Emergency Room) Party Adjacent, finds Andriano venturing into deeply personal lyrical territory while also pushing the limits of just what his unclassifiable sound can be.

"Narcissus, Amateur Classic Narcissist," which turns a critical eye toward the self-absorption fueled by social media, has the driving rhythm section of an Alkaline Trio song, but with rootsy, acoustic flourishes that will be familiar to fans of Andriano's earlier solo work. The title track, with its crunchy riffs and almost poppy vocal melody, creates tension by combining a somber message with a buoyant arrangement. The emotional track, "Sea Level" grapples with, as Andriano puts it, "not knowing where sea level is, not knowing if you're up or down, or stuck in that manic cycle."

"Wrong" draws musical inspiration from Harry Nilsson, an influence that may seem unusual to Alkaline Trio fans but which fits both Andriano's eclectic tastes and his love for artists who eschew traditional genre conventions. Standout "You Must Be Cold" was inspired by Andriano's desire for his wife to be happy and at peace, with the sweet, lullabye-esque closer "Into Your Dream (The Sophie Moon" written for his daughter, Sophie. Andriano first began work on what would become Dear Darkness during the early months of the COVID-19 pandemic, writing demoes and raiding his archives of unfinished ideas, doing so more out of a deep-seated need to create than with any true end project in mind. Having spent so much of his life touring and making music, the time off forced by the pandemic was foreign to Andriano, who, at moments, struggled with how to use this newfound freedom, but also found it to be fruitful for his creative process.

"Once the ball started rolling, I was able to write much faster than I have ever been able to," he explains. "And I do think that's got a little bit to do with being older. But it was also because I felt liberated a little more than I normally would, if that makes sense. Maybe there's a little bit of like, 'Fuck it, holy shit. I'm surviving a pandemic. I can't get this bent out of shape over half a lyric.'"

In addition to writing, Andriano used his time during the pandemic to broaden his already encyclopedic musical knowledge, saying, "I spent that whole time trying to get better at music. I learned a lot about music. I sat in my garage every day and just played guitar and, you know, tinkered with basses. Which is something I try to do anyway, but I did it with a little more of an active interest in education, like time I feel like I lost learning or trying to get better at music while I was just on tour doing the same thing."

Before long, Andriano amassed a sizable collection of ideas, including a small batch of songs he felt were ready to bring into the studio. He sent a handful of those tracks out to close friends and trusted collaborators and was particularly encouraged by the excited response from Mike Park, an old friend and creative confidante whose Asian Man Records released Alkaline Trio's first two albums.

Park was thrilled by what he heard and encouraged Andriano to consider a working on a new solo project. It was near the end of 2020, and enough strides had been made in COVID-19 safety that Andriano felt safe to travel from his home in St. Augustine, Florida to Park's studio in San Jose, California. "He could tell that I was pent up and anxious and needed to do something productive and positive, and just get out of here," Andriano says of Park. "So he was very helpful in getting me out there."

While in San Jose, Park introduced Andriano to brothers Randy and Dylan Moore both of whom would end up playing alongside Andriano on Dear Darkness. The group originally intended to record an EP, but Andriano had so much material to work with — and felt such a natural rapport with the Moore brothers — that the impromptu session led to a full-length album.

"My plan was to make an EP, a new solo EP with the songs, and then maybe do some covers," Andriano explains. "I was going to do a couple Blondie covers, and a couple of Go-Go's covers. And that was just because I didn't know how the whole session was going to go. I knew I was going out there with a lot of anxiety, and some good ideas, but I didn't think I had a record."

The group gelled so quickly, though, that Andriano's plans for an EP quickly faded. "I was getting very excited, and I didn't want to work on covers," he says. "I wanted to keep working on original stuff. So, I was like, 'Well, I have a couple more ideas that are really just mere glimpses of an idea.' And then I would disappear for a half-hour and come back and be like, 'Okay, let's do this.' Having that motivation and opportunity was all the inspiration I really needed to finish some of these ideas."

It was then that Andriano told the Moore brothers that, moving forward, there would "be no more rules, and no expectations of what the songs should end up sounding like." That freed up the group to explore sonic territory previously uncharted by Andriano, an influence that can be heard all over Dear Darkness.

Being the prolific artist he is, Andriano is already thinking about future plans for various projects, both solo and with his bands. Until then, he's happy to reflect on the truly singular circumstances that birthed Dear Darkness. "I'm a songwriter, so I'm no stranger to hyperbole," he says, laughing. "But it did feel sort of magical, just being that everything fell into place in such a crazy time when nothing was falling into place. That was something I haven't felt in a long time."






Emily Wolfe


-from Austin, TX


-Austin, TX's resident rocker, Emily Wolfe transcends the ranks of ordinary musicians. Her creative songwriting keeps her fans aglow thanks to her strong, powerful lead vocals and dominating guitar style. Wolfe has shared stages with the likes of Heart, The Pretenders, Peter Frampton, Billy Gibbons and Gary Clark Jr.

Emily Wolfe, a self-taught guitar player starting at the age of 5, has honed her craft over the past 22 years and continues to take her playing to the next level. After self-releasing her EP "Roulette" in 2014 followed by single "Atta Blues" in 2016, Emily used 2017 and 2018 to strategize and write new music. She released a debut self-titled, full-length album in February 2019. Her latest release "Outlier" was released in 2021.

Wolfe has been described as a sonic merging of PJ Harvey and Jack White and is guaranteed to not disappoint early fans who are already along for the ride to greatness. Featured by the Wall Street Journal, MTV, NPR, and American Songwriter, Emily Wolfe is definitely one to watch.





Tess Stevens


-from East Bay, CA


-East Bay punk artist and mental health advocate. Known for dark lyrics with sugary-sweet pop-punk melodies, Tess Stevens is a singer/songwriter/guitarist based in California's East Bay.
Her debut E.P. Patient 139 is hailed by Highlight Zine as "Raw, gritty punk with pop woven through the cooing background vocals, the EP is a lighter ending to the memory with a grand slam EP chocked full of bops."
Patient was recorded, produced, and engineered by Jacob Light at ModernTone Studios in Lafayette, CA and mastered by John Naclerio (My Chemical Romance, Brand New) at Nada Recordings in New York. Stevens' raw energy has taken center stage on Tik Tok where she boasts over 380,000 followers and over 14 million likes.
Inspired by punk from the '70s to today, Stevens adds a much-missed female voice to the high-octane world of rock and roll in this new world of independent artists.