Thursday June 2 2022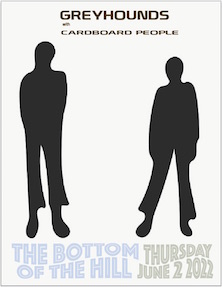 8:00PM

doors -- music at 9:00PM


••• 21 AND OVER




$

15


Greyhounds
www.greyhoundsmusic.com/


americana blues, rock, and R&B

------Cardio Star

off the bill


Cardboard People
linktr.ee/cardboardpeople_


alt-pop-r&b
---

Greyhounds


-from Austin, TX


-At the dawning of a new decade, Austin band Greyhounds (the duo of Andrew Trube and Anthony Farrell) are set to release their new album Primates, marking the 20th year of their brotherhood.

Primates is a dialect of the human soul - a musical language that reaches across all borders, beyond all differences - to address personal relationships, class struggles, culture wars, and the disconnectedness of modern living. Trube and Farrell conjure vibrations of those who have come before, while remaining aware and inspired of what the future will bring.

Primates is also the first Greyhounds record to use an outside producer, and to be tracked at their new East Austin studio Bud's Recording Services.

"We've always produced our own records," says vocalist/keyboardist Anthony Farrell. "But we knew we needed to stretch our sound on this record to reflect the scope of what we are trying to say. We brought in producer/multi-instrumentalist Steve Berlin (Los Lobos, Flesh Eaters, Deer Tick). We've known Steve for a long time, but it can be difficult to let go of your control in creative endevors. However, our immense respect for him as a musician, as well as a human-being, made it easy to trust him. He opened up a lot of musical doors that we didn't know existed. Plus he gave us a thorough education in Mezcal!"

For his part, Berlin returned the appreciation: "There's a very short list of bands who can combine intelligence, virtuosity, respect for tradition, and a sense of humor with incredible vocals and socially conscious songwriting. In my opinion, it's actually a list of one: the Greyhounds!"

​Primates comes out worldwide on July 10 on award-winning Austin record label Nine Mile Records. The first single - "Tune In" - is out now. The band will be touring the U.S. extensively in Fall 2020, and will return to Europe in Spring 2021.

"Greyhounds make music real music, the right way, for all the right reasons." - Derek Trucks

"(Their music) is somewhere between a heartfelt hymn and the dirtiest jank you've ever heard." - JJ Grey
​





Cardboard People


-from Chicago, IL/Bay Area, CA


-Cardboard People is a new alt-pop-r&b project emanating from the Bay Area in 2020. Comprised of Chicago to Bay Area transplant Yunoka Berry, producer/ songwriter Jim Greer, and Hieroglyphics founder and producer Damien ( Domino ) Siguenza, the group brings together unique voices to create an altogether new sound that lies somewhere between hip hop and avant-garde pop music. As the primary lyricist, Yunoka Berry writes from a black female perspective and spares nobody as she runs down how her life experiences, and the producers provide music that ranges from deeply cerebral to extraordinarily funky. Guests include Del The Funky Homosapien, Merlo Podlewski ( jack johnson), and more.