Tuesday June 21 2022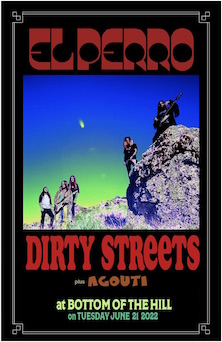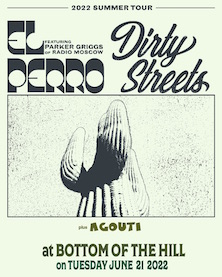 8:00PM

doors -- music at 8:30PM


••• 21 AND OVER




$

13

in advance

/ $15

at the door


El Perro

[co-headlining]


featuring Parker Griggs of

Radio Moscow


www.facebook.com/elperrotheband


psychedelic latin funk rock


Dirty Streets

[co-headlining]


dirtystreetsmusic.com/


rock roots soul


Agouti
agoutiband.com/


DIY psych, garage rock





note: Co-headliners may switch order




---

El Perro


-from San Diego, CA


-A brand new band led by guitarist/vocalist/songwriter/producer Parker Griggs, El Perro contains elements fans of his band Radio Moscow will recognize, but with a new, fresh spin and feel. Whereas Radio Moscow is a power trio drawing from the traditions of heavy psychedelic rock, El Perro takes that starting point and adds the additional instrumentation of a second guitar and a percussionist, pushing the music into more syncopated territory, spiced with Latin rhythms and hints of Funkadelic-style grooves.

"About a year ago I started getting into some new sounds and influences and was hungry to do

something fresh," says Griggs. "I started laying down some new ideas and was recording it like a solo project. I really liked the new direction; it was heading in a different way than Radio Moscow and I wanted to bring it to life as a five-piece band and put it out there."

Former Radio Moscow drummer Lonnie Blanton, who is based in Salt Lake City, was travelling thru California and Parker noticed this on Instagram. "I was traveling throughout California in April of this year," recalls Blanton. "Parker heard that I was in (San Diego), hit me up and told me about this new project he was doing. We hadn't played together since touring as Radio Moscow back in 2012, so I was instantly stoked. Started jamming the next day!"

Lonnie in turn recommended bassist Shawn Davis; the two had been playing together in SLC for a decade and formed a tight allegiance that made for a forceful rhythm section. Griggs knew he wanted to have another guitarist on board to create the funky interweaving lines he was hearing and creating in his home recordings. Holland Redd came to mind as he'd played guitar in Petyr, who joined Radio Moscow for a tour of the USA in 2017. Add to this additional percussion, and the El Perro sound and style coalesced.

After a few weeks of rehearsal, the band debuted in Las Vegas and quickly followed that with shows throughout Northern and Southern California, with European dates already lined up. From CBS News San Francisco reporter Dave Pehling's preview of El Perro's show at the Chapel:

"While Griggs was busy touring with (Radio Moscow) through this past summer with an extended jaunt

through Europe, he recently announced the formation of a new ensemble called El Perro. Taking

a different approach to psychedelic rock, the group cites influence from acts on the more soulful

and funkier end of the psych spectrum like Black Merda, the Bar Kays and Funkadelic.The quintet featuring onetime Radio Moscow touring drummer Lonnie Blanton, guitarist Holland Redd (UFO TV, Petyr), bassist Shawn Davis and percussionist Blake Armstrong also injects some Latin flavor into its hard-grooving psychedelic jams. The band played its first ever show in Las Vegas earlier this month, supporting former Kyuss/Fu Manchu drummer Brant Bjork."





Dirty Streets


-from Memphis, TN


-Scan the press on soul-groove outfit Dirty Streets and you'll see numerous references to rock, soul, and dirty-blooze touchstones like the Faces, Humble Pie, Otis Redding, CCR, and more. Spin Dirty Streets' records and you'll hear all of those echoes, plus others—some jazz timing, some acoustic balladry. But by and large, what you'll hear is a raw, rowdy blend of Motown, Stax, and rock—the pure American blood-beat moving through the heart of Memphis groove.

Austin-born Justin Toland (guitar/vocals) found his own musical food early through his father, a classic-rock aficionado who turned Justin on to the Stones, Creedence, soul music and the Stax sound. At 17 Toland moved to Memphis and met Thomas Storz (bass), a native of the city, through mutual friends; the pair found common musical ground and began playing groove-grounded rock with a series of temporary drummers. Andrew Denham (drums), a Shreveport-born drummer and British hard-rock fan, joined up with Storz and Toland in 2007.

The trio began demoing using a basic setup: a single cassette recorder, no tracks, no real separation, just mics on the bass/drums and guitar and vocals live in the room. Without the option to isolate, tweak, or sweeten after the fact, Dirty Streets became accustomed to running through a take 40 or 50 times as they worked to get it right, all the way through. By the time they began gigging live, that level of discipline had honed Dirty Streets into an instinctual, responsive outfit. Bootleg recordings of their shows in and around Memphis helped to generate buzz, and established Dirty Streets' rep as a band whose timing was as sharp as their sound was ragged.

Albums followed—Portrait of a Man (2009), Movements (2011), Blades of Grass (2013), White Horse (2015), Distractions (2018), and the live Rough and Tumble (2020), drawn from an in-house performance for the DittyTV streaming music service—all steeped in the raw rock-soul groove that serves as the band's taproot, the musical core from which all of its explorations still proceed. And within that core, too, is the element that gives their music, the music they love and play, its unique character.

"Soul and blues music is about testifying," says Toland. "To me, that's great songwriting. When it's good, it's good because it's true, because it's authentic."





Agouti


-from San Francisco, CA


-Agouti is a psychedelic rock band that surfaced from songwriter and producer Carmen Caruso after a trip to Costa Rica's cloud forests. Escaping from chronic fatigue and dysfunctional routine, she ruminated on what to do next. Caruso realized many of her musical facets - early experiences in choir, infatuation with 60s and 70s rock, forays into building new instruments, and making experimental music - all oscillated around psychedelic rock.

When Caruso returned home to San Francisco, she started down a path to produce her own brand of psychedelic music. She created a recording studio in her basement, gutting the entire room and rebuilding it into a soundproof space. She fixed up a 70s bass amp, a 4-track reel-to-reel, and a vintage mixer. Finally, she began writing a new set of songs. The end results, "Summertime" and "Chameleon", have been featured in The Bay Bridged, Deli Magazine, and included in KQED's Mixtape of up-and-coming psychedelic bands.