Wednesday June 29 2022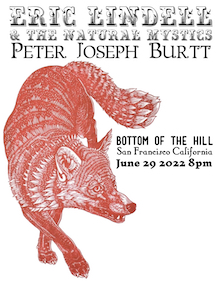 8:00PM

doors -- music at 8:30PM


••• 21 AND OVER




$

35


Eric Lindell & The Natural Mystics


ericlindell.com/


Roots-rock R&B with honky tonk country soul


Peter Joseph Burtt


(solo set

)


peterjosephburtt.com/
World Blues




---

Eric Lindell & The Natural Mystics


-from New Orleans, LA


-"A tremendous raw talent with a poet's soul...Lindell writes from the heart with a fully realized musical vision" –Chicago Sun-Times

"Impressive super slinky blues and rock with a taste of country twang. Bound to win over roots music fans for years to come" –Guitar Player

"Stellar, sublime blue-eyed soul and romping New Orleans R&B, played at the intersection of soul, blues and roots rock" –New Orleans Times-Picayune
-With his raspy, soulful voice and instantly memorable original songs, roots-rocking multi-instrumentalist Eric Lindell is a true one-of-a-kind talent. Mixing West Coast rock and swampy New Orleans R&B with honky tonk country and Memphis soul, Lindell creates American roots music that is both surprisingly fresh and sweetly familiar. Since his first self-release over two decades ago, Lindell has earned critical and popular acclaim, first in his dual home bases of New Orleans and Northern California and then across the country. Although influenced by American roots music from blues to country to rock, Lindell's style is all his own. He has performed thousands of gigs in roadhouses, clubs, concert halls and festivals and has appeared on national radio and television. His live shows overflow with happy, dancing people singing the words to every song.

Asked about the timeless appeal of his songs, Lindell simply says, "Music runs deep, it's a powerful thing."

Born in San Mateo, California in 1969, Lindell spent countless hours in San Francisco, soaking up the musical sounds of the city, eventually leading him to pick up first the bass and then the guitar anBy the time of his 2006 Alligator Records debut, Change In The Weather, Lindell had released five albums and already had earned a devoted and growing fan following. Change In The Weather, with its unforgettable songs and undeniable melodies, earned him regular radio rotation and piles of critical praise. The Los Angeles Daily News said Lindell plays "passionate blue-eyed soul smothered with a big heap of New Orleans funk. He makes you feel like dancing all the way down Canal Street." Two subsequent Alligator releases and a series of albums on other labels kept Lindell in demand and on the road. Now Lindell returns to Alligator with Revolution In Your Heart, featuring his most engaging and personal writing and his most irresistible, instantly hummable melodies.

Revolution In Your Heart was recorded at Studio In The Country in Bogalusa, Louisiana and produced by Lindell and Benjamin Mumphrey. Lindell plays just about everything on the recording—guitar, bass, keyboards, organ, harmonica—except drums, which are expertly played by Willie McMains. The only other musician on the record is keyboardist Kevin McKendree (Delbert McClinton, Brian Setzer Orchestra, Tinsley Ellis), who plays piano on Millie Kay. The twelve universally relatable original songs—many of them autobiographical—combine sunshiny melodies and thick, greasy grooves, and paint vivid pictures of day to day living. From the honest and sage title track to the long-ago but still fresh memories of Grandpa Jim, Pat West and Kelly Ridge, Revolution In Your Heart feels not only somehow immediately familiar, it's also profoundd harmonica. With a love of music and skateboarding, Lindell formed a few punky garage bands early on while his musical horizons expanded. He listened to the deep blues of Buddy Guy, Junior Wells, Jimmy Reed and Albert King before drifting toward the R&B sounds of The Impressions, Stevie Wonder and Donny Hathaway, soaking up the soul and learning how to craft a song. After performing at bars on the West Coast with a few short-lived bands, Eric formed his own group in 1993. He quickly gained a loyal Northern California audience thanks to countless performances and many late-night jam sessions. Established stars like Charlie Musselwhite and Tom Waits attended his shows, as did overflow crowds of music fans.

With music on his mind, Lindell headed to New Orleans in 1999, where he quickly discovered the pulsating and dynamic roots scene. He gravitated toward the West Bank dive bars of Gretna and Algiers, where he befriended many older area musicians who helped him get regular work as a performer. Some of New Orleans' finest players, including keyboardist Ivan Neville and drummers Harold Brown (War), Stanton Moore (Galactic) and Johnny Vidacovich (Professor Longhair, Astral Project) often joined him on stage. Galactic bassist Rob Mercurio began sitting in as well, and word of Lindell's immense talents quickly spread around the city. Stars like Branford Marsalis, The Neville Brothers and John Scofield began showing up at his gigs and embracing this fresh California kid's funky music. According to Lindell, "It's a great feeling to be recognized for your music in New Orleans." Since 2003, in addition to his own gigs, Lindell regularly joins forces with Ivan Neville, Moore and Mercurio (when time and schedules permit) and they perform to overflow crowds as Dragon Smoke.

2006's Change In The Weather delighted and surprised music fans hungry for a truly original artist. Lindell's deceptively simple sounding songs, laid back grooves and hook-laden melodies were fueled by guests including Brown, Neville and Moore. Critics across the country went wild, with reviews and features in Relix, OffBeat, Guitar Player, Down Beat, The New Yorker, The New York Press and many other national and regional publications. Singer And Musician magazine put Eric on the cover and many newspaper entertainment sections did the same.

2007's Low On Cash, Rich In Love and 2009's Gulf Coast Highway pushed Lindell farther into the spotlight. Appearances on Late Night With Conan O'Brien and National Public Radio's Mountain Stage solidified his stature as an artist who simply could not be ignored. Many of his songs have appeared in films and television shows, including Boston Legal and Treme. He has collaborated and shared stages with blues and rock luminaries, including John Fogerty, Luther Dickinson and Anson Funderburgh.

With Revolution In Your Heart, Lindell was more than ready to come home to Alligator. "The timing is perfect. I'm so excited to get back to focusing on what I do and have such a great team behind me," he says. Upon release of the album, Lindell and his band will tour heavily, reuniting with old friends and, as always, earning new fans at every stop. AllMusic declares Lindell a singular talent, saying, "He plays soulful, funk-drenched, tight and focused grooves. He is a quadruple threat as a solid songwriter, impressive guitarist, affecting singer and harmonica blower. This is music that's deceptively difficult to create. Lindell makes it seem not just easy, but natural."






Peter Joseph Burtt


from Kings Beach, CA/Lake Tahoe, CA


-Peter Joseph Burtt is a lifelong drummer and singer/songwriter. His music draws from many sources to inform his music and chronicle the years he spent living and studying with master musicians of Africa. Much of his music is played on traditional instruments, notably the lute like Kora and the Mbira or thumb piano. Songs are also transposed for the guitar.

He was completing a Master of Arts degree in San Francisco in creative writing and African drum and folklore when he began looking to cultures that maintain oral histories for connections between rhythm, music, and the spoken word. Upon learning of the melodious music of the Mbira and the corresponding poetry of the Shona people he travelled first to Zimbabwe, then Ghana and the Gambia, staying long in each place, living and moving within the society of the traditional musician while expanding his own musical vision. To further facilitate a sharing of ideas he worked as a teaching assistant finding he could learn as much from the children as he could from the masters.

His popular west coast band the King Tide helps bridge these influences back home. He has toured extensively, recorded with award winning artists, and his songs receive national radio airplay. He has taught songwriting, percussion, and guitar at festivals and workshops with many top musicians and instructors.

Peter Joseph Burtt and The King Tide's new 10-track album 'Mermaid's Curse' is now available.