Friday July 1 2022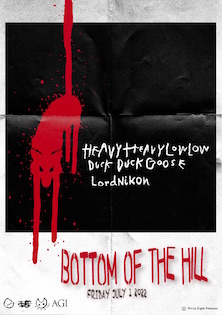 7:30PM

doors -- music at 8:00PM


••• ALL AGES




$

20

in advance

/ $25

at the door


Heavy Heavy Low Low


hhll38.bandcamp.com/releases


heavy rock


Duck Duck Goose


www.facebook.com/duckduckgoose.rip/


post hardcore


LordNikon
lordnikonsynth.bandcamp.com/


electronic cyberpunk darksynth darkwave midtempo




---

Heavy Heavy Low Low


-from San Jose, CA


-12-years ago, the stacks went silent, and the five-headed, ten-handed beast lumbered off into the darkness…Heavy Heavy Low Low was no more.

Some reveled in its absence, others lit candles, drew shapes in blood, and called out to the void, praying for its return.

Over the years there were sightings, strange rumors, and fires in the west. Some said if you turned towards California and breathed in deep, you could smell the feted stench of something huge and unwashed floating on the breeze... Something moving ever closer.

In the Summer of 2022, count your blessings and pray to your god to be spared from the mind-shattering return of San Jose's homegrown horror – HEAVY HEAVY LOW LOW.






Duck Duck Goose


-froom Barstow, CA


-Duck Duck Goose is a 5 Piece Experimental Post-Hardcore band from Barstow, CA






LordNikon


-from San Francisco, California-




-Heavy, dark, atmospheric, and all that other weird shit. SF Bay midtempo king.