Friday July 8 2022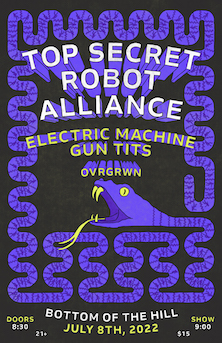 8:30PM

doors -- music at 9:00PM


••• 21 AND OVER




$

12

in advance

/ $15

at the door


Top Secret Robot Alliance
www..topsecretrobotalliance.com/


pure dance electronic


Electric Machine Gun Tits
wwwhttps://www.electricmachineguntits.com/


Rock n Roll


OVRGRWN
www.facebook.com/ovrgrwn


indie pop synthwave




---

Top Secret Robot Alliance


-from San Francisco, CA


-Top Secret Robot Alliance are a dance duo. Their names are Dion Thünder and Lucious Sandstone. They do not dance because they have to. They dance because they want to. #choosedance.






Electric Machine Gun Tits


-from San rancisco, CA


-ELECTRIC MACHINE GUN TITS are a two piece Rock n Roll - power duo, based out of the San Francisco Bay area since the winter of 2015.
Naoko Nozawa on lead vocals and synth. Tora Fujimoto on guitar and vocals.

They have toured New York, Spain and have done four summer tours through Japan in 2016, 2017, 2018 and 2019.
ELECTRIC MACHINE GUN TITS have shared the stage with GUITAR WOLF, PUFFY AMI YUMI, SHONEN KNIFE,
THE 5.6.7.8's, LOLITA No18, REVEREND BEAT-MAN, BOB LOG III, CHRISTEENE and many others.
They released their 1st album "LOVE AND PUKE" in June 2017, 2nd album "PINK GUTS" in June 2018, 3rd album "SUNGLASSES SAMURAI" in May 2019, 4th Album "PANDEMIC SUPLEX" in August 2020, and A.I. in June 0f 2021.





OVRGRWN


-from San Francisco, CA




-OVRGRWN consists of Brandon and Danae, two California natives who met in 2012. Blending the synthscapes of '80s film scores with contemporary indie pop, San Francisco-based duo OVRGRWN has developed a remarkable creative formula that is richly atmospheric, sweetly melodic, and frequently willing to tap into its dark side.