Sunday July 10 2022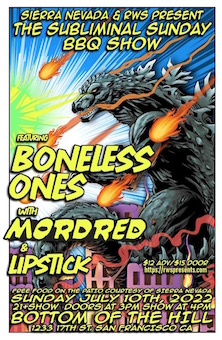 3:00PM

doors -- music at 4:00PM


••• 21 AND OVER




$

12

in advance

/ $15

at the door




[includes free barbecue courtesy of 2x4 box]




Sierra Nevada, RWS, & Subliminal SF

presents...


"The Subliminal Sunday BBQ Show"


Boneless Ones
www.bonelessones.com/


skate punk speed metal


Mordred

--------- Party Force

off the bill


mordred.company.site/


thrashmetal


Lipstick
www


Hardcore/Punk/Thrash




---

Boneless Ones


-from Berkeley, CA


-After 36 years, venerated skate punk/cross-over legends The Boneless Ones celebrate their much-anticipated return with new album, Back to the Grind. Featuring founding members Max Fox (vocals) and Troy Takaki (bass) with erstwhile drummer Chris Kontos (ex-Attitude Adjustment, ex-Machine Head) and new guitarist Craig Locicero (Dress the Dead, ex-Forbidden), the Bay Area quartet breathe present-day life into the sounds/customs that crucially bridged punk, hardcore, metal, and skateboarding.






Mordred
-from San Francisco, CA
-Mordred, a band always ahead of its time, was formed back in 1984 in the San Francisco Bay Area during the era that gave us the big 4: Metallica, Slayer, Anthrax & Megadeth. One of the first bands in the crossover thrash metal genre, blending funk, metal and DJ Pause on the decks, they released their debut album 'Fools Game' back in 1989. The album gave birth to the hit single 'Everyday's A Holiday', a huge crowd pleaser at the live shows. 'Everyday's A Holiday' also yielded a video which played in heavy rotation on MTV & other music stations internationally, in addition to helping secure successful American/European tour supports to big metal bands.
In 2013, Mordred came back to life with a passion, the line up including five of the original In This Life members minus drummer Gannon Hall who was replaced by Jeff Gomes of Fungo Mungo. Their reunion tours of 2014 and 2015 saw a new and previous generation of fans and a show at Bloodstock 2015 lit a fire with the band and fans and proved they were back and meant business.
Fast forward to 2019 and after 6 years of writing back and forth between various band members, recording, living and traveling back and forth from NYC to California, Danny finally moved back to the Bay Area and within a year they had enough tracks recorded to fill out an EP and an LP.





Lipstick


-from San Francisco, CA


-Lipstick is a 4 piece hardcore punk / thrash band started in 2020 in the middle of the Pandemic in San Francisco.
The band's music style is a loud super fast & technical mixture of everything punk combined with aggressive vocals and an intense live show.
New music to be released in late 2022.