Friday July 29 2022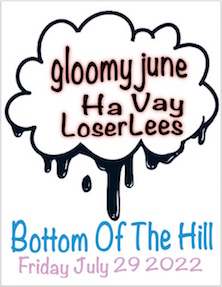 8:30PM

doors -- music at 9:00PM


••• ALL AGES




$

13


gloomy june
formerly

The Y Axes


www.facebook.com/gloomyjuneca


Rock indie pop


LoserLees
www.instagram.com/loserlees/


indie pop alternative


Ha Vay
havay.net/


alternative dreampop




---

gloomy june
formerly

The Y Axes




-from San Francisco, CA


-gloomy june is a California indie pop band made up of singer Alexi Rose Belchere (she/her), guitarist Devin Nelson (he/they), bassist Jack Sundquist (he/him), and drummer Ash Hyatt (they/them). Named for the cold fog that surrounds their hometown of San Francisco at the beginning of the Summer, gloomy june is the soundtrack of a beach party tinged with melancholy.
In an era where fear and uncertainty are our closest companions, gloomy june is there to tell you uncertainty can be okay. gloomy june songs are pop refracted through an anxious lens: sometimes anthemic, often queer, and always a little tragic. Written through late 2020 and early 2021, when the global pandemic made going to house parties and shows seem like a past life, their upcoming EP "Popsick" explores social woes with a near-nostalgic tone.
Not all of "Popsick's" narratives will ring true with everyone, but the ones that do will seem eerily close to the listener's life. With lyrics giving flashes of Lorde's "Melodrama" and Bleachers' "Gone Now", and Dirty Hit artists such as The 1975, Pale Waves, and beabadoobee, gloomy june's Belchere writes confessional pop lyrics, with scene-setting specifics any listener can relate to, and an overthinker can fall into. If you've ever felt "othered", or if the world has made you more anxious than you're used to, gloomy june is for you.





LoserLees


-from San Francisco, CA


-LoserLees is a Bay Area indie alternative band based in San Francisco, California.
Lees is a Latnix LGBTQ+ artist from Merced, California. She first started writing, playing, and self producing all of her music in her bedroom order to help her cope with her surroundings and mental space. Lees's music is written from a very personal perspective about past experiences with people and moments in her life. Lees has been writing songs since she was 11 years old and started producing her latest Ep titled "Crying Eyes Ep Demos" the start of 2019 releasing it in 2021 along with earlier singles in 2020.

During the summer of 2021, Lees decided to want to play live sets of her self produced music. Since August of 2021, The lineup of LoserLees has consisted of
Lees-Lead vocals/ guitarist Johnny- Backup vocals/ guitar & bass Ben- Drums Dilly- bass/ guitar






Ha Vay


-from San Francisco, CA




-Ha Vay is a San Francisco-based artist romanticizing her life to cinematic proportions. Drawing largely upon her experiences living in Paris, traveling the world alone, and falling in and out of love with many people along the way, Ha Vay's music resides in a dreamscape of majestic desert drives, velvety corners of parties, and dramatic one-night-tales. Her songs are lush with detail and emotion, taking inspiration from the works of her favorite filmmakers: Quentin Tarantino, Sofia Coppola, Agnés Varda, Jean-Luc Godard, and more. Peppered with a hearty dose of feminine rage and a playful sense of humor, Ha Vay strives to create a soundtrack for the most theatrical, mysterious, and intimate moments in our lives.