Thursday August 18 2022
CLOSED
[as of 8/4/2022]
The previously scheduled show—with

Year Of No Light
— is canceled due to visa issues.
All tickets get refunded..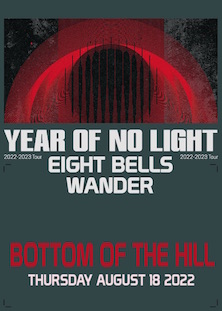 Thursday August 18 2022
8:00PM

doors -- music at 8:30PM

••• 21 AND OVER
$
20
Year Of No Light
yearofnolight.com/
metal psychedelic rock
Eight Bells
linktr.ee/melyndajackson
black metal
Wander
www.wanderband.us/
post-rock
---

Year Of No Light


-from Bordeaux, France


-YEAR OF NO LIGHT are celebrating their 20th anniversary as a band this year. On the occasion of this, we are releasing not only their new album "Consolamentum", but a wooden box set containing their entire discography of 5 studio albums, several split EPs, and the collaboration with Belgian composer Dirk Serries from the 'Live At Roadburn' recordings, on 12 vinyl records.
Sometimes adding more weight to something that's already heavy feels like relief. When the staggering build-up of layer on layer of guitars and synths towards the end of 'Aletheia' reaches its boiling point, when the tension and drama become too suffocating to bear, the sudden discharge into the following upbeat part, based on a single power chord gallopping away at the speed of no light feels strangely alleviative. This is the moment when the feet leave the ground, and the bones of the arms of the heretic crack, being pulled up in a strappado behind his back. One of the most agonizing and arguably one of the greatest moments in heavy music of the past decade. YEAR OF NO LIGHT's lengthy, sprawling compositions of towering walls of guitars and sombre synths irradiate a sense of dire solemnity and spiritual gravity, and couldn't be a more fitting soundtrack for such grim medieval scenarios. But there is also the element of absolution, regeneration, elevation, transcendence in the face of death. Consolamentum is dense, rich and lush and yet somehow feels starved and deprived. It comes as no surprise that ever since the beginning of their career, the band have had an
obsession for the fall of man and salvation through darkness. The term "consolamentum" describes the sacrament, the initiation ritual of the Catharic Church, which thrived in Southern Europe in the 12th - 14th century – a ritual that brought eternal austereness and immersion in the Holy Spirit.

"There's a thread running through all of our albums", says the band, collectively "an exploration of the sensitive world that obeys a certain telos, first fantasized ("Nord") and reverberated ("Ausserwelt"), then declaimed as a warning ("Tocsin"). The deeper we dig, the more the motifs we have to unveil appear to us. Yes, it's a bit gnostic. This album is invoked after the Tocsin, it's the epiphany of the Fall".

With debut album Nord (2006) and sophomore release Ausserwelt (2010), the band made themselves a name in the European avant-metal scene. Extensive tours of Europe, North
America and Russia in 2013 and 2014, including two appearances at Roadburn festival, Hellfest and a spectacular performance in a 17th Century fortress in the Carpathian mountains
introduced them to a broader and quickly growing international audience. The cinematic scope of their music implies that Year Of No Light are a group of artists that pay a great deal of attention to their visual representation, from the classy album artworks and merch designs to the carefully designed lighting design of their live show. Behind this stands a real, personal interest of the band members in historic cinema. This has led the French 6 piece to create a stunning obituary-soundtrack for C. T. Dreyer's 1932 movie "Vampyr" in 2013, and an original score for Jean Rouch's 1955 short film "Les Maîtres Fous" which the bandperformed at Musée du Quai Branly in Paris. The track "Désolation" off Tocsin appeared on the soundtrack of the movie "Jessica forever". Besides these ventures into film music, the band at times took on the structure of an open collective and collaborated with contemporary French Symphony artists such as Christian Vialard for a video installation reinterpretaing Yves Klein's Monotone Symphony.

With their seminal 3rd album Tocsin, released in 2013, Year Of No Light reached the peak of their career thus far – a logical decision that Consolamentum was made with the same team
again: recorded and mixed by Cyrille Gachet at Cryogene in Begles / Bordeaux, mastered by Alan Douches at West West Side. "We wanted this album to sound as organic and analog as
possible", comments the band. "All tracks were recorded live. The goal was to have the most natural, warm and clean takes possible, to give volume to the dynamics of the songs. We
aimed to have a production with a singular personality." For the adept listener, Consolamentum seems to be venturing deeper into the dark and claustrophobic spheres explored on Tocsin – but the band doesn't conceive of the evolution of their music in a linear way, as it would be apparent from looking at their discography. "It's more a matter of sonic devotion. Music against modern times. Year Of No Light" is above all a praxis. We wanted intensity, trance, climax and threat, all of them embedded in a bipolar and mournful ethos".
Consolamentum is huge, poignant, frightening, sublime, smothering and cathartic – and, much like its predecessor, "audacious, memorable and supremely confident." (Decibel magazine).

FOR FANS OF NEUROSIS, CULT OF LUNA, SWANS, ISIS, RUSSIAN CIRCLES, MY DYING BRIDE, ALTAR OF
PLAGUES, DARKTHRONE, CHELSEA WOLFE, MY BLOODY VALENTINE.





Eight Bells


-from Portland, OR


-Wraithlike vocals and numbed melodies hanging over pinprick prog fretwork... The pulse of ethereal '70s rock – from Pink Floyd to Hawkwind's more celestial moments... Dual vocal lines emanate from some unseen place, sometimes braided together in a conjoined plea for connection... Heartbreakingly beautiful."
–Pitchfork





Wander


-from Oakland, CA




-Wander is an all Filipino-American instrumental post-rock band based in San Francisco Bay Area. Formed by brothers Ryan and Christian Francisco, Joseph Aguda, and Bernard Barcela, Their style flows seamlessly from serene to bombastic, from quiet contemplative stillness to angry, cathartic blasts of reverb-drenched, distortion-filled bliss.