Tuesday September 13 2022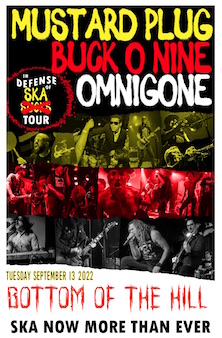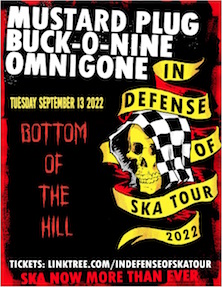 <<< rescheduled from 1/18/2022


8:00PM

doors -- music at 8:30PM


••• ALL AGES




$

16

in advance

/ $18

at the door




In Defense of Ska

presents...


Mustard Plug

[co-headlining]


mustardplug.com/home.php


ska punk


Buck-O-Nine

[co-headlining]


www.buckonine.com/


rocksteady, reggae ska punk rock


Omnigone
www.facebook.com/0MNIG0NE


ska / punk / hxc




---

Mustard Plug


-from Grand Rapids, MI


-Mustard Plug started out in the punk clubs, basements and dive bars of the Midwest, playing punk-influenced ska music before most people in the U.S. had ever heard of ska. They clung to a DIY work ethic that had been ingrained in them growing up in the 1980′s hardcore punk scene and applied it to everything they would ever do together as a band. Mustard Plug released their first cassette tape themselves (1992′s Skapocalypse Now!), and played constantly to earn enough money to record their first album – 1994′s Big Daddy Mulititude. Their debut full length was released on legendary NYC label Moon Records (home of Toasters, Hepcat, Dance Hall Crashers, and pretty much every other 90′s ska band of note). With their new found national distribution and exposure, the band climbed into their van and performed their music to new fans across North America. Twenty-one years, 1500 shows and 200,000 album sales later, it cannot be denied that the band has surpassed all expectations and permanently staked their claim in contemporary music.

For their new album, "Can't Contain It", Mustard Plug have returned to the DIY blueprint that the band was built upon, while at the same time embracing all the school of hard knocks craftsmanship and wisdom that the band has earned along the way. The band spent the last several years writing new material that was informed by 22 years of songwriting experience while retaining the youthful energy that has endeared them to their fans. They tracked the record at bassist Rick Johnson's Cold War Studios, giving them the flexibility to experiment and add new layers and dimensions that were not possible given the time constraints on their previous recordings. Many of their musician friends(Dan Potthast, Sean Bonnett, Mark Petz, Corey Ruffin) were tapped to contribute, creating a denser, more intricate sound.

Once the recording process for Can't Contain It was complete, the band turned to their fans to help finance the mixing and production of their record. Their Kickstarter campaign surpassed all their expectations, doubling their initial goal and re-confirming the support and love of their audience. The tracks were then sent to be mixed at Bill Stevenson's Blasting Room Studios where Mustard Plug had recorded 3 of their previous albums (including 1997's breakthrough "Evildoers Beware" and 2007's "In Black and White"). The result is possibly their most diverse and best record to date.

After tapping their friends and fans to help out with the recording, the band turned to more of their posse to collaborate on the artwork. Underground icon Jeff Rosenstock designed the album packaging, while noted artists Craig Horkey and Larry Kole created alternative limited edition album covers and posters. The final piece came together when at the last minute, No Idea record founder, Var Thelin heard the record and offered to partner with the band on its release. Mustard Plug is excited to be given the opportunity to collaborate with a label known for its' strong punk rock ethics and underground credibility.

Ultimately, this release is about the community Mustard Plug has built during its' 22 year existence. Coming full circle back to the DIY scene and the community that the were born out of has helped them to put out their best record to date.





Buck-O-Nine


-from San Deigo, CA


-Don't call it a comeback because Buck-O-Nine never left us. Since forming in San Diego nearly three decades ago, the celebrated ska-punk septet have continued to consistently perform live to fans both old and new. In that spirit FunDayMental, their first album in 12 years, proves that time has only made their songwriting skills stronger. The band's sixth full-length sees them once again combining elements of reggae, rocksteady, rock and punk into a unique amalgam of music that the act has pioneered since 1991. Amazingly, their lineup also features six out of seven founding members and their "newest" musician, bassist Andy Platfoot, has been in the band for 19 years. That sort of history makes Buck-O-Nine less of a band than they are a family and that dynamic is evident on all 14 songs on FunDayMental, which includes the band's new material alongside reworked versions of fan favorites "My Town" and "Irish Drinking Song."

Although frontman Jon Pebsworth and guitarist Jonas Kleiner had kicked around the idea of recording a follow-up to 2007's Sustain for years, the real catalyst for FunDayMental was when Cleopatra Records asked the band to contribute a song for their 2017 compilation, Punk Rock Halloween: Loud, Fast & Scary. "When we sent in the song, the label was really excited about it and asked if we'd want to do an entire album and it just felt like the right time," Pebsworth explains. (A re-recorded version of that song, "Don't Be Afraid," is also included on the album.) However the process of writing and recording wasn't quite as straightforward as many of the members of Buck-O-Nine—which also features trombonist Dan Albert, trumpet player Tony Curry, drummer Steve Bauer and saxophonist Craig Yarnold—are currently spread out across the country. However thanks to modern technology, the band members were able to email files and song ideas to each other, which allowed these songs to take form without them needing to physically be in the same room.

"It was pretty wild because each guy had guy a little spot set up in their house where we could each record and we would all spend a lot of late nights, texting and talking and hashing out song ideas while our families were asleep," Pebsworth explains. Even more fortuitous is the fact Curry is now a tech support expert, so he was able to produce the album from his own home studio and handle all of the technical issues that arose during the process. Finally for the final recording Bauer and Pebsworth traveled to San Diego to record their tracks with Curry, mindful to maintain the adventurous spirit of the demos. "What was cool about having someone from the band produce the album instead of someone from the outside is the fact that we've been together for so long that if one of us says they don't like an idea or they think it could be better, I'm going to be less defensive because I trust them and they're my boys," Pebsworth adds.

That spirit of trust and camaraderie is present all over FunDayMental. From the distorted guitars and syncopated drums that kick off the energetic opener "Paint The Night Red" to the downbeat reggae vibe of the harmony-rich "In My Room" and the infectious feel-good grove of "Tuff Rudeboy," FunDayMental sees Buck-O-Nine once again showcasing their innate ability to combine genres with ease while still maintaining their distinctive sonic identity. "We've always been considered part of the '90s third-wave ska category but we've always wanted to push ourselves and do new things that are fun," Pebsworth explains, adding that this evolution is already obvious to fans of their difficult-to-categorize albums such as 1997's Twenty-Eight Teeth and 1999's Libido. "Ultimately we are seven different guys who all listen to very different types of music and I think that diversity really comes through on this album."

Pebsworth also stretched out on the album and used some of the tricks he learned making solo recordings under the name PEBS to take his writing and and impassioned vocal stylings to the next level. "Everyone in the band is getting up there in age and one of the cool things about that is as you get older you start to feel a little more comfortable in the world and less worried about things," he explains when asked about how he approached the album lyrically. "You start to find a little bit more comfort in yourself and I think I was in a much better place when I was writing these lyrics than I've been in the past." Correspondingly FunDayMental contains its share of love songs, including the album closer "Dust It Off," which is about being mature enough to admit your mistakes and not let pride dictate your behaviors. "That song is really special to me because it's very personal and centers around the idea of struggling when love is on the rocks and someone decides to leave and then they come back. You've got to dust yourself off and figure out how to make things right."

From the inspired re-recording of their 1997 breakthrough hit "My Town" to FunDayMental's anthemic title track, there truly is something for everyone on the album—and you'd be hard-pressed to find a band who have a better time making music together. "These are the people I've spent the best years of my life alongside, so the opportunity to collaborate in the studio again and reconnect in that way was so rewarding for all of us," Pebsworth explains. There aren't many bands that can maintain a consistent lineup for 28 years, let alone make a new album that sounds as inspired as the band did during their heyday. Thankfully, Buck-O-Nine have never been the type of band who follow conventions and their steadfast dedication to creativity is what makes FunDayMental such a satisfying listen.






Omnigone


-from California


-Most people involved with ska have met Adam Davis through his years of touring the world with Link 80; I met him at the gym. When I first moved to Alameda CA I thought to myself "there's no way anyone on this island has more ska-cred than me!"… it turns out I was wrong by about 20 years.

As Adam explained to me, his reunion with Link 80 in 2016 was bittersweet. After years of experimenting with different musical styles in his other bands Desa and G.N.A.R.B.O.O.T.S., he was finally playing ska punk again with some of his best friends and musical allies from the past. Sadly it was for only 2 shows, and the band knew it wouldn't continue much past that. However, the experience reinvigorated Adam's love of the genre and with Link 80 bass player Barry Krippene at his side, he created OMNIGONE.

The band's debut LP "No Faith" is everything you want from a ska punk record; it's fast, aggressive, catchy, and just flat out fun. The songs are quick, and Adam's intense vocal stylings and catchy riffs hit you right in the gut and beg you for repeat listens. Barry's bass additions prove that he's a master of the genre, seamlessly mixing dub and hardcore with lines that walk right out the door (but also stay stuck in your head). The album also features a veritable "who's who" of ska and punk all stars that make up the rest of the rhythm and horn section, including Steve Borth (ex-Rx Bandits / Link 80), Brent Friedman (We Are The Union), Justin Amans (Kitty Kat Fan Club/Obikubo Station), Jeremy Hunter (Skatune Network/We Are The Union), Bootie Pook (Beat the Red Light), Aaron Carnes (Flat Planet) and Reece Noble.

The Link 80 comparisons are welcomed and inevitable as the record sways back and forth between aggressive hardcore and danceable ska, but don't be mistaken; the sound is unique to Omnigone, and "No Faith" will definitely serve as its own touchstone for future generations of the ska punk faithful.