Thursday September 15 2022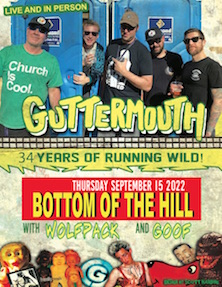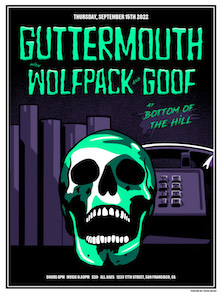 8:00PM

doors -- music at 8:30PM


••• ALL AGES




$20


Guttermouth
www.facebook.com/Guttermouth


skate punk


Wolfpack
(from Australia)
www.facebook.com/wolfpackshred


hardcore punk thrash


goof
www.goof.band/


grunge punk




---

Guttermouth


-from Huntington Beach, CA


-Formed in Huntington Beach, California in 1988, Guttermouth was heavily influenced by the Southern California punk rock scenes of the 1980s that spawned bands such as the Adolescents, Social Distortion, The Vandals, Fear, Descendents, Angry Samoans, Bad Religion, and Black Flag. The band took these influences and developed their own style of fast punk tempos and humorously sarcastic and offensive lyrics, coupled with equally outrageous and offensive behavior, developing a reputation for chaotic live shows.

In 2017, Guttermouth released a double LP called "The Whole Enchilada" via Rude Records in collaboration with Bird Attack Records. Coming after the release of their 2016 EPs "Got It Made" and "New Car Smell," the album consists of reworkings of the band's greatest hits in a live environment enriched by three unreleased tracks, plus a remastered version of the two EPs.

"This zesty recording captures the true essence of the Guttermouth live show with all the debauchery one has come to expect for these clowns… or us," singer Mark Adkins said. "Two brand new studio tracks are also included within Guttermouth's magnum opus."

This record is the perfect blend of what they're all about – an unmissable collection for diehard fans and a great way to discover one of the seminal bands in the U.S. skate punk scene. It is surely a must-have for all the lovers of speedy riffs, stuck-in-the-head choruses, and outrageously funny lyrics.

No cow is sacred. No beer is safe. No line can't be crossed. Their don't-give-a-damn attitude is what made people fall in love with punk music the first time around. That or hate it – it's pretty much the same for Guttermouth. With nearly 30 years of tours, nine full-length studio albums, six EPs, and two live albums, they are ready to get back on the road and keep shocking their worldwide audience.





Wolfpack


-from Melbourne, Australia


-Wolfpack are a DIY, 100% not-for-profit, Melbourne punk band who've raised over $54,000 for charity.
With a dynamite live show driven by blistering vocals, intense riffs & manic rhythms Wolfpack have toured Australia, NZ, Japan & USA with acts including Suicidal Tendencies, DKs, Misfits, Anti-Flag, Guttermouth, DRI, Exploited, Subhumans, DOA + more.
Catch the band shredding a stage near you soon..





goof


-from San Francisco, CA


-Forged in a crucible of San Francisco fog, steep hills, and even steeper rent, Goof is a grunge tinged punk trio. Led by songwriter and guitarist Ahmed Amer Elsayed, Goof's music combines a range of influences from Nirvana and System of a Down to NOFX, The Beastie Boys and Middle Eastern pop artists. The guitar parts are distorted, fast and often played with only downstrokes. Bassist Ryan Bahm holds it down adding flare with a busy melodic punk style inspired by players like Matt Freeman (Rancid) and Roger Lima (Less than Jake). Like the Egyptian music Ahmed grew up with, Goof sings about real serious issues over happy, prideful and driving melodies rather than depressing, somber tones.
‍
Goof's debut album "Kill 'Em All" sees them coming out of the underground swinging. It chronicles a period of time during Ahmed's journey from Egypt to San Francisco and his pursuit to create art and be happy. Close friend Taylor Martin was enlisted to help on drum duties. She brought a metallic edge and a level of drumming rarely heard in punk music. "Kill 'Em All" was engineered, mixed and mastered by Jack Shirley (Jeff Rosenstock, Deafheaven, Loma Prieta, Gouge Away) at The Atomic Garden in Oakland, CA.
‍
Since forming in early 2019, Goof has quickly rolled onto the Bay Area music scene on nothing but charm and their own ambition. They found themselves opening for punk legends Agent Orange and The Avengers and playing iconic Bay Area venues like Slim's (RIP) and 924 Gilman before even having a practice space to call their home. That momentum was halted by a little pandemic problem but with the world opening back up, Goof is poised to explode back onto the scene armed with a new album and over a years worth of practice and pent-up energy.