Friday September 16 2022
8:00PM

doors -- music at 9:00PM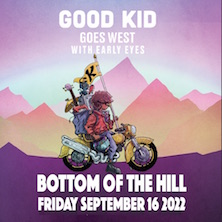 ••• ALL AGES




$

15

in advance

/ $17

at the door


Good Kid


goodkidofficial.com/


indie pop


Early Eyes


earlyeyes.band/


danceable indie jazz pop





---

Good Kid


-from Toronto, Ontario, Canada


-Good Kid came to be in the late 1940s. The Blues was sweeping through the nation! In an alleyway of New Orleans, a man in suspenders chimed a Jazz Chord. "Stop Right There" - a loud, commanding voice echoed in the alley. "My name is Nick and your Jazz Chord touched me right in the soul! What is your name?" The man in suspenders was keen on flattery. "My name is Jacob. I travel the world and play my Jazz Chord for the people!". "Perhaps we could work on your Jazz Chord together! And turn it into a song!", said Nick. Before they knew it, 3 more fellas were standing in the alley with them marveling at the power of the Jazz Chord. As history goes, they stood in that alley for over 60 years, until finally, they wrote a fucking song. Jazz was not as popular anymore, but suspenders never lost their charm. And so the 5 aged men called themselves Good Kid and went on to play together.

Good Kid is a band that's constantly on the move. They're young, meaning they're not only in tune with what's going on around them but also quick-witted enough to be able to respond to it promptly. They develop moves out of thin air where others could not. There's a kinetic energy behind not just Good Kid's music, but the choices the band has and continues to make about their direction and where to focus their excitement. That energy has taken them to many places, not the least of which include their own videogame, a fight for the right to stream music on Twitch and being included on an in-game radio station in the biggest game in the world..





Early Eyes


-from Minneapolis, MN


-It's a foreboding time to make pop music. But like a sunbeam peering through a haze of wildfire smoke, Early Eyes have somehow persevered through dashed dreams, fractured relationships, historic social justice uprisings in their own hometown, and a society tearing apart at the seams to make an album that is both responsive to the chaos and wearily optimistic.

"It almost feels like Look Alive! is a direct response to the pandemic," bandleader Jake Berglove reflects. "It was like, oh, my goodness, all of our capitalist anxieties just came true! We took all of that anxiety and angry energy and put it into making a really fucked up album."

"The album was not just an expression of all of our frustrations, but also an escape from it," adds guitarist Joe Villano. "And I feel like the process of making it really carried us through the year."

Look Alive! vibrates with angst, punctuated by computerized glitches and disintegrating threads of abandoned melodies that echo in the distance before roaring back to life. A track like "Chemicals" will begin with Early Eyes' signature buoyant and catchy pop-rock, but as the song progresses it grows more ominous before shattering apart in an earthquake of rattling, subterranean bass.