Sunday October 16 2022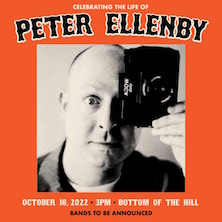 3PM

doors -- music at 4PM


••• ALL AGES




$

15

in advance

/ $15 & up

at the door


Celebrating the life
of Peter Ellenby
Creeper Lagoon
www.creeperlagoon.com/


indie rock


Rogue Wave
www.facebook.com/roguewave


indie rock


Meices and Friends


indie rock


Carlos!
carlostherockband.bandcamp.com/releases


indie rock





Peter was one of the most gifted music photographers of his generation, almost single-handedly chronicling the Bay Area music scene during the mid-90s to mid-aughts, most notably in conjunction with the annual Noise Pop Festival, for which he was the unofficial "official" photographer for almost two decades. What Charles Peterson is to Seattle grunge and Jenny Lens is to LA punk, Peter Ellenby is to San Francisco indie and alternative rock. Peter's incredibly visceral live photos and stark portraits – many in his trademark black and white - are his calling card, exhibiting an instantly recognizable style that makes the viewer feel like they're inside the frame.

You could find Peter all over town most nights, his imposing 6' 3", red-headed frame positioned dangerously close to the stage, holding a pint in one hand and his camera in the other. The results were consistently iconic: Wayne Coyne of the Flaming Lips directing a symphony of audience-controlled boom boxes at the 1998 Noise Pop Festival; the Beastie Boys, under their nomme de punk Quasar, blowing the roof off the Bottom; David Yow of the Jesus Lizard jokingly prying his eye open backstage. Queens of the Stone Age, Rocket From the Crypt, Guided By Voices, Afghan Whigs; he shot them all, and a litany of others. (And though rock paid the bills, Peter had a life-long love of hip-hop. He was thrilled to meet and shoot his heroes Public Enemy and Run-DMC.) Amidst all this established greatness, Peter was also an advocate for emerging artists, often shooting promo pics for local bands at near-cost, and being among the first to photograph then-ascendent acts with names like Death Cab For Cutie, Rilo Kiley, and John Vanderslice.

In 2006 Chronicle Books released a collection of Peter's photos, Every Day Is Saturday. In his forward to the book, X's John Doe wrote, "One of the most lasting contributions made by Ellenby and his photos is his documentation of San Francisco and the era in which his pictures were taken. In the future, people will view his photos and think, 'Man, San Francisco back then must've been such a hip place to be in a band.' Certainly it was, and we have Peter Ellenby to thank for letting us see it." In 2012, Peter's work was the centerpiece of a Noise Pop Festival 20-year retrospective photo exhibition.

Peter was a phenomenally gifted artist, an adoring dad to his daughter Ruby, and a beloved friend of many. He was also funny, kind, modest to a fault, and admired by hundreds within the music community, from legendary artists to simple fans. Simply put, he was one of the best humans one could hope to know. His unexpected death is a cruel gut-punch in an already terrible time, but his legacy will live on in the hearts of those who knew him, and in his extraordinary work.

Tim Scanlin

Los Angeles, CA

Please visit Peter's online portfolio at https://peterellenby.myportfolio.com/. These photos may be used for editorial purposes with proper accreditation. Hi-res images available upon request.



---

Creeper Lagoon


-from San Francisco, CA


-The Bay Area-based alternative rock quartet Creeper Lagoon comprised singer/guitarist Ian Sefchick, multi-instrumentalist Sharky Laguana, drummer David Kostiner, and bassist Geoffrey Chisholm (later replaced by Dan Carr). Their debut LP, I Become Small and Go, appeared on the Nickelbag label in 1998, and SPIN named them the best New Artist that same year. Watering Ghost Garden followed two years later; Take Back the Universe And Give Me Yesterday was issued in early 2001. The following summer, the band inked a deal with Arena Rock Recordings and prepped for an EP release within the coming months. Creeper Lagoon also contributed their version of "Why Me" to the Kris Kristofferson tribute album Nothing Left to Lose, which appeared on Incidental in October 2002.

Sharky Laguana and Ian Sefchick both played in the Cincinnati, Ohio, punk band The Rottweilers while in high school. In 1990, Laguana moved out to San Francisco with his four-track and started Creeper Lagoon as a solo project. Sefchick moved to San Francisco some years later, did a brief stint with the Brian Jonestown Massacre, and then reunited with Laguana in Creeper Lagoon. The lineup was rounded out by bassist Geoffrey Chisholm and drummer Patrick Mangan (who was later replaced by David Kostiner).

The quartet released its self-titled five-song debut EP in 1997 on Oakland rap label Dogday. Four of those songs were re-worked for the band's 1998 full-length debut, I Become Small and Go, released on the Dust Brothers vanity label, Nickelbag, and featured the production of Dust Brother John King on a few tracks.

Their success led them to the DreamWorks label for their follow-up, 2001's Take Back the Universe and Give Me Yesterday. After the album and subsequent tour, the band broke up, with Laguana retaining the band name. Creeper Lagoon went on to release an EP in 2002 (Remember the Future) and an album in 2006 (Long Dry Cold).

Creeper Lagoon's song "Under the Tracks" appears on the soundtrack of the 2002 film Orange County. The track has been falsely attributed to Coldplay on many music sites.
On December 6, 2016, the band announced an original lineup reunion show on February 26, 2017 at Bottom of the Hill in San Francisco, CA.






Rogue Wave


-from Oakland, CA


-Rogue Wave is an alternative rock band from Oakland, California, formed in 2002. They are headed by Zach Schwartz (aka Zach Rogue), who created the band after losing his job in the dot-com bust. Their first album was Out of the Shadow which was written, recorded and produced entirely by Zach Rogue (except the drums) – released privately in 2003 and finally re-released in 2004 on Subpop. In the autumn of 2004 they went on a national tour of the US, which lasted two years. They have been compared in the music press to The Shins. Their second album, Descended Like Vultures, was released in October of 2005. They are currently signed to Jack Johnson's label Brushfire Records having released 2 previous albums on Sub Pop).

They are also featured on the Stubbs: The Zombie Soundtrack doing a cover of Buddy Holly's "Everyday". A live version of their Out of the Shadow track, "Every Moment", appeared on the soundtrack for the movie Napoleon Dynamite. However, the song never appeared in the movie itself. In addition, the song "Eyes" was featured twice in the Ryan Reynolds movie Just Friends this fall, and the first episode of NBC's Heroes. The Fox show The O.C. has used Rogue Wave songs, "Publish My Love" (DLV) and "Interruptions" (10:1 EP) as well as included "Publish My Love" on The O.C. Mix 5, a collection of songs used in the show. Rogue Wave recently recorded an exclusive song for the new movie, "Spiderman 3".

Until very recently, the band lineup consisted of Zach Rogue (Vocals, Guitar), Pat Spurgeon (Drums, Samples, Guitar, Vocals), Gram Lebron (Keyboards, Guitar, Drums, Vocals) and Evan Farrell (Bass, Vocals). Farrell replaced original bassist Sonya Westcott in Autumn of 2004. Unfortunately, in December 2007, bassist Farrell passed away in a house fire. Their new bassist is Patrick Abernethy.

Zach Rogue was previously a guitarist in the Bay Area band The Desoto Reds. Pat Spurgeon has played with bands Antenna, Stranded at the Drive In, Ramona the Pest, Brando, Steve Kowalski, and has also released solo work as The Phantom Drummer. Gram Lebron has been involved in the bands: Schrasj, Sad Like Crazy, Conundrum, Jessica Six, All Transistor and has also released solo work as Golden Gram. Evan Farrell has played with the following bands: Japonize Elephants, Mega Mousse, Amaldecor, Big Mule, Hunted Haunted Bazergahn Klezmorchestra, Grande Rouge, Kentucky Nightmare, and Mama HooHoo. Sonya Westcott was in the band Venus Bleeding prior to her time with Rogue Wave.






Meices and Friends


-from San Francisco, CA




Carlos!
-from Oakland, CA
-Carlos was formed in beautiful Millbrae California in 1990 as a power trio, with Richard Scramaglia on guitar and vocals, Allan "Millbrae" Moon on bass and Doug Lippi on drums. A first CD was released soon thereafter entitled Coriander Salamander which included an amalgamation of Eps, singles, comp records and other recordings.

The band signed to Headhunter Records in 1995 and released Amy Armageddon, an album which was recorded in New Jersey by Bongwater's Kramer, and mixed in San Diego by Mark Trombino.

Carlos next album was Bigger Teeth. Jason Ankeny of AllMusic Reviews declared "While signed to the Headhunter label, Carlos does not subscribe to the imprint's trademark incendiary punk sound; on Bigger Teeth, the group serves up winning pop hooks infused with teen angst and clattering guitars."

In 2000, Carlos went through personal change by adding another Millbrae brethren Dennis Galway on drums, and Richard Mather Marshall, of Alice Donut glory, on guitar. This new line up produced the album Devil's Slide on Spiral Stairs' label Amazing Grease. The album is a numinous and luminous ode to the cold West Coast. Songs like "Heavy Metal Monday" and "Quit your Job" jingle and jangle at full volume, splatter and batter in harmoniously celebration of the Fin de Siecle.