Wednesday October 19 2022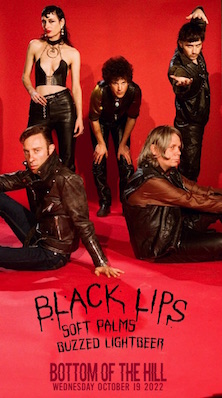 7:30PM

doors -- music at 8:30PM


••• 21 AND OVER




$

25

in advance

/ $28

at the door


The Black Lips
www.black-lips.com/


alt-country garage punk


Soft Palms
wwwhttps://www.softpalmsmusic.com/


alternative dream pop


Buzzed Lightbeer
buzzedlightbeer.bandcamp.com/


garage punk




---

The Black Lips


-from Atlanta, GA


-Atlanta underground rock provocateurs Black Lips have announced that their new LP The Black Lips Sing In A World That's Falling Apart was released January 24th on Fire Records/Vice. Boasting an unapologetic southern-fried twang, the twelve-track collection marks the quintet's most pronounced dalliance with country music yet, with a clang and harmony that is unmistakably the inimitable sound and feel of the Black Lips. While the songcraft and playing is more sophisticated, Black Lips were determined to return to the raw sound roots that marked their early efforts. Recorded and co-produced with Nic Jodoin at Laurel Canyon's legendary, newly reopened Valentine Recording Studios (which played host to Beach Boys and Bing Crosby before shuttering in 1979) without Pro-Tools and other contemporary technology, the band banged the album out directly to tape quickly and cheaply, resulting in their grimiest, most dangerous, and best collection of songs since the aughts.

Like The Byrds, who flirted with pastoral aesthetics before going all-out with the radical departure that was Sweetheart of The Rodeo, the Black Lips have been skirting the edges of country since "Sweet Kin" and "Make It" from their eponymous debut. But eschewing Graham Parson's earnestness, Black Lips are careful not to hint at authenticity, wisely treading into their unfeigned rustic romance with the winking self-awareness of Bob Dylan's "You Ain't Goin Nowhere," Rolling Stones "Dear Doctor," or The Velvet Underground's "Lonesome Cowboy Bill."

The band's stylistic evolution and matured approach to musicianship and writing is, in part, due to the seismic lineup shifts they have undergone over the last half-decade. Worn down after a decade of prolific touring and recording, longtime guitarist Ian St Pé left the group in 2014, followed shortly thereafter by original drummer Joe Bradley. Jeweler/actress (and now Gucci muse) Zumi Rosow, whose sax skronk, flamboyant style, and wild stage presence had augmented the team before the duo's departure, assumed a bigger writing and performance role in their absence. Soon drummer Oakley Munson from The Witnesses brought a new backbeat and unique backing vocal harmony into the fold. Last year the quintet was rounded out by guitarist Jeff Clarke of Demon's Claws. The newly forged partnership, all of whom collaborate as songwriters, vocalists, and instrumentalists, has breathed new life into their sound. The result is akin to the radiance of the impulsive, wild nights where you find yourself two-stepping into the unknown.





Soft Palms


-from Long Beach, CA


-Soft Palms, the brainchild of wife-and-husband duo Julia Kugel (The Coathangers, White Woods) and Scott Montoya (formerly of The Growlers), have announced the impending release of their self-titled debut album on July 31st via Everloving Records. The album is a feast of rich sounds and simple, comforting melodies threading together sock hop rock n' roll, scrappy dream pop, and ethereal torch songs into a sultry, spacey, and sublime journey towards brighter horizons. The entire album gives off an aura of intimacy while also creating a broader, pastel colored world—a duality achieved through Montoya's unique and meticulous recording process at the couple's home studio the Centre Of Mental Arts (COMA), and the magisterial mastering job by longtime friend and collaborator Mick Boggis (Pogues, Mötorhead, 12 Monkeys, Joe Strummer, etc.) who has served as a mentor throughout Montoya's recording career.

"My goal was to create something that sounded like a mental hug, a sonic embrace," says Julia Kugel. "Everything can feel so wild and out of control, we really wanted to create something you could sink into and use to calm those emotions." This is clearly felt in the album's first advance single "Rainbows" where Kugel's lilting voice floats against a backdrop of hypnotic upbeat instrumentation and Montoya's dubbed out studio effects. The song comes paired with a shimmering music video the duo shot themselves at home, evoking the same DIY spirit that drove the album recording.

Though the album's eight songs were written in fits and starts over the course of nearly a decade, Soft Palms ultimately came together over a two-year period as an extension of Kugel and Montoya's broader musical ventures. Together they book the Happy Sundays music festival, run the non-profit Studios for Schools, and organize the events calendar Long Beach POP—all in an effort to celebrate, promote, and produce art and music through community and positivity. In keeping with their overarching philosophy of sustainability and waste reduction, all their merch is made from salvaged and repurposed clothing. Several items in their just-launched webstore are hand-dyed using cinnamon tea, and all are hand stamped (using a homemade stamp), making each item unique and one-of-a-kind. Soft Palms captures Kugel and Montoya's unflappable positivity and energy and serves as yet another outlet for their ongoing work to make the world a bit brighter.





Buzzed Lightbeer


-from San Francisco, CA




-Dionysian fuzzy slop rock trio from san francisco *** Too Buzzed 2 care.